It was the first hardcover collected edition I purchased: The Rocketeer from Eclipse Books, fresh off the press in 1986.  A solid 8.5×11.5″ seventy-page book for $20; pricey even for that few pages.  Sadly my copy shows the wear and tear of banging around a teenager's room but later on, I was able to pick up the Graphitti Designs edition.  Let's take a step back and look at the history.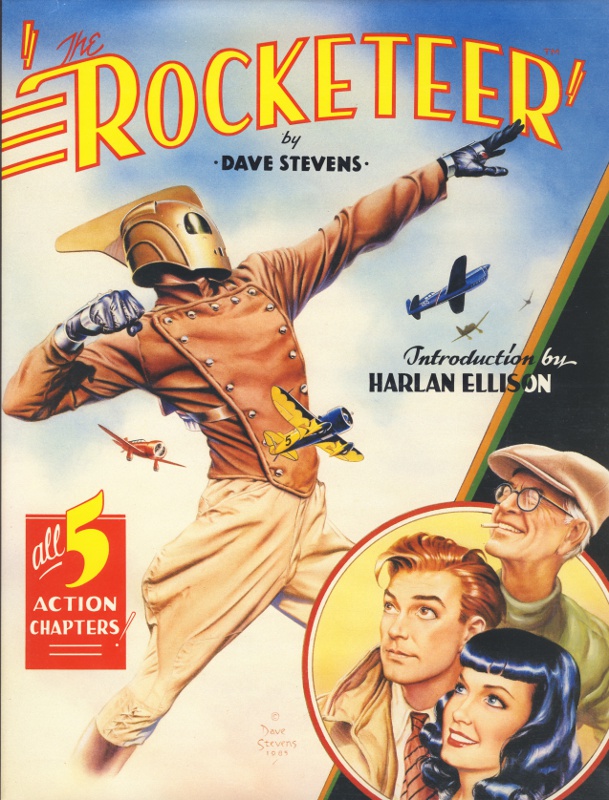 Dave Stevens was approached by Pacific Comics around 1982 to provide something for them: they were a new publisher desperate for material. Appearing as four backup stories in Starslayer and Pacific Presents The Rocketeer was a smash success: the art was vivid and captured a pin-up 1950s look. As noted on the cover above there were five chapters: the story moved to Eclipse with The Rocketeer Special Edition in 1984. The story arc was complete and Eclipse published the collected story in softcover and hardcover versions; based on trademark notices it looks like Dave Stevens owned the Rocketeer material outright by 1985.
Graphitti Designs was also involved with The Rocketeer: a deluxe signed and numbered hardcover with a one thousand print run was produced along with a cloisonne pin, t-shirts and prints. The content was the same as the Eclipse hardcover with the addition of a signature plate.
Oddly Graphitti decided on a dust jacket and the book was printed in the U.S. while the Eclipse volumes were printed in Spain.  I was lucky enough to acquire an Artist Proof edition in May 2002 for $110 from eBay: currently, the signed edition is going for $300 and I'm unable to locate another AP copy.
Three more chapters of the Rocketeer saga were published by Comico and Dark Horse, eventually being collected in its entirety by IDW; check out my review.  Unfortunately, Dave Stevens passed away at a young age and the character has never been licensed out for use by anyone else.  This book is important for one reason: there won't be any more signed editions from Dave Stevens.
The Rocketeer By Dave Stevens
Graphitti Designs, 1985, ISBN 0-913035-05-X
Originally published at Comic Book Daily under my Bound Together column.