This is my first Bound Together column that's based on a book I don't own, but it's a doozy. In 1988 Graphitti Designs produced for DC a collected edition of Watchmen: a black hardcover in a slipcase with a good amount of exclusive bonus material. Very similar to The Dark Knight Returns hardcover, with Warner producing the trade softcover edition with no bonus material. I remember my local comic shop had a copy and I would look at it every chance I had, but never had the $50 to buy it. They come up on eBay all the time and sell reasonably well for $100.
It's an oddly designed book, separated into two sections. The first section is a reprinting of the twelve issues of the mini-series; exactly the same material as the softcover Watchmen trade from the same year. And I mean exactly: credits, endpapers, you name it: they took the softcover collection and put it in here (I have the first printing trade paperback to compare. No ISBN in either volume: the softcover has it on the back cover). Following that is a section called Minutes with this note: new material and complete hardcover package produced by Graphitti Designs by arrangement with DC Comics Inc. The bonus material by Alan Moore and Dave Gibbons is extensive: character designs, plot outlines, scripts, promo designs and a note from each. Very nice indeed.
Unfortunately, The Watchmen was the only Graphitti hardcover released without a signature plate edition, or so it seemed.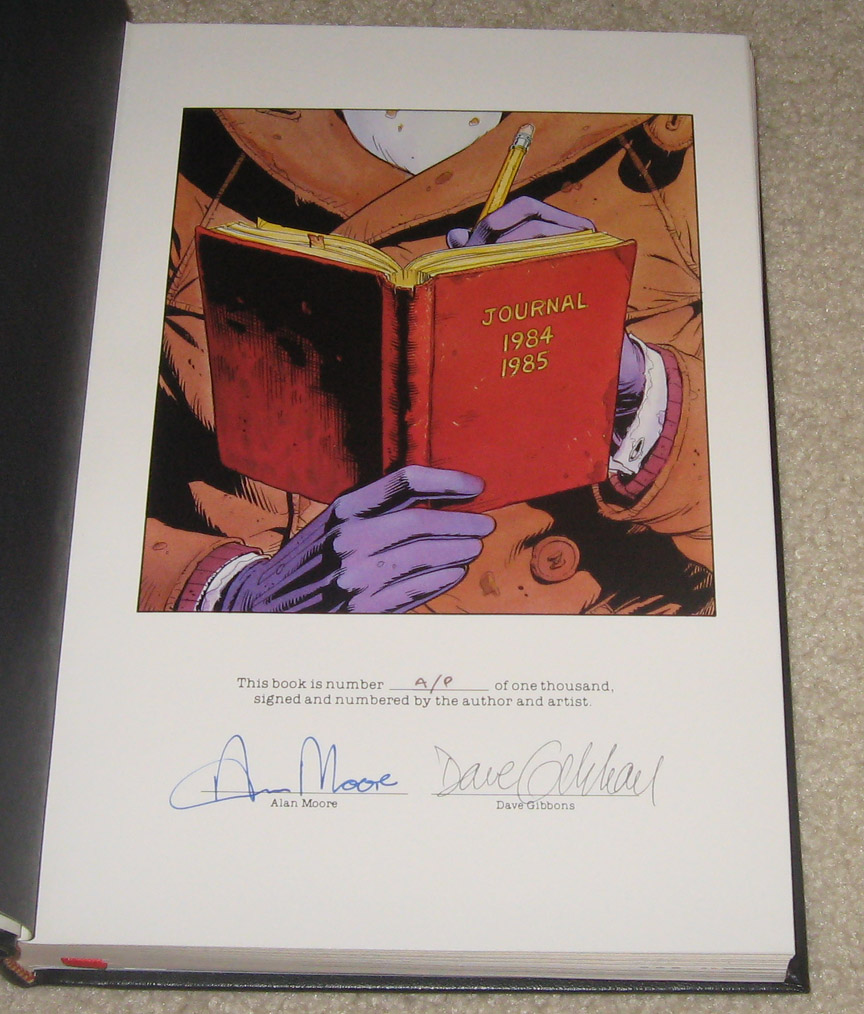 That thinking changed around 2002 when a Watchmen hardcover came up on eBay that had a signature plate signed by Alan Moore and Dave Gibbons with A/P in the number slot. The seller was John Koukoutsakis, the person I purchased all my Graphitti Artist Proof hardcovers from and a former Graphitti employee. In the description, John said the Watchmen hardcover was to have a signed and numbered edition but after signing a few the creative team wasn't interested in continuing. That auction went for around $800, which was the most I'd seen a Graphitti hardcover sell for at the time. I have it as a saved search and it hasn't come up since, until this month.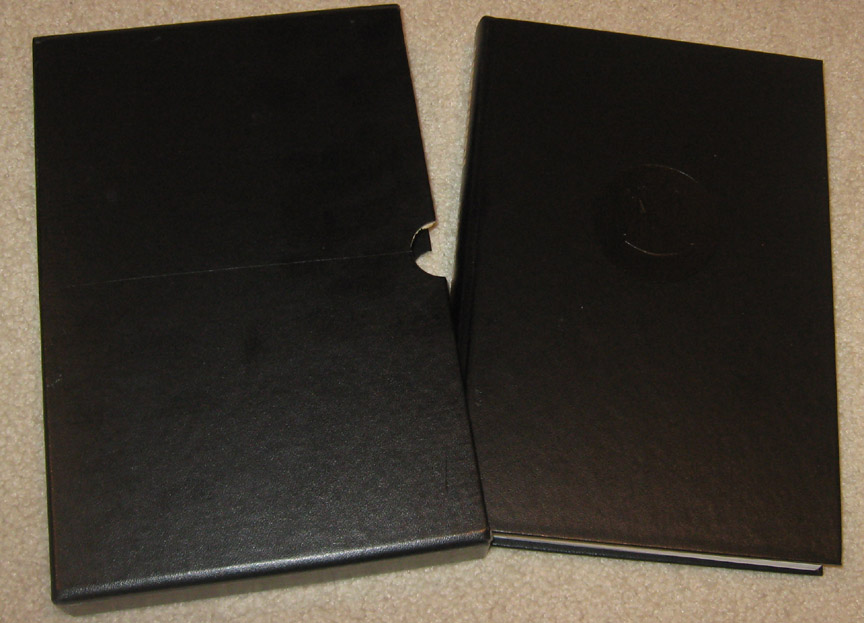 Eric Zinkann currently has this volume up for sale at $2999 on eBay "Buy It Now". Here's his description:
This incredible WATCHMEN signed and numbered hardback book and slipcase book is from the personal collection of Dick Giordano. It is a rare "artists proof" edition and it has NEVER been offered for sale before this auction. It has been tucked away in Dick's collection for over 20 years. Like Dark Knight (which had a run of 26 artists proof hardback books that were only given to people who worked on the book) DC Comics did AP editions for those who worked on this book.
Of course, every expensive book on eBay makes the claim it has never been offered before but in this case, it's not true. While very rare it seems priced far too high: it's been relisted at least once and I suspect will sit on eBay for a good long time. I'd love to get confirmation from someone at Graphitti about the number of Artist Proof editions that were done, for this volume and all their hardcovers. If you know something please chime in below.
Watchmen
Graphitti Designs / DC Entertainment, 1988, No ISBN
---
Update 2020/08
The Giordano copy has been sold again on eBay, this time for $4500 USD. Added it to the Wayback Machine this time. Here is its letter of provenance.