There had been a few write-ups about Russ Cochran's newest reprint endeavour, The Sunday Funnies, to peak my interest. My local comic shop received the first shipment and let me take it for a spin.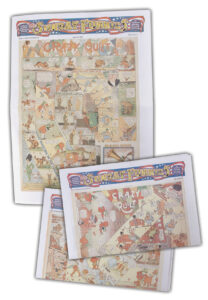 To start this off with a bang I am printing the first three issues at the same time, and these will be ready to ship to you in late November. THE SUNDAY FUNNIES is a monthly 32-page full-size comic section, containing historic Sunday pages from as far back as 1895, and including favourites such as GASOLINE ALLEY, LITTLE NEMO, KRAZY KAT, and many other classic Sunday pages that you've probably never seen before.
Each issue of THE SUNDAY FUNNIES will be a full size 22″x16″ comic section, containing full-page Sunday comics in full colour. These pages are coming from the archives of Ohio State University, which, thanks to Bill Blackbeard, has the largest and most comprehensive collection of Sunday comics in existence. The retail price will be $10 and I will be selling subscriptions, 12 monthly issues for $100. My print runs for these historic sections will be low and I expect to sell out the first few issues, so get your order in now before it's too late.
$30 per "issue"
22×16″, folded
Colour
ISBN-13: 978-0-98169-233-3
The Sunday Funnies issue one is a white envelope with the masthead and price. Inside you're greeted by three 32 page sections, numbered sequentially and pictured above. Opening them up to read and you have full-size colour reprints of Sunday comic strips from the early twentieth century. Crazy Quilt is the cover of all three sections, followed by Gasoline Alley, Alley Oop, Tarzan, Bronc Peeler, Krazy Kat and Wee Willie Winkie's World. That second to last strip seems to rotate as section B contains Stumble Inn and section C has Right Around Home. Gasoline Alley gets the most pages, but overall this is a good mix of family, humour, action and fantasy. I'm fairly new to newspaper strip reprints so seeing Hal Foster's Tarzan was the draw here, but I appreciated the exposure to these other strips.
This is a large work: compared to a standard comic size book they are gigantic. It's slightly awkward to read but since each section is only 32 pages the reader doesn't feel burdened by the weight or dimension. It genuinely allows readers to experience these comics as they were originally published, or so Cochran Publishing has striven to do. Everything about The Sunday Funnies harkens back to that pre-war era when these comics were new. The masthead reads "comics as you remember them" but unless you're over 80 there's no way you remember these as they were first printed. Unfortunately, what do you do with each issue as you finish it? The format doesn't allow for any kind of easy storage or filing; put them back in the envelope and into a box somewhere. Better yet pass them along to a friend.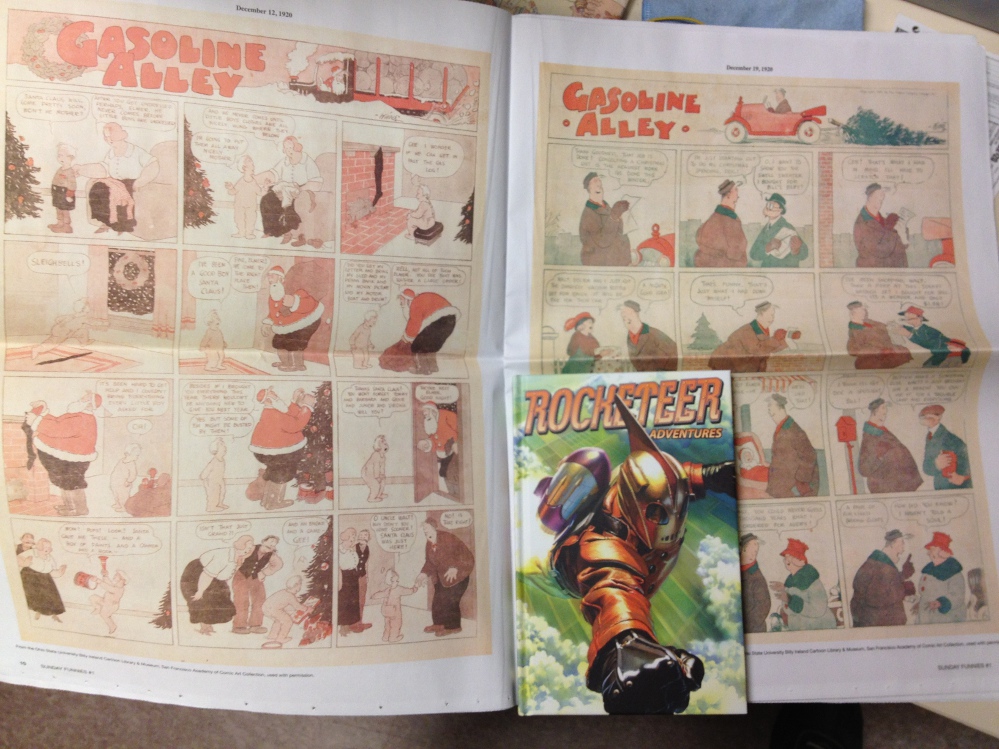 As the introduction in Section B informs us these reprints come from the Ohio State University Billy Ireland Cartoon Library & Museum, courtesy of Bill Blackbeard's donation. We're getting scans of the comics from the papers when they first ran, and that's a double-edged sword. We get to have the comics in that gorgeously large size and really drink in the details but we also suffer through inconsistent colours, printing and the fading and yellowing that comes from ageing newsprint. While the paper stock is heavy and archival it can't enhance the source material. Collected editions of these strips from Fantagraphics, The Library Of American Comics and others present a unified reading experience, usually from printer proofs and often recoloured.
Originally The Sunday Funnies was going to be a monthly 32-page publication but changed to quarterly. It's so large printing had to be done on a newspaper press and is most likely the reason for printing three issues at once. A subscription is available from Russ Cochran's website. It's also available through Diamond as listed in January 2012 Previews Issue 280; for some reason, it's solicited as "Sunday Funnies Collected Volume 1 SC".
The Sunday Funnies provides two wonderful experiences: reading a mixture of comic strips at their original size and format. If that doesn't appeal to you then bypass this niche product.