Few people need an introduction to Frank Miller's seminal take on Batman in his 1986 series Batman: The Dark Knight.  It's heralded as the birth of the modern comic, along with The Watchmen, and exposed a lot of people to comics through its massive sales in a collected volume.  Three collected editions were released that year: a softcover trade paperback, a hardcover and a signed hardcover.  The softcover trade and hardcover were released by Warner Books and carried by everyone who sold books.  The signed hardcover was released by Graphitti Designs, the powerhouse of hardcover collected material in the 1980s and 90s.  The material has been collected and reprinted many times and for those looking to get the ultimate read, I suggest The Absolute Dark Knight.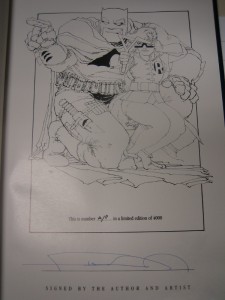 The Graphitti Designs hardcover collected the four issues of the mini series and carried the same introduction by Alan Moore and afterward by Miller. Additionally it featured five pages of sketches and preliminary art from Miller. It was limited to 4000 signed and numbered copies with a signature page featuring art by Miller that was used for the Dark Knight statue DC released shortly thereafter. I remember when this book shipped: comic shops were allocated and quite a few ended up auctioning their copies. Keep in mind these were live auctions at the store in those pre-eBay days.
Graphitti always produced A/P or artist proof editions of their signed and numbered hardcovers: somewhere between twenty to fifty copies of the book that were outside the set number. They were given to the creators, publishers, editors, staff, etc., normally as a gift. These have become the most sought after and collected of the Graphitti line with some substantial values. I picked mine up for $375 in November 2002: a 9.8 copy in its original shipping carton. Currently when available this book fetches $800 or more. This makes Batman: The Dark Knight artist proof one of the most expensive modern comic hardcovers and a must have for the serious collector.
Batman: The Dark Knight
DC, 1986, ISBN 0-930289-11-0
Originally published at Comic Book Daily under my Bound Together column.