This book wins for the longest title this year by a mile.  Fire & Water: Bill Everett, The Sub-Mariner, And The Birth Of Marvel Comics is a biography of Bill Everett complete with lots and lots of art.  Here's the publisher's blurb: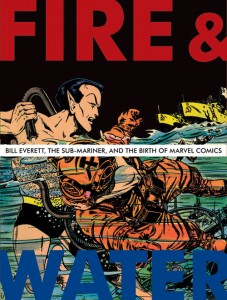 Written by Blake Bell and compiled with the aid and assistance of Everett's family, friends, and cartoonist peers, Fire and Water: Bill Everett, the Sub-Mariner & the Birth of Marvel Comics is an intimate biography of a troubled man; an eye-popping collection of Everett's comics, sketchbook drawings, and illustration art (including spectacular samples from his greatest published work as well as never-before-seen private drawings); and an in-depth look at his involvement in the birth of the company that would revolutionize pop culture forever: Marvel Comics!
Fire & Water: Bill Everett, The Sub-Mariner, And The Birth Of Marvel Comics
Fantagraphics, 2010, ISBN 9781606991664
Vagaries aside Blake Bell has crafted an excellent look at one of comic's most underappreciated creators: compelling, well-paced and entertaining. To be honest I pick up this kind of book for the art; I give the written biography a try and if it can hold my attention I muddle through. Bell kept Fire & Water moving at an excellent pace, never dwelling too long on any details but giving us Everett's life in relation to his comic career. And that's the key: Bell is a comic fan and knows his audience is as well so that's the focus. Intersecting the biography are snatches of information about Timely, Stan Lee, Martin Goodman, Atlas and Marvel comics: pieces the reader needs to see the whole picture.
Bill Everett was an alcoholic most of his life so we see him constantly fail at whatever job he has.  It's a sad tale of self-destruction that inhibited his comic career greatly.  His children provide a lot of information and it's interesting to hear Everett had his daughter inking work at times and his son creating characters and plotlines.  Bell even manages to get a jab at Vince Colletta regarding Everett's last foray at Marvel in the 1970s.
While the tale of Everett's life held my attention the art is the real star.  Covering everything from early doodles to his last published page we get to see thirty-plus years of material.  Lots of pencils and inks throughout: sketches, pages, panel blow-ups, covers.  Unfortunately, Bell uses a lot of scans from poor condition comics that are blown up to fit the book's lofty 9×12″ dimensions.  I understand the original art for most of Everett's work in the 1950s isn't available but some trimming would have been appreciated.  Every image in the book has a note providing information and date; a detail that gets left behind too many times in this type of work.
The fit and finish for Fire & Water are exceptional.  A heavy matte paper is used that really shows off the material and gives it an almost period feel.  The size is perfect for admiring the art and is easy to read; a new perfect package.  I can't get enough of the dust jacket image and its design is stunning: a real eye-catcher.  At $40 it's a great value.
---
Originally published at Comic Book Daily under my Bound Together column.