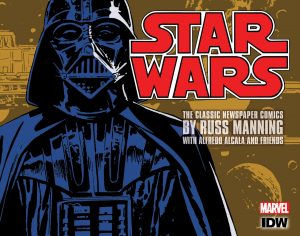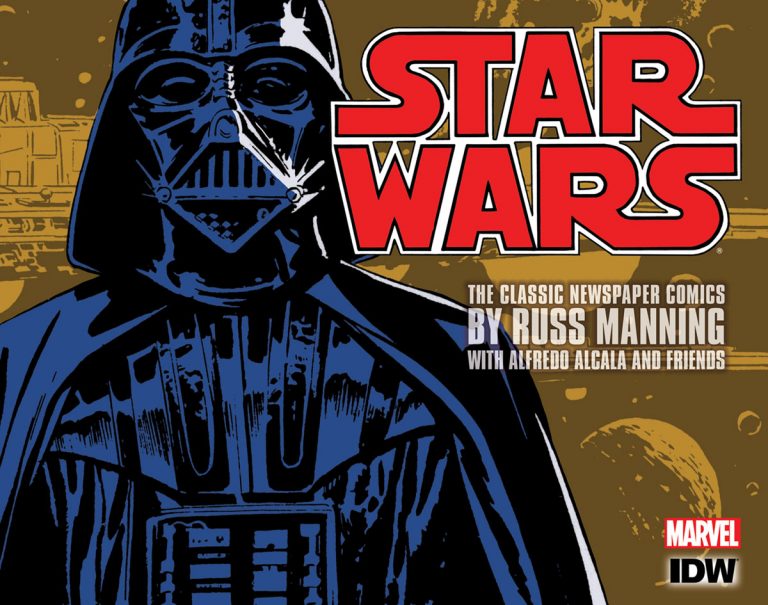 The first of three volumes that reprint for the first time the classic Star Wars newspaper strip from 1979-1984 in its complete format — including each Sunday title header and "bonus" panels in their meticulously restored original color. Initially the color Sundays and B&W dailies told separate stories, but within six months the incomparable Russ Manning merged the adventures to tell brand new epic seven-days-a-week sagas that rivaled the best science fiction comics of all time. Volume One contains 575 sequential comic strips from the strip's premiere on March 11, 1979 to October 5, 1980.
Library Of American Comics, May 10, 2017
Written by Russ Manning, Steve Gerber, Don Christensen, and Russ Helm
Drawn by Russ Manning, Alfredo Alcala, and others
Edited & Designed by Dean Mullaney
Introductions by Rich Handley and Henry G. Franke III
11" x 8.5" full-colour hardcover with dustjacket, 264 pages
Order online: Amazon.com, Amazon.ca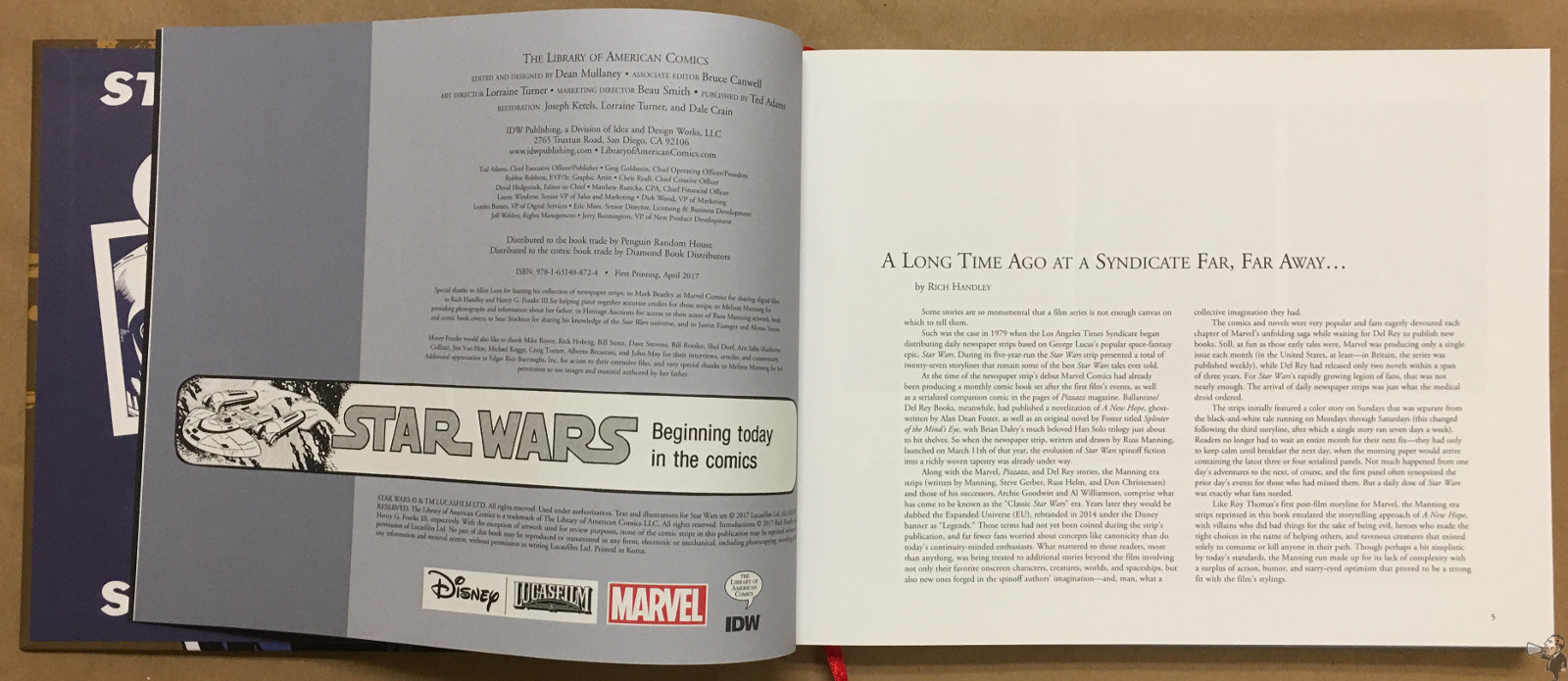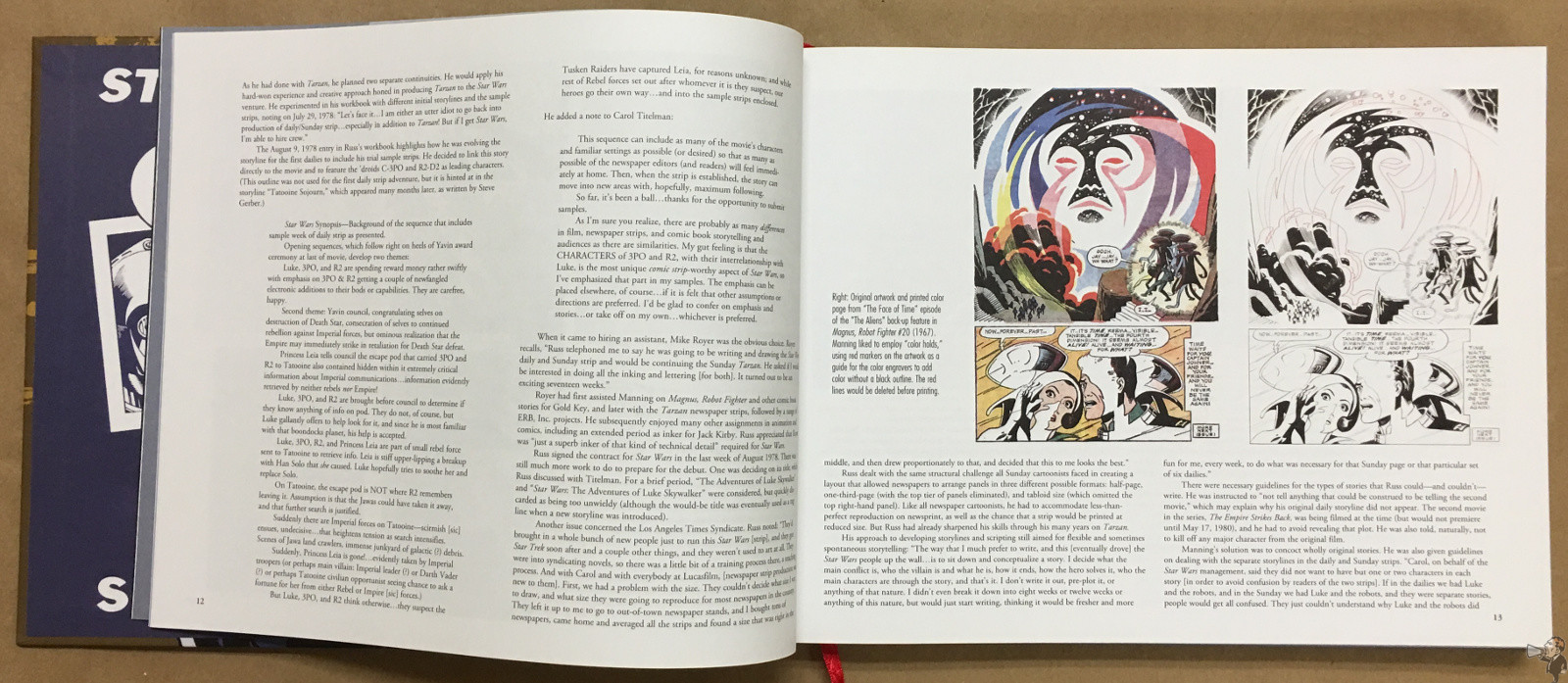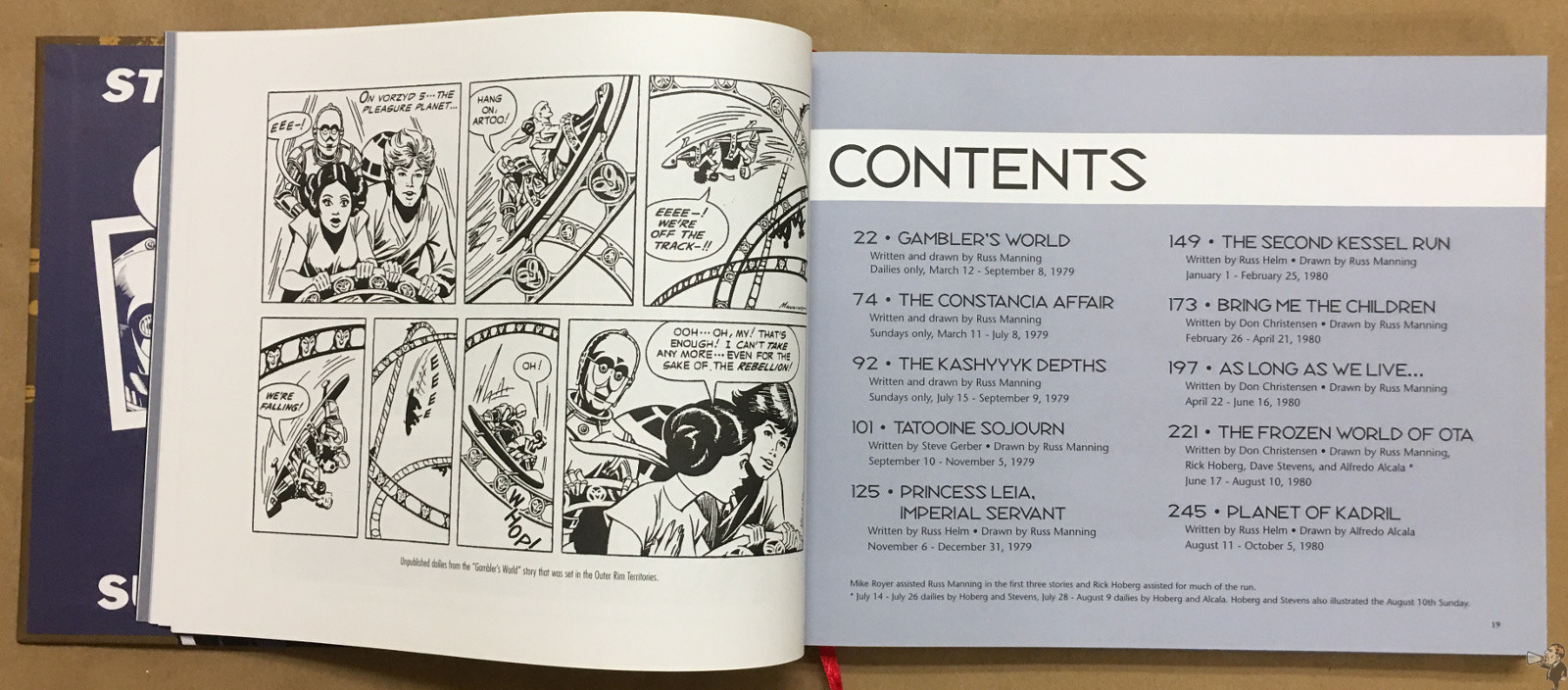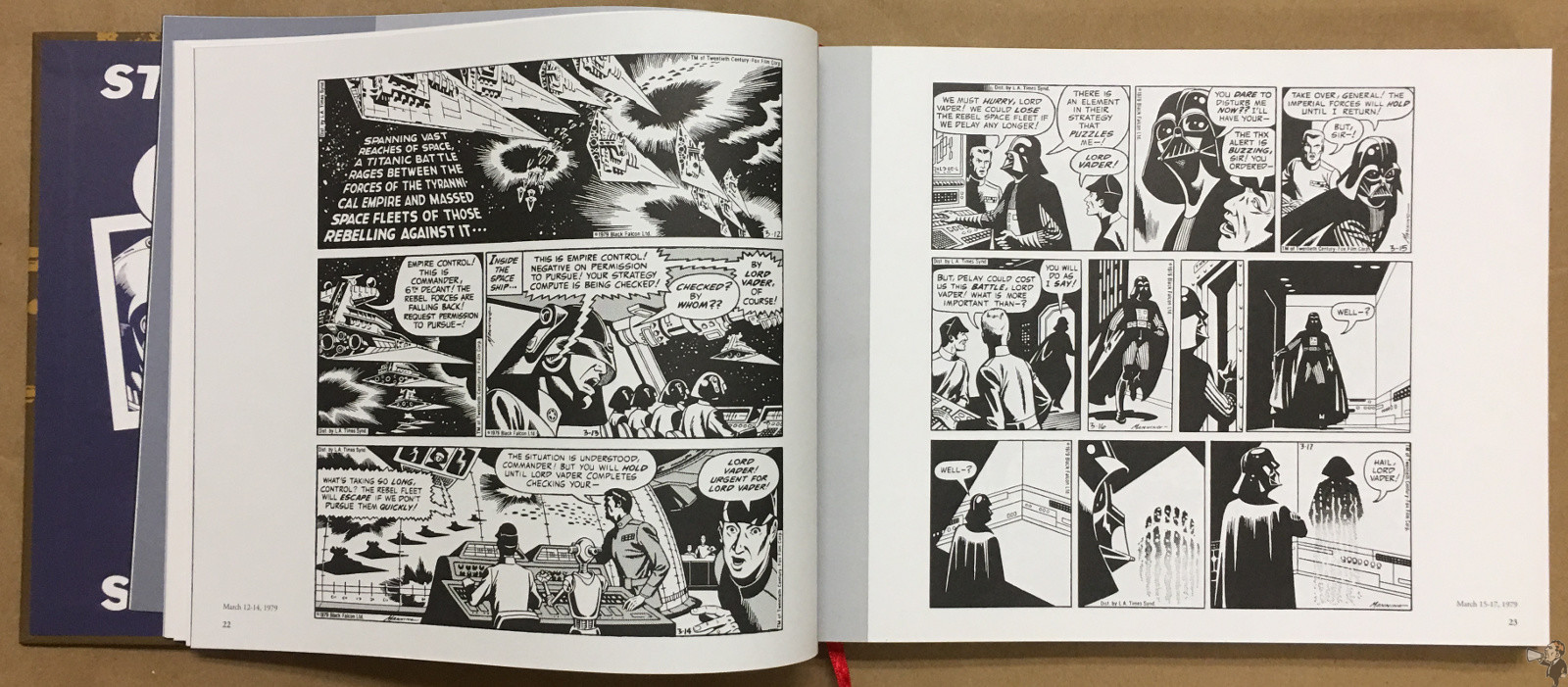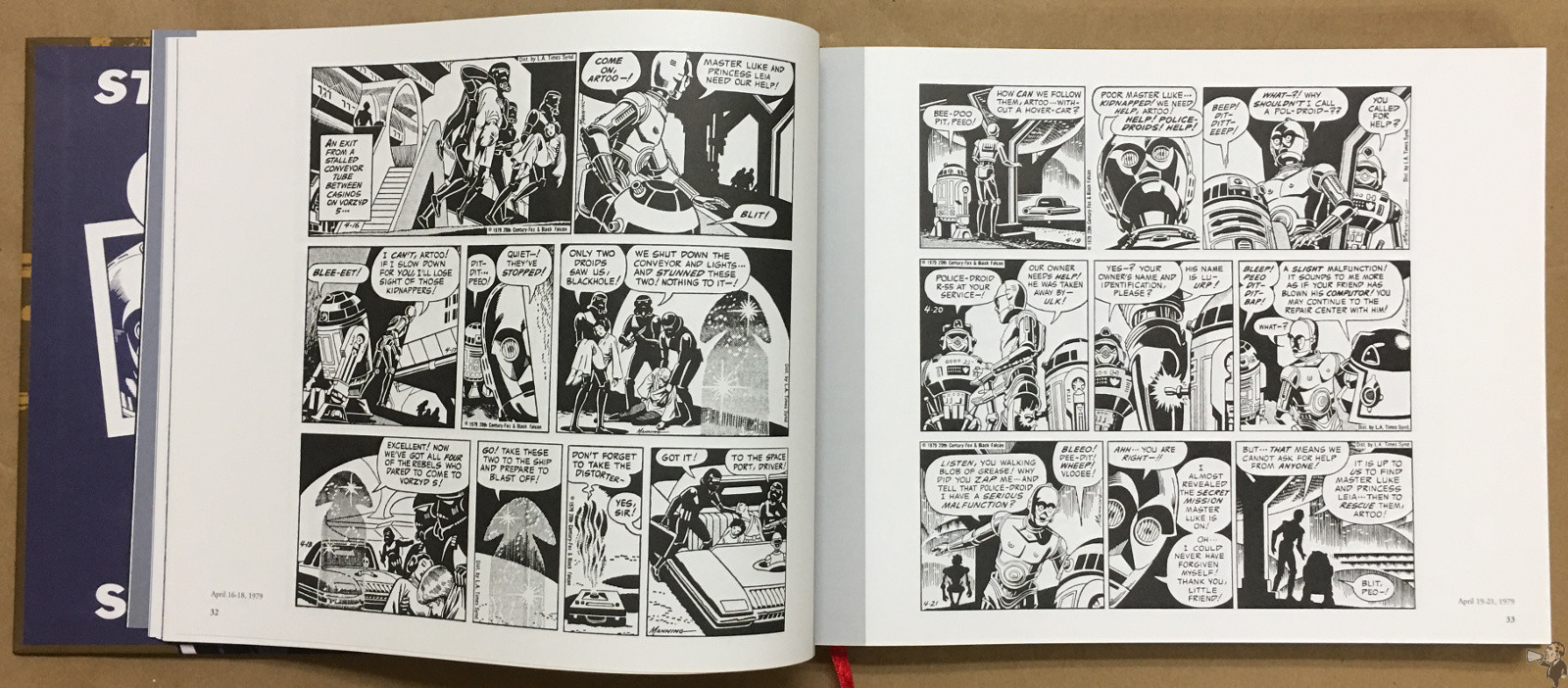 Here is Star Wars, fresh from the first and only movie at that point, in a new media appealing to the broadest audience possible. As Rich Handley discusses in his excellent introduction, this newspaper strip wasn't the first or only broadening of the Star Wars universe, but just like the movie was an all ages romp through this new and exciting science fiction epic.
Because of the medium readers were presented with small bites of story every day, with little character development or overarching storylines. We have our core cast of heroes doing battle with the Empire and it's clear villain Darth Vader. Thankfully the stories take place in strange and new environments, with an always rotating cast of support and obstruction, good and evil.
The strip starts off with one story in the dailies and one in the colour Sundays, then morphs the Sunday strip into a colour recap of the week's black and white dailies. Effective for complete readership coverage, and a treat to see the six daily strips transformed into a larger single colour strip, but a waste for regular readers or those of us reading the story in a collection.
Even though four writers tackled these two years of strips, the stories don't feel forced or out of sync. Since each was self contained with no overlap or continuation they stand just fine on their own. Also worth keeping in mind they were keeping to the core values of the movie characters while putting them in whatever fantastical elements they wanted.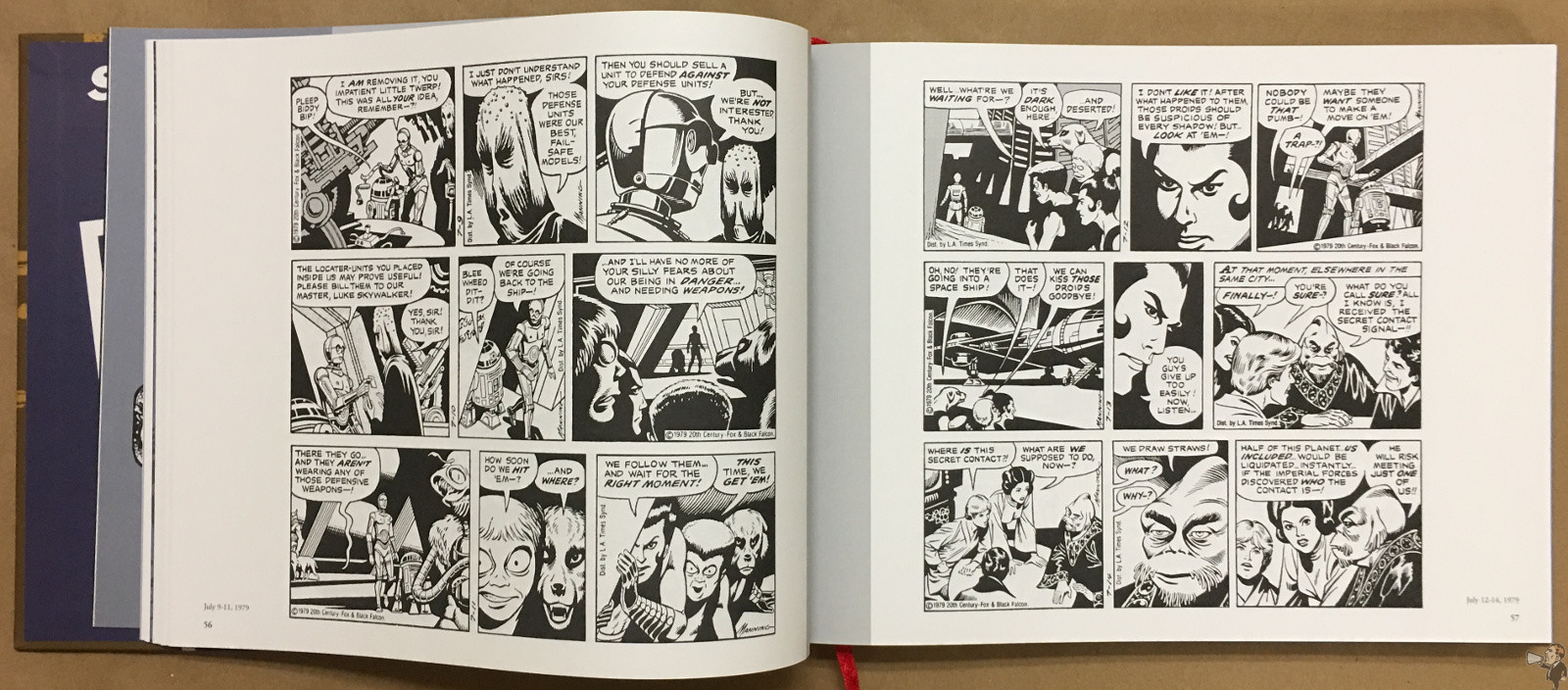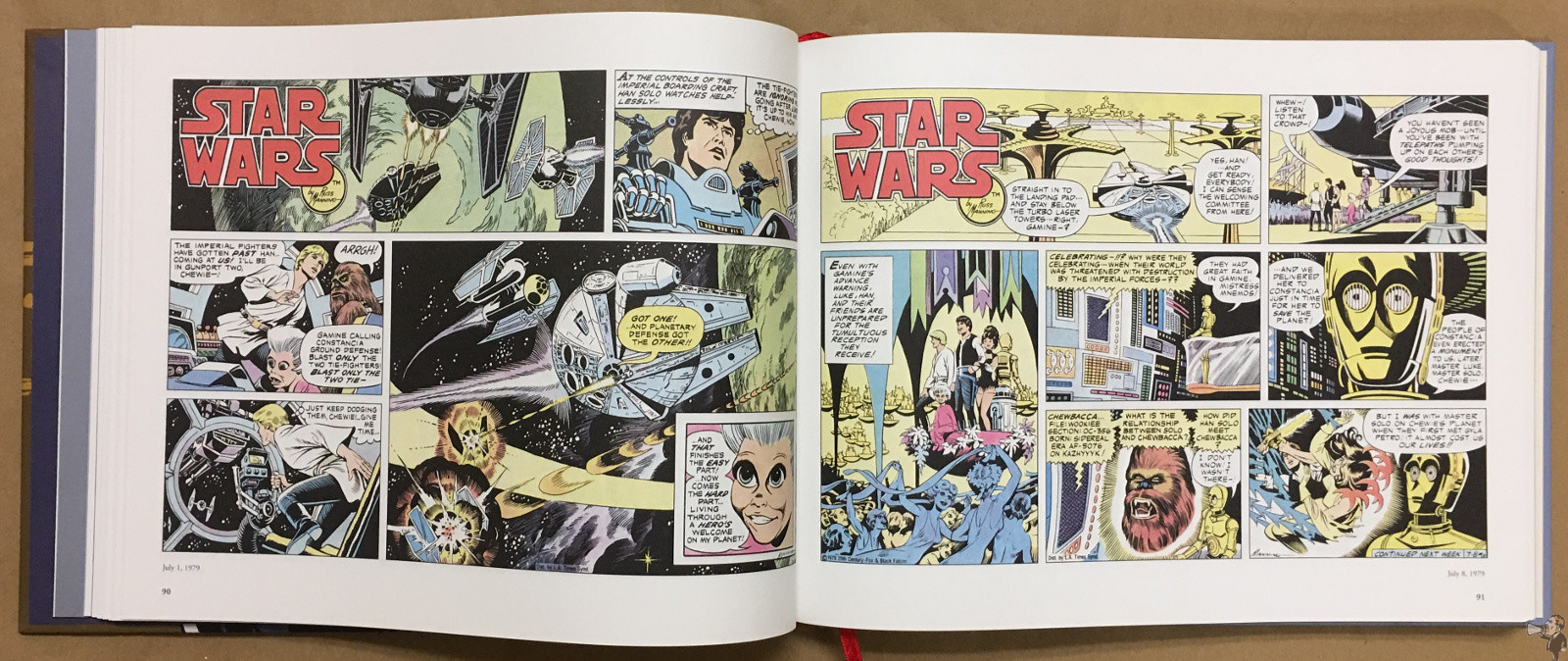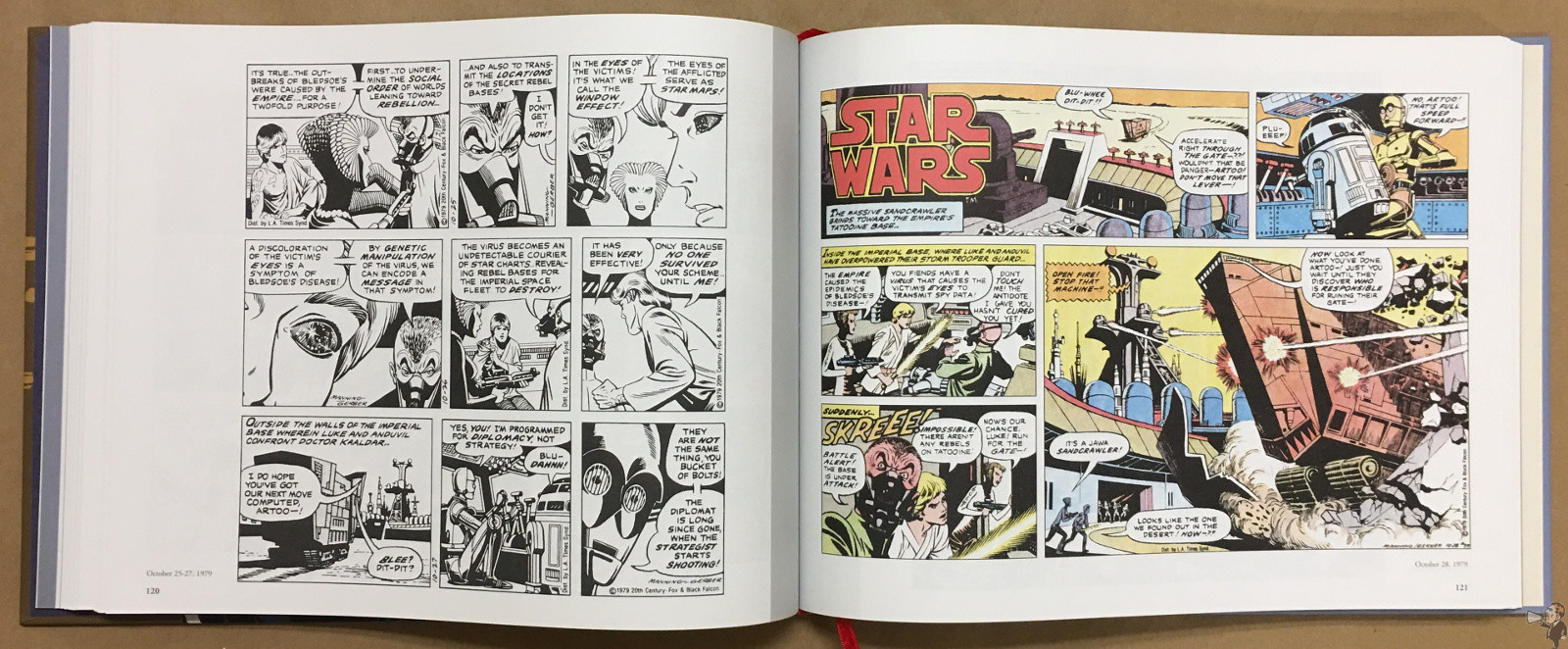 Manning's clean style works wonderfully for daily comic strips, and shines through on the Sundays even more. He loved the close up shot to highlight facial expressions, and we're treated to them again and again. Well crafted execution day after day. Towards the end we get fill in artists and the transition to Alcala, whose style is jarringly different from Manning. The Stevens' strips are real gems, with his unique look coming through on the occasional face as he tries to mimic Manning's style.
The book's second editorial features a look at Manning's work by Franke III, and provides a nice overview with samples of original art. We're also treated to some strip roughs and Manning's sample submission with some great Tuscan raiders.
Production is excellent, with decent matte paper stock and a silk ribbon. Almost all the strips are clear and present well; there are the occasional muddy strip but they're few and far between. Strip dates run along the bottom corner of each numbered page. A dust jacket bears the same images as the book's front and back cover, leaving me wondering its purpose.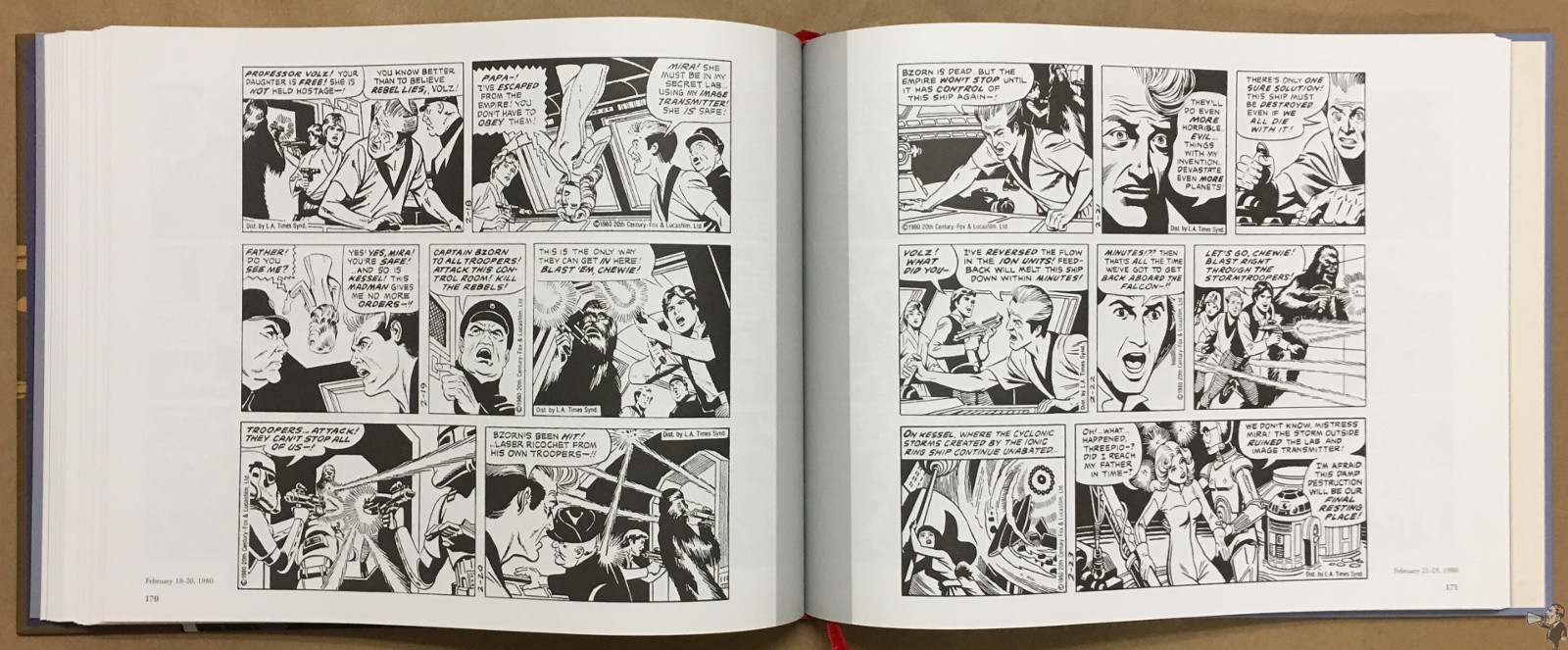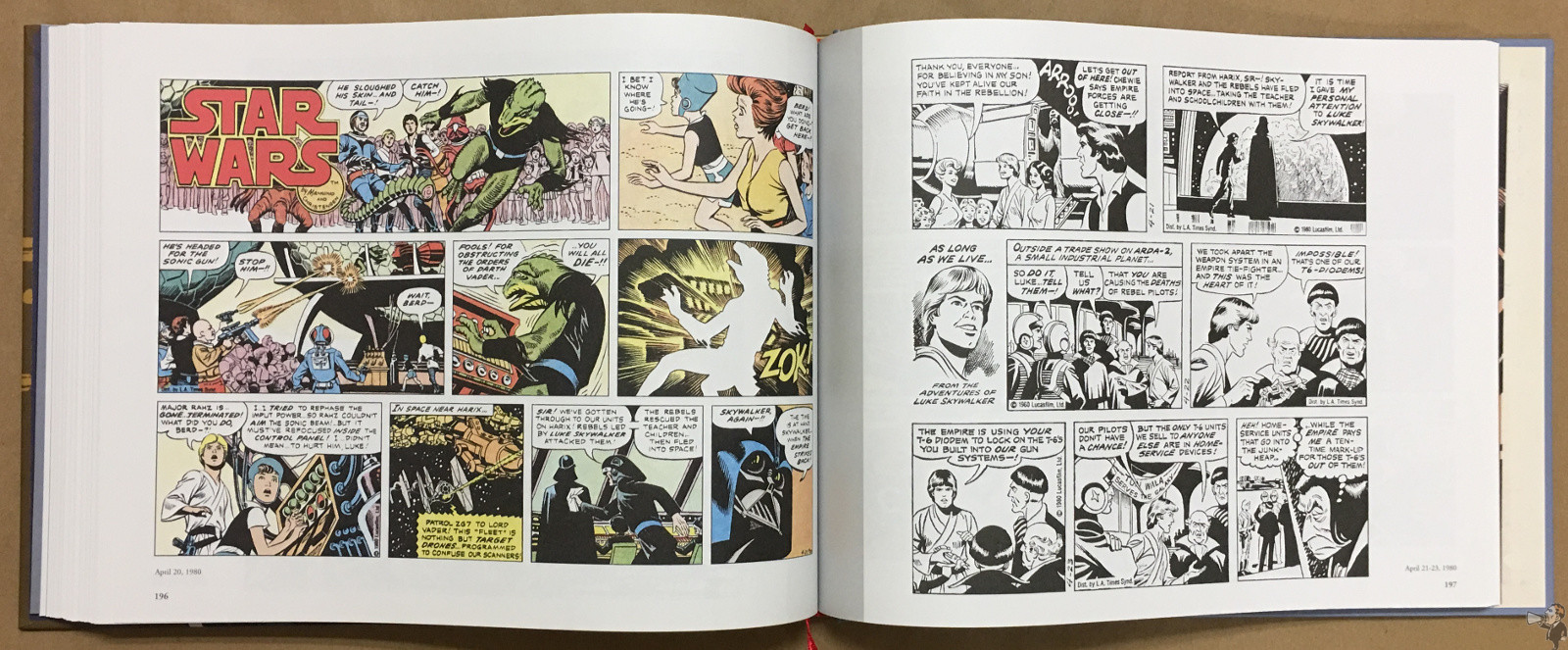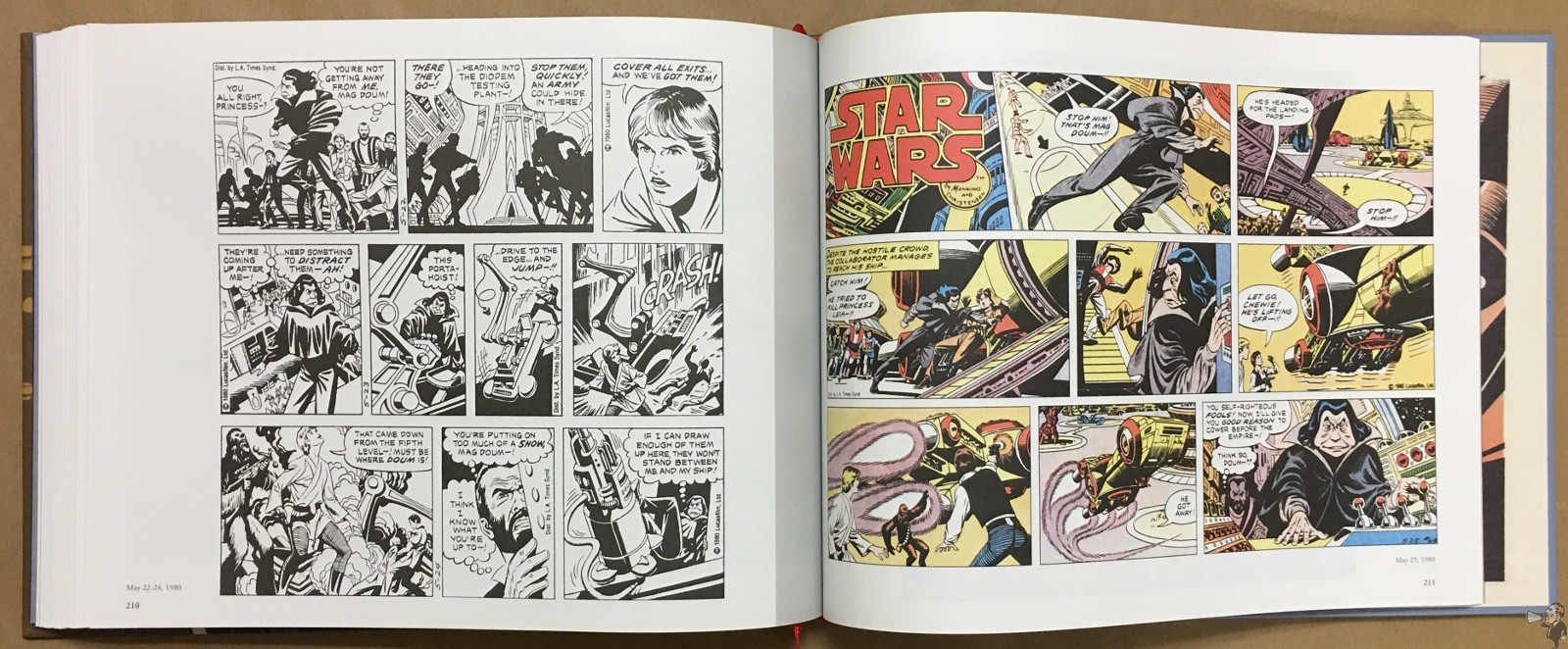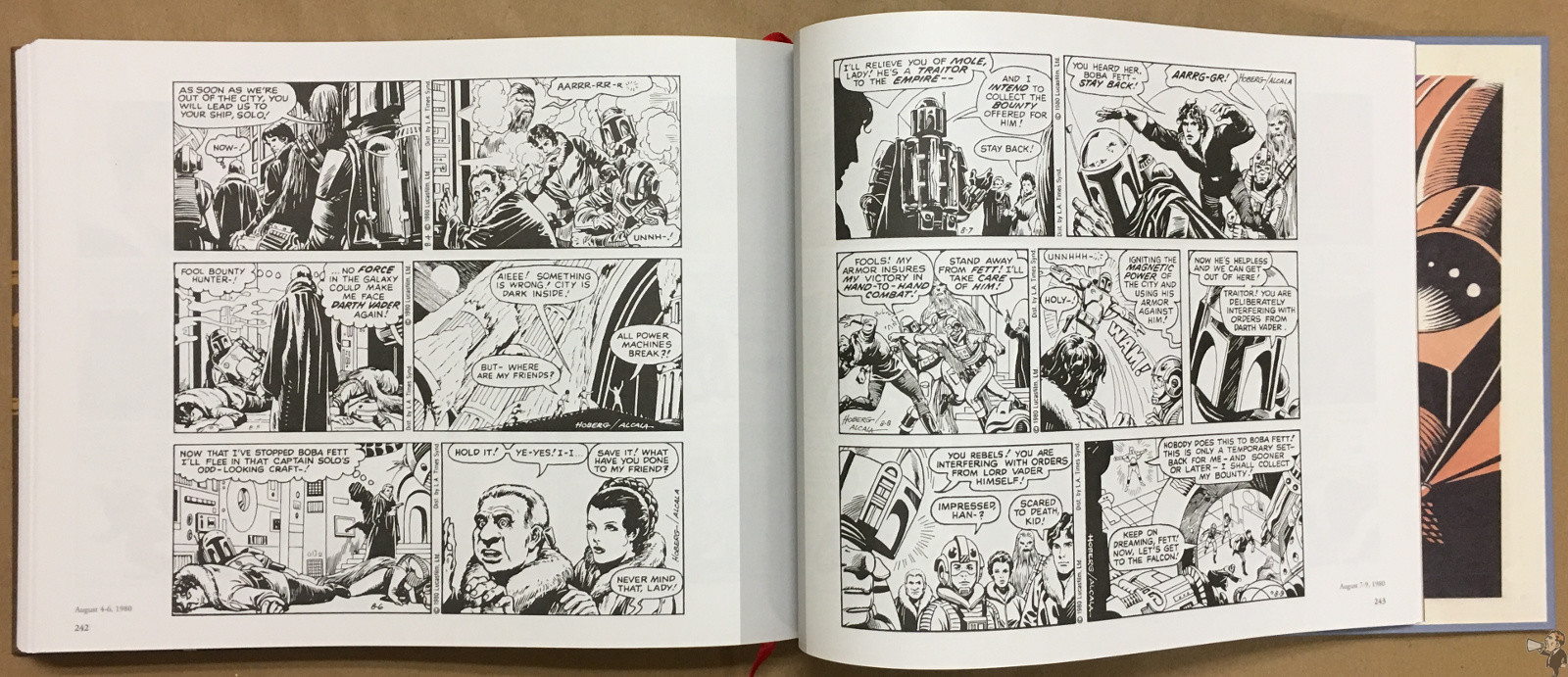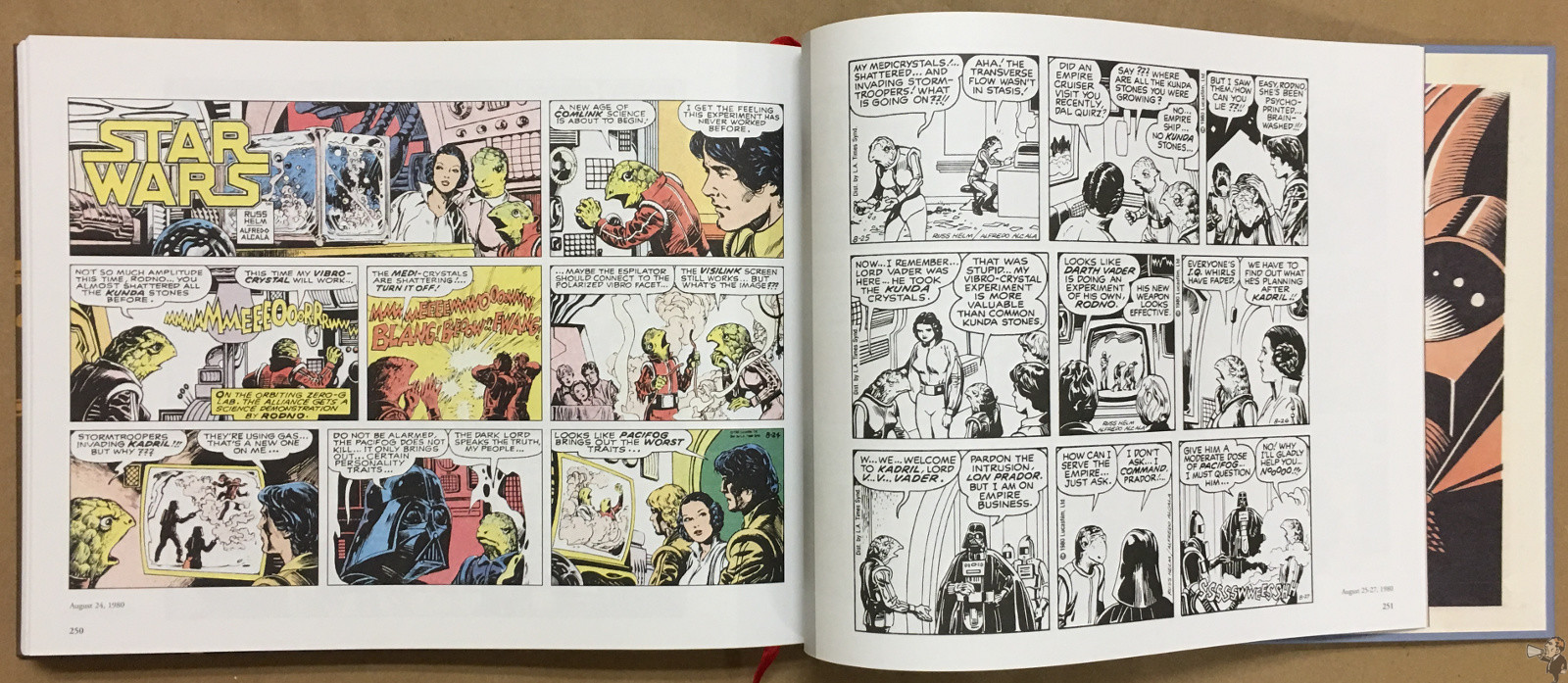 ---
Originally published at Comic Book Daily.