Star Hawks Volume One: 1977-1978
In the mid 1970s, when science fiction was primarily read by hard-core fans and Star Wars had yet to enter the cultural zeitgeist, Ron Goulart and Gil Kane created Star Hawks, an innovative two-tier science fiction comic strip that brought a comic book design sensibility to the newspaper page.

But Star Hawks was shelved by the syndicate before it began. Then Star Wars was released and with science fiction suddenly in vogue, Star Hawks was dusted off and rushed into newspapers. Forty years after its debut, Star Hawks still looks fresh and exciting. This first of three volumes from the Library of American Comics reproduces each strip on its own page so readers can relish Gil Kane's incredible artistic achievement, and also features an introduction by Ron Goulart.

Library Of American Comics, April 26, 2017
Written by Ron Goulart
Art by Gil Kane
Edited & Designed by Dean Mullaney
Introduction by Ron Goulart. Afterword by Daniel Herman
9.25″ x 6.5" hardcover, 336 pages
ISBN: 978-1-63140-397-2
$49.99 USD
Order online: Amazon
The Library Of American Comics is, in my opinion, the premier publisher of newspaper strips. Not only do they bring comic strips to readers for the first time, they also present previously published comic strips in new and updated formats using the best of what is available today. Here we're presented with Volume One (of three volumes) of Ron Goulart's and Gil Kane's space adventure strip Star Hawks.
On the surface it sounds like your average buddy cop romp, but in space. It's important to look at the material from its place in time, and then to put any preconceived notions aside and just enjoy it. Goulart gives a fast paced story with ever evolving characters in unique, action oriented scenarios. As with the best ensemble casts our hero is the straight man and everyone else gives the story live, humour and vitality.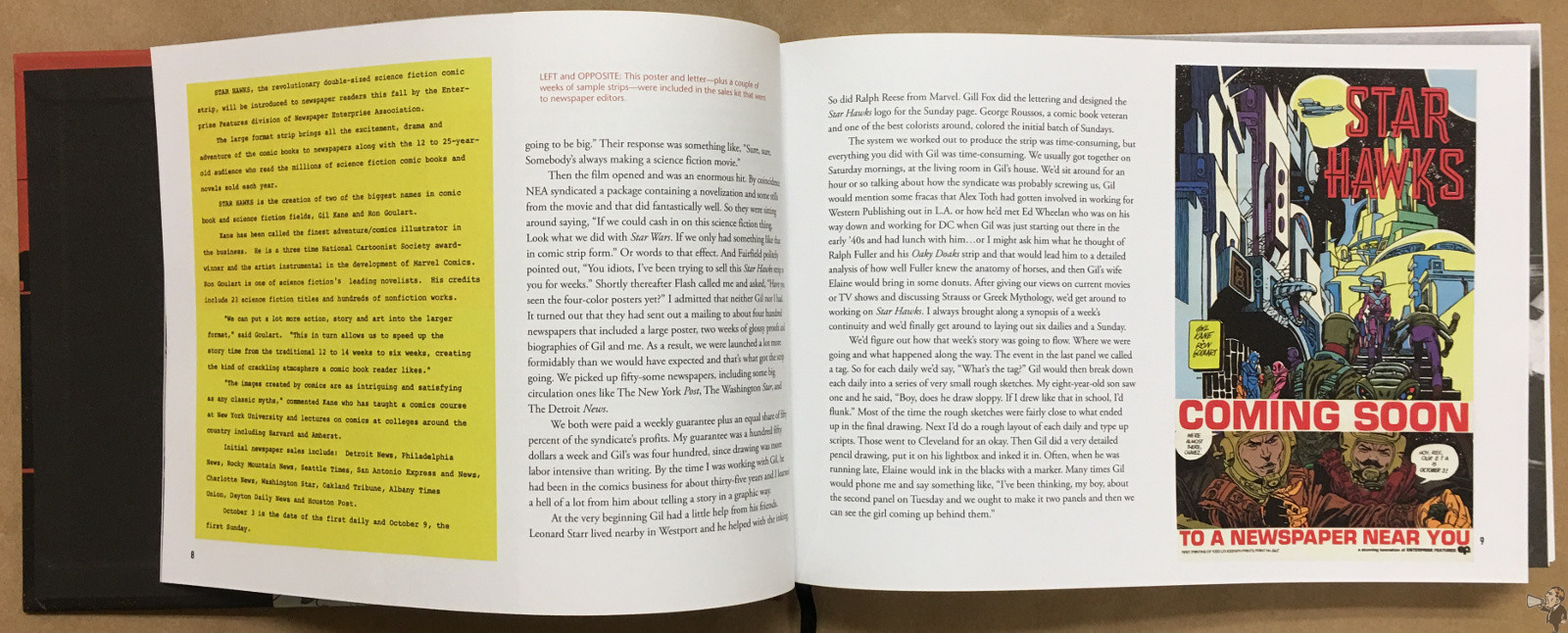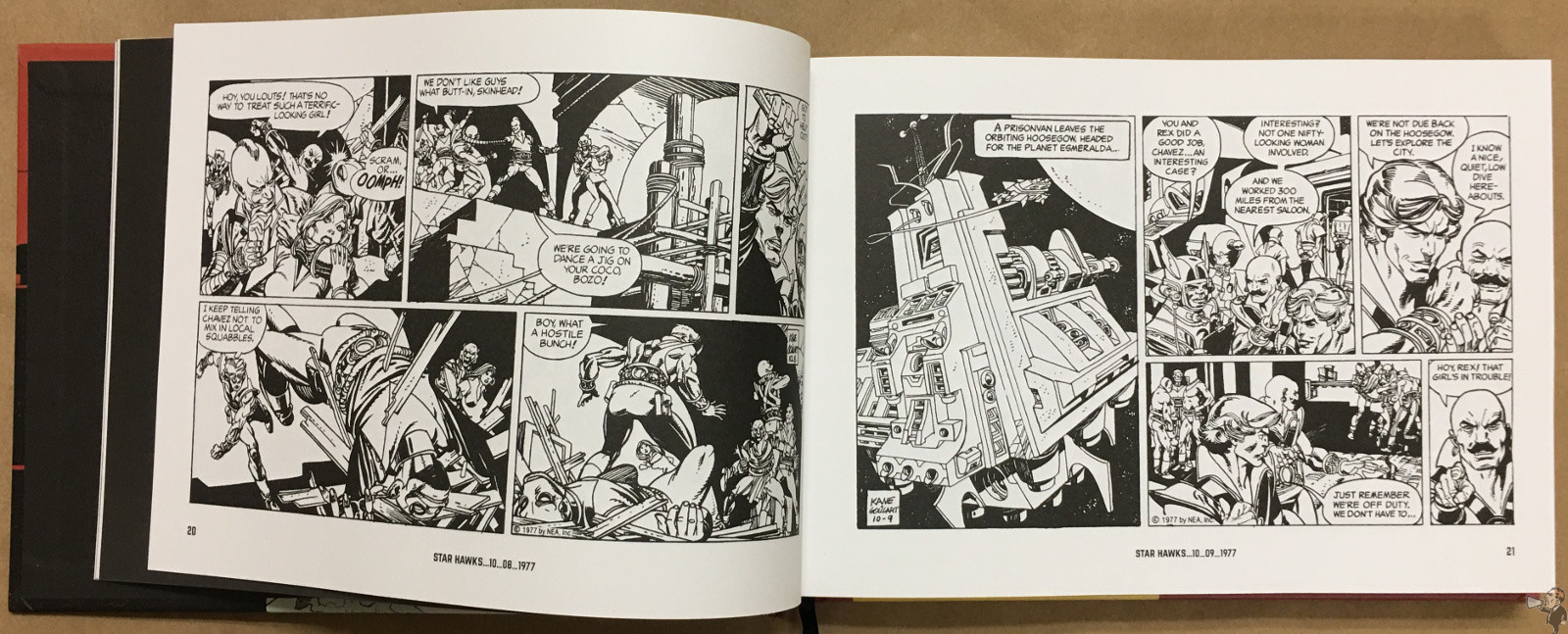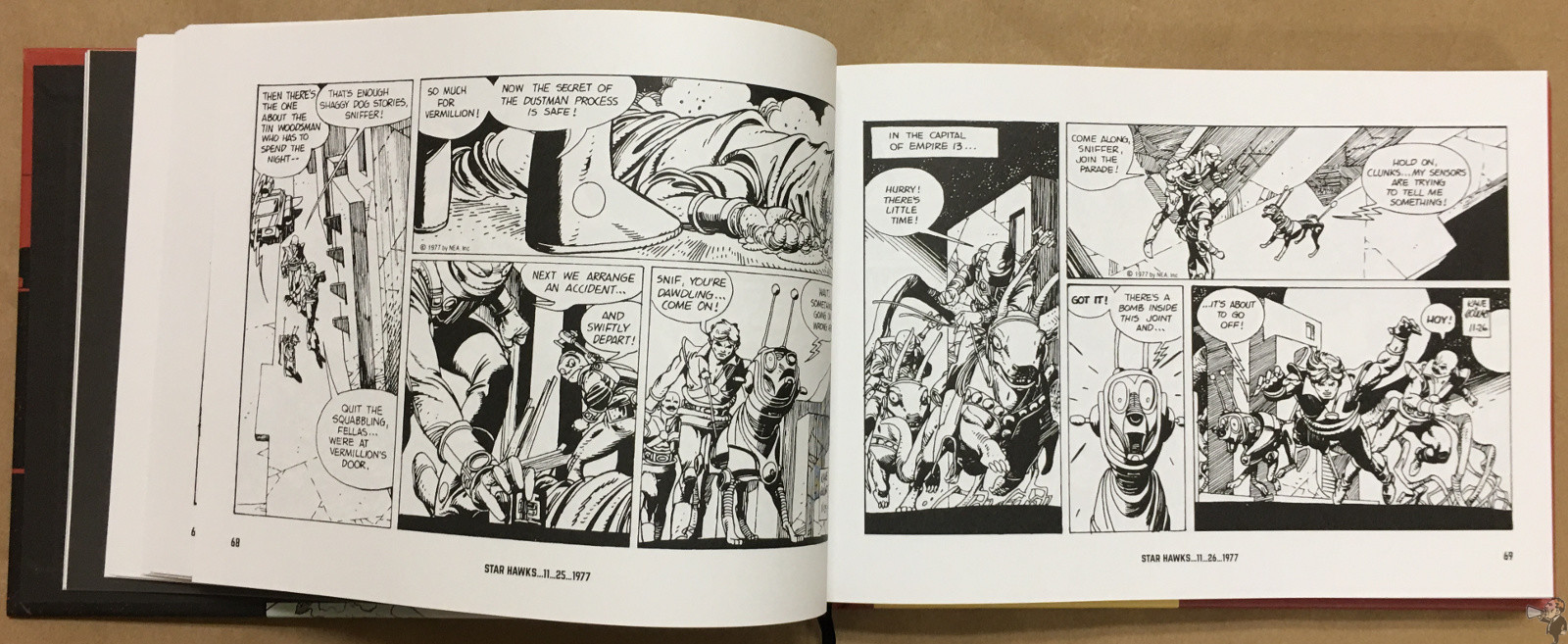 Star Hawks was a unique take on comic strips for its time, doubling the normal daily strip size and allowing Kane to present a more comic book style of art. Dynamic, fluid and a wonderful approach from a master. Some newspapers offered the Sundays in colour, and at times Kane's art seems primed for colour and lacking in this black and white format.
A wealth of ancillary material is provided. A peek behind the curtain introduction by strip author Ron Goulart, with roughs and promotional material. Daniel Herman's afterword focuses on Gil Kane, his career and what was brought to Star Hawks. I found them both informative reads after I'd completed the strips.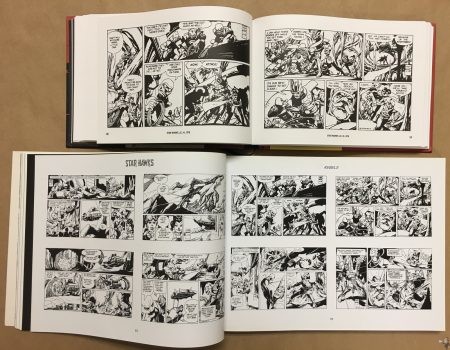 Hermes Press previously published this material in a complete collection in 2003, of which I have a copy. Above is an example of the Library Of American Comics volume and the Hermes volume. To collect the entire series in one volume Hermes put four strips per page, presenting the material quite small. This new series aims to rectify this with enlarged strips, one per page.
Strip quality varies greatly. Seems they used the Hermes Press digital copies of the strips; was surprised to see the Hermes Press logo on the back of the book but the afterword by Daniel Herman and the thanks for the digital files made it clear. There has been a wealth of original strips for sale from Heritage over the last few years: would love to see an Artist's Edition of this material!


Oddly for this book the Library Of American Comics has introduced yet another format size, specifically for this series. While it's a nice idea to present one strip per page, this could have easily been a 9″ x 12″ hardcover. And once they get into the smaller strips for Volume Three it won't be one per page anyway.
Production is excellent. Glued binding of decently heavy paper stock. Love the ribbon. Because of the page dimensions most pages have enough weight to lay down. Thankful for a Library Of American Comics hardcover without the dust jacket.



Originally published at Comic Book Daily.