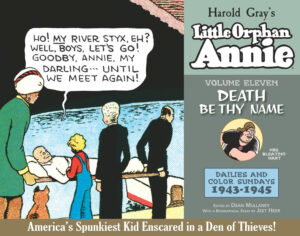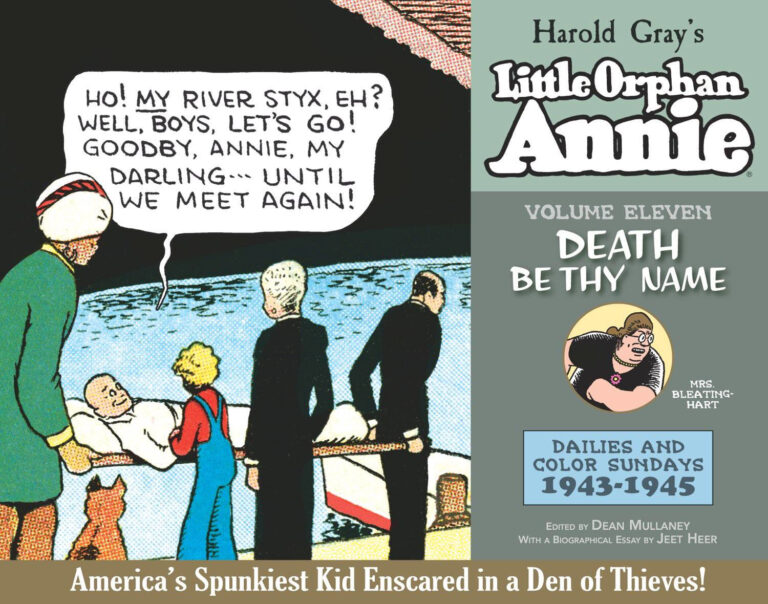 In the depths of the Second World War, Harold Gray paints a dark vision of stateside America when Annie's most loyal friends turn out to be a boarding house full of thieves, forgers, and mindreaders. The red-garbed orphan sees that petty politicians and their underworld companions can deprive a small town of freedom just as easily as can foreign spies and that a big city can be home to a larger and even more dangerous threat to national security. To Annie's initial joy, "Daddy" Warbucks comes home from war, but this time it's not to be with his beloved adopted daughter, but…to die. With "Daddy" gone, Annie ends up terrorized by the wretchedly evil Mrs. Bleating-Hart, who robs Annie of her liberty in a very real and personal way. Reprinting all daily and Sunday strips from August 8, 1943, to April 14, 1945, in the darkest hours before the dawn.
ISBN 978-1-63140-223-4
11″ x 8.5″, 288 pages, hardcover
$49.99 USD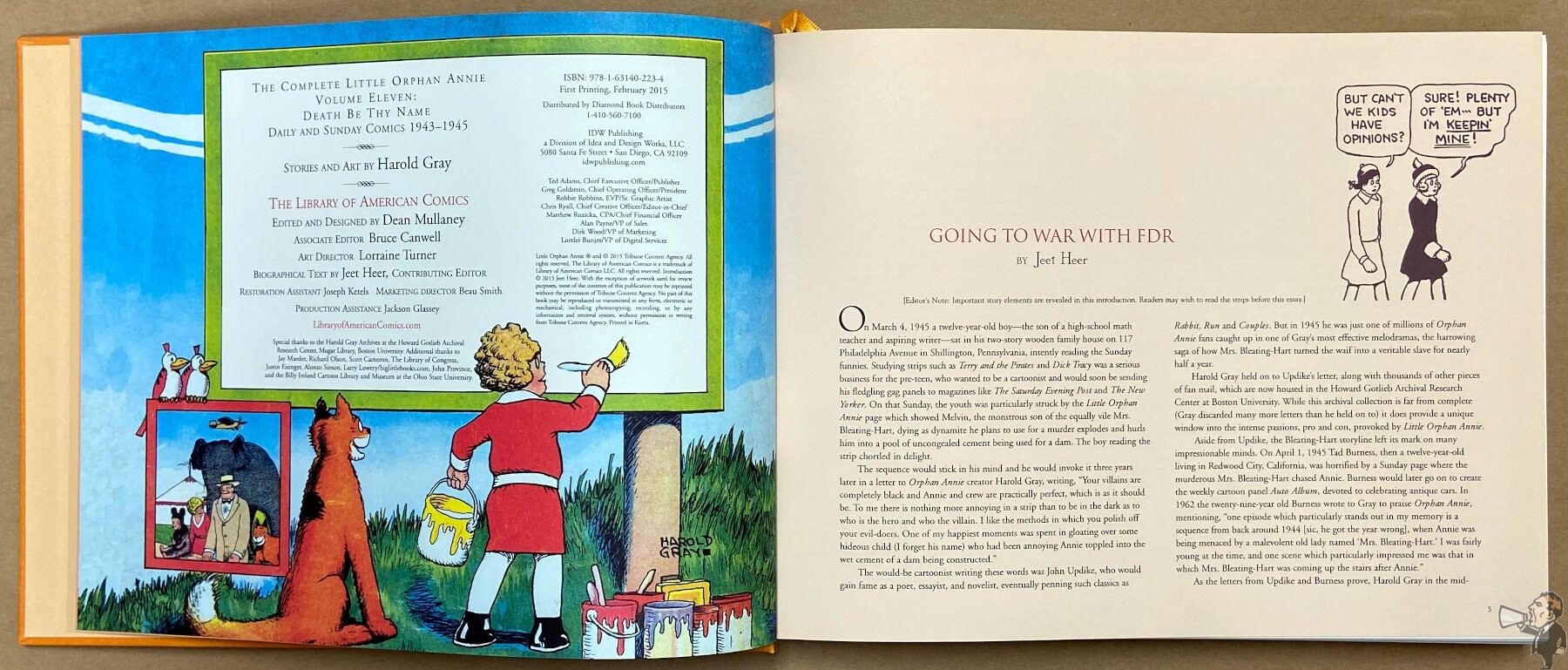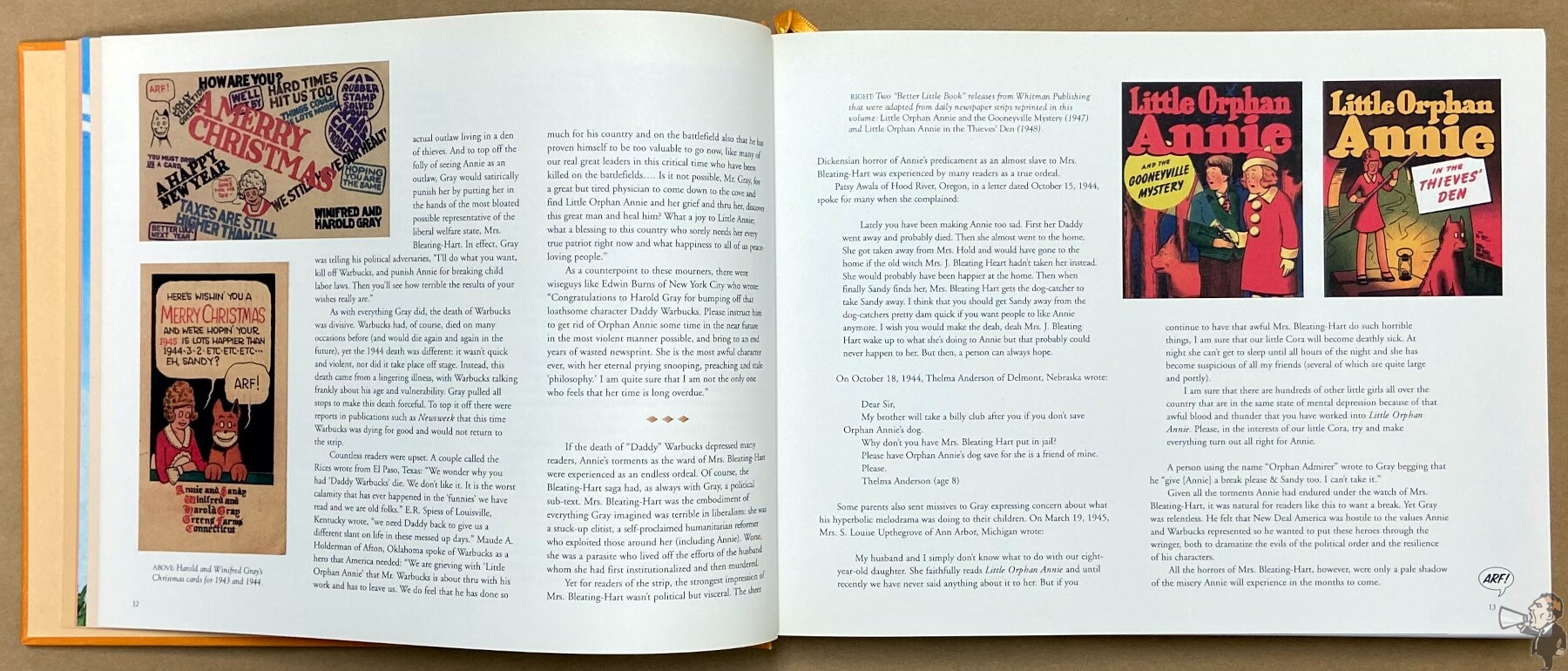 Four complete stories covering just under two years' worth of strips. It begins with hope and joy in each other but moves to heartache and despair. A very engaging volume and a strong contender in this series.
In "Next Stop…Gooneyville", Annie arrives in a new small town to stay with Spike and Sally Spangle, as arranged by "Daddy" Warbucks. She quickly adapts to this happy home, aiding the Spangles in their life of war rations and limited business opportunities. The Junior Commandos are formed in Gooneyville to fill the slack left by gasoline rationing and energize the local businesses, especially aiding the local newspaper. Spike Spangle gets caught in some nasty local politics and loses everything, but those who have little give and we see Annie and everyone else pull through. It's a moving story as those in Limbo Lake, a shantytown on the outskirts of Gooneyville, come together as a community to help the Spangles.
Of course, it wouldn't be Annie without some mystery and trouble, as she encounters some rough customers and murder all revolving around Turk Torp. This could have been a new storyline but it's the second act of this story as Annie and the newspaper work to free an innocent man and gather the evidence to convict Torp. The jury is paid off or threatened and Annie decides it's better to leave town. Abruptly Torp is killed, but Annie never knows. It's a quick ending to a lengthy buildup.
Annie moves on to a big city with "In A Den Of Thieves", finding herself under the care of a beggar and a boarding house full of criminals. She gets work making deliveries, but she's too young to be hired as an employee so she's a contractor paid by the piece. Annie gets a forged birth certificate and goes to school, but vows to break no crime herself. She's on the other side of the equation this time, with a hard look at society and those who prefer to stay on its fringes. The boarding house becomes the scene of a crime as bodies start appearing in the basement, which leads to a group of Americans attempting to overthrow the government. Annie is only along for the ride as this one plays out, but it ends with "Daddy" Warbucks' return.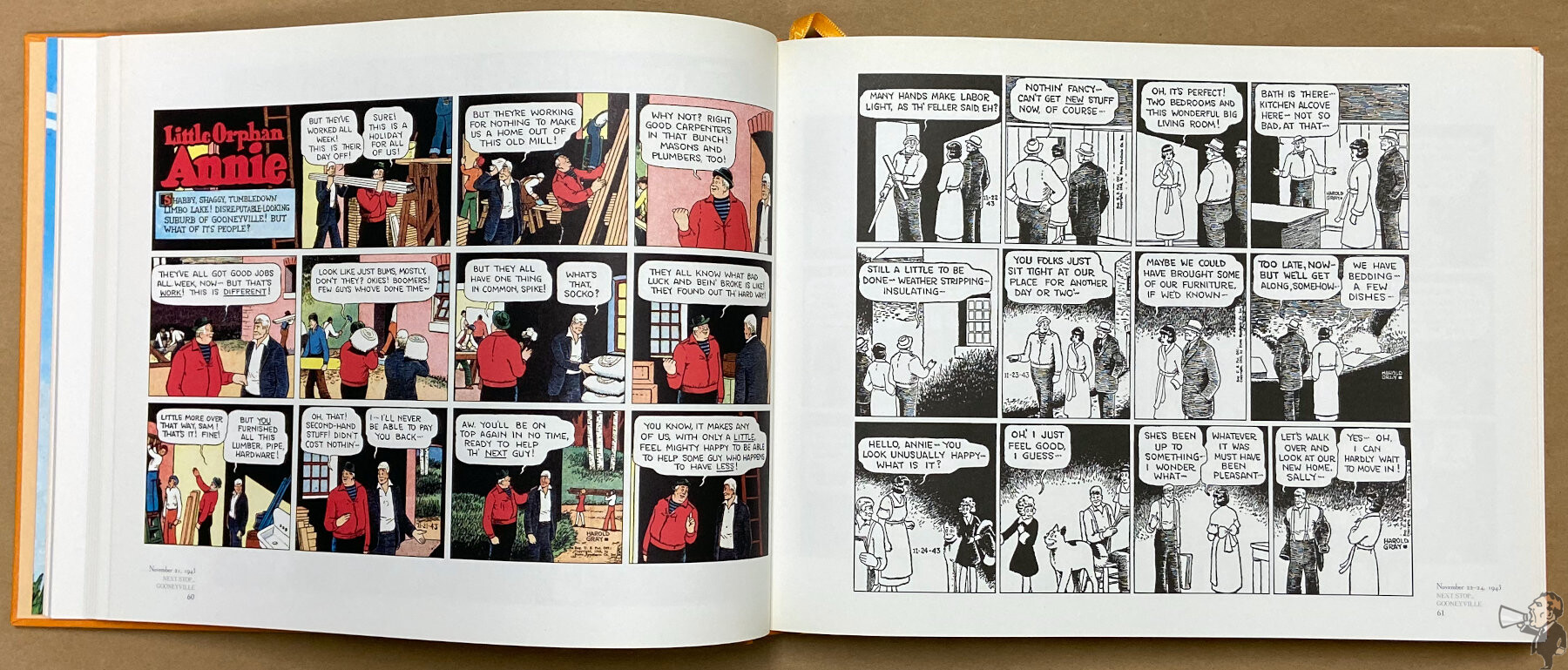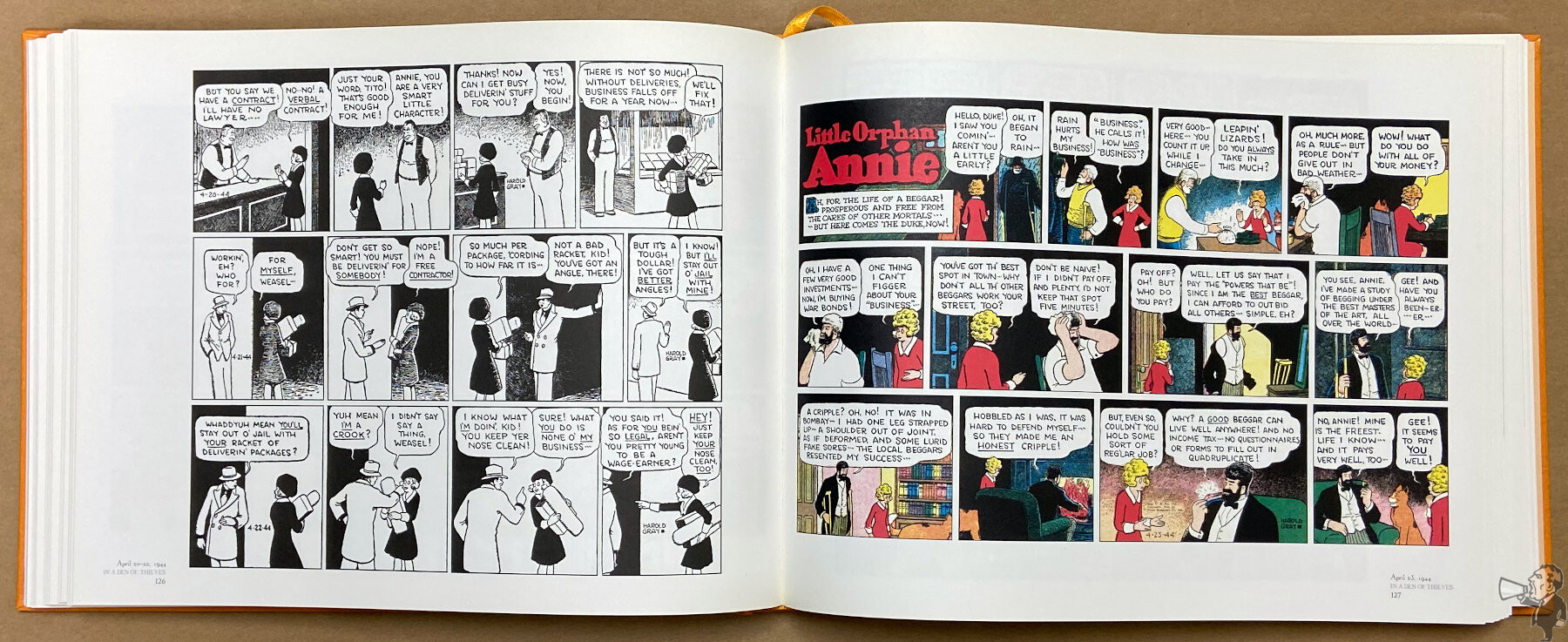 "Death Be Thy Name" is a short story of six weeks, where Annie and "Daddy" Warbucks are reunited, only in time for him to die. It's poignant in the bittersweet reunion and quick parting but leaves far more questions than answers. Annie is left with Mrs. Hold, a kind but poor widow. The local do-gooder Mrs. Bleating-Heart intervenes and has Annie moved to her care.
That leads into the last story, "Mrs. Bleating-Heart". Annie moves into the maid's room and assumes all the duties associated with that, providing a free servant for Bleating-Heart. We slowly learn the diabolical past of Bleating-Heart and her chilling schemes, ending in a prolonged cat-and-mouse chase. It's a great build-up with a lot of tension.
Gray makes quite a few statements in these stories, all focused on the government and its efforts and changes during the war. First with the OPA and war rationing, where corruption and special treatment strip the local businessman of the means to earn a living. Then a long tirade on Annie not being able to work because of her age. It seems to go on and on, Annie lamenting that she can't earn even though she's capable. I'm not sure if Gray was against child labour laws or a minimum work age.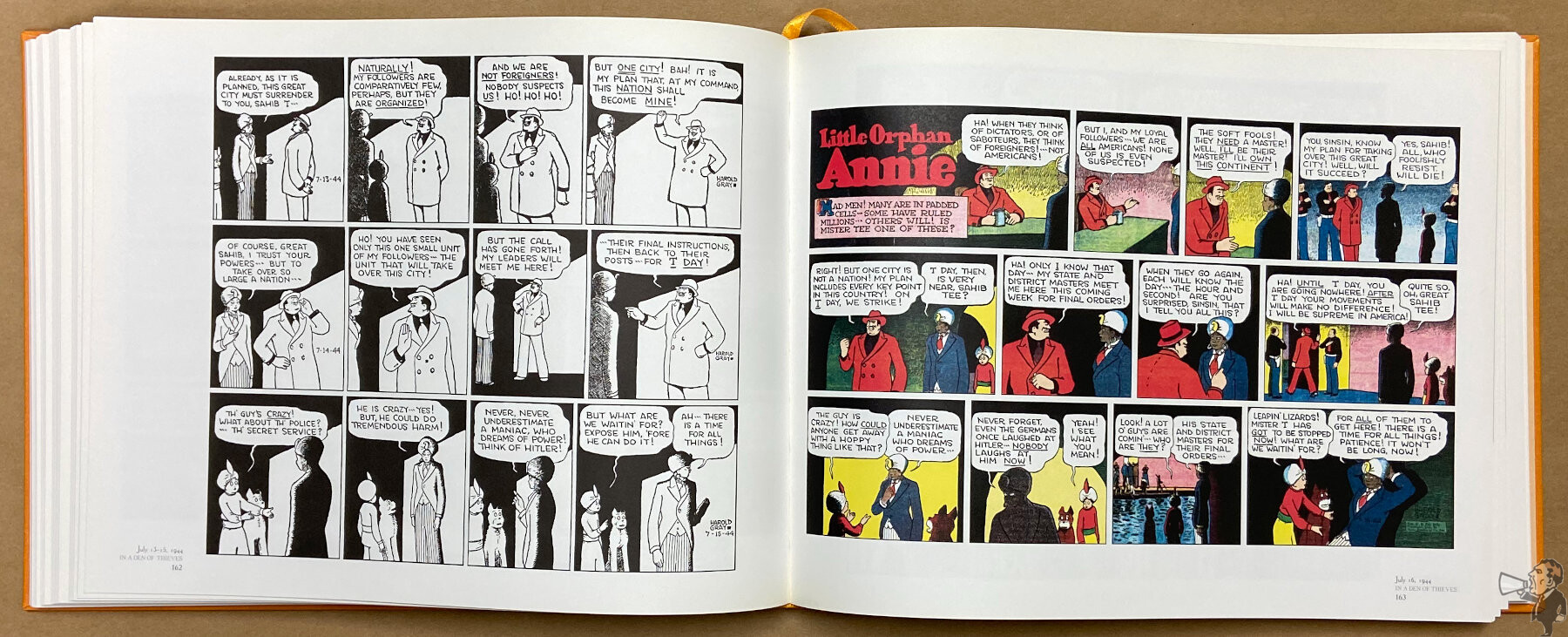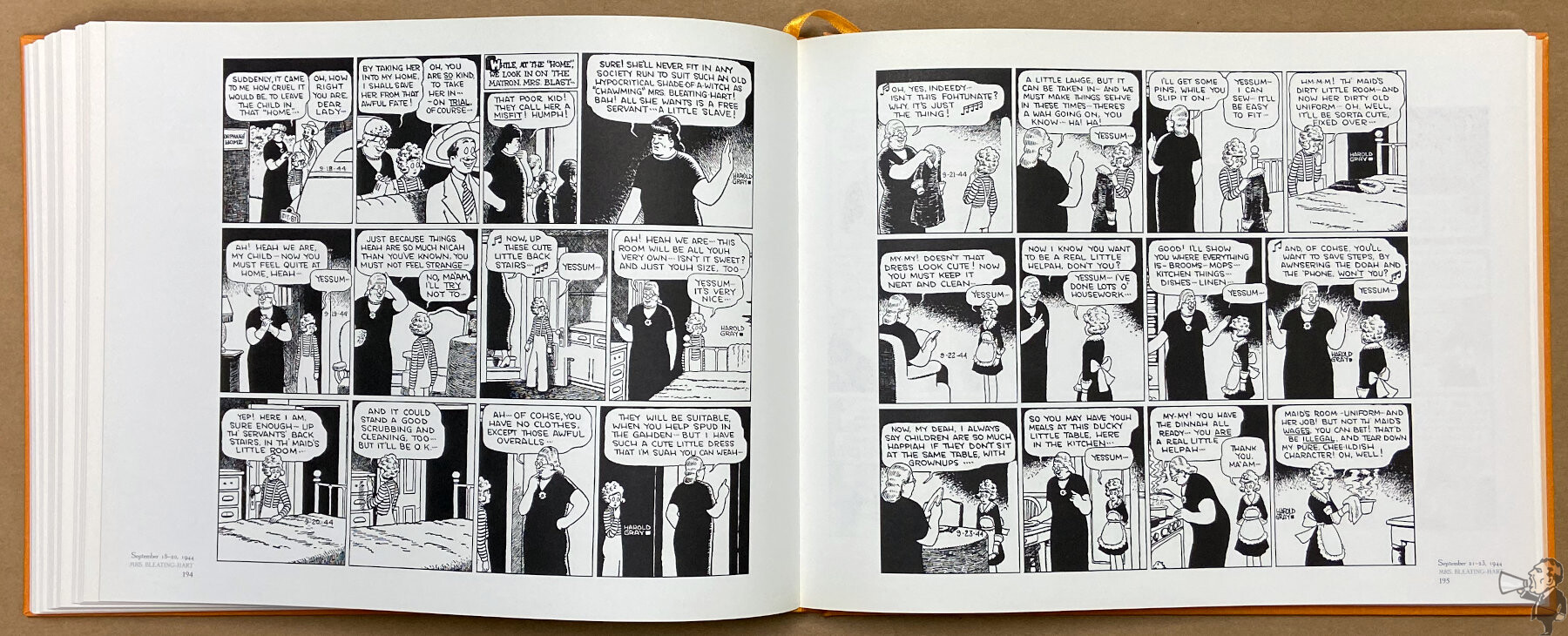 Jeet Heer's introduction provides a wealth of information about the period and about Gray's politics. We learn about where the OPA criticism originates, and his attack on new government implementations. Some great art with the essay, including the 1943 and 1944 Christmas cards. As always, read the introduction after you've finished the strips!
The artwork appears less detailed than we're used to, especially the dailies. Similar to the last story in Volume Ten. I'm sure it's my imagination, but the word balloons seem larger, taking up half the panel. As this volume progresses we see the art return to detail. In the last two stories, Annie wears a striped shirt in the dailies but it's solid red or solid black in the Sundays.
Another excellently produced volume from Library Of American Comics, with a sewn binding of thick matte paper. The design is firmly established and follows that formula, and it works. Strip dates, story name, and page number run along the bottom outer edges. No endpapers this time, but the silk ribbon is firmly attached.
I had taken a break from the Complete Little Orphan Annie, moving to other publishers and strips, and this return was like coming home. I was immediately gripped by the Spangle's plight and moved by their fall. There were lulls, but overall this was a real page-turner. Where were the bodies coming from? Was "Daddy" really dead? How long could Bleating-Heart's torment of Annie go on?
---