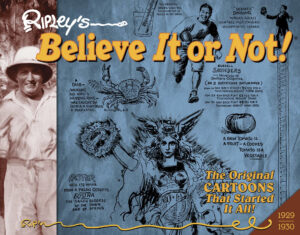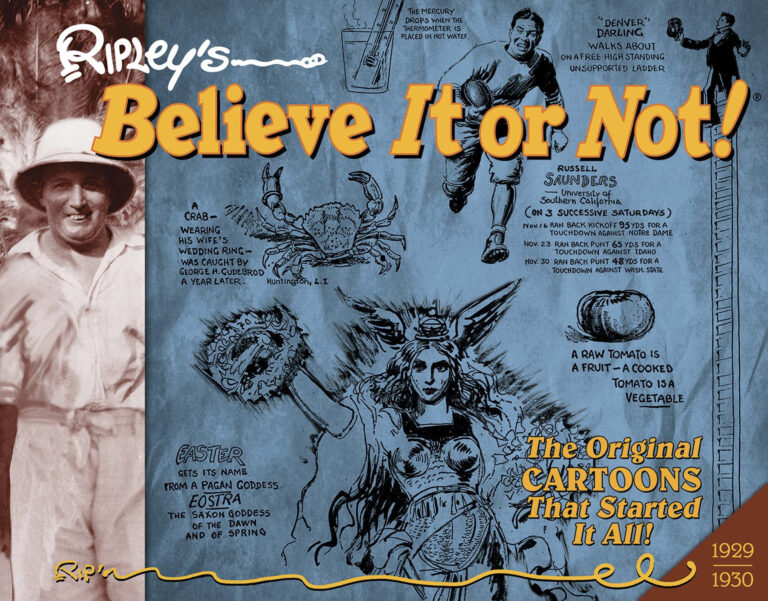 This series presents a chronological reprinting of Ripley's famous daily cartoons, reminding us that first and foremost that Robert Ripley—explorer, radio, movie and television personality, entrepreneur and museum impresario—was an astounding artist-cartoonist. In an era when few people travelled outside their own hometown, let alone out of the country, Ripley became a globetrotter, seeking stories of bizarre and unusual proportions to put in his internationally-known feature. The cartoons were adapted into radio and television programs.
The volume reprises cartoons from 1929 and 1930 when Ripley's fame raised him from relative obscurity to international celebrity and includes bonus and background material from Ripley's impressive archives.



A well-known figure, a worldwide brand, and an important piece of early newspaper history, Ripley's Believe It or Not (without the exclamation point) gripped the imagination of readers when the strip went into syndication on July 9, 1929.
This collection includes an excellent biography of Ripley, samples of the strip before syndication, and then the full syndicated run from July 9, 1929, to December 31, 1930. And the exclamation point never appears in these dailies.
Based on the size of the strip I would hazard a guess that these appeared away from other daily strips, taking an edutainment slant. Ripley kept the format quite rigid, with one large and prominent illustration surrounded by three to four smaller illustrations. Each illustration is accompanied by a brief text entry. Amongst the strips are a few letters, notes and extras that give a bit of background about the strip, its creation, and its readership.
The illustrations are compelling and quite naturalistic with an attention to detail and historical presentation. The writing is very brief, but the statements of fact are clear and easy to follow.



It's easy to picture the 1929 family sitting around the breakfast table, sharing Ripley's amazing facts from around the world. But for modern readers, this strip is minimal and one-noted. A daily presentation of facts with a large illustration and several smaller illustrations. For most of the facts, I read the single sentence and wanted more information. Ripley would send readers details of the facts if they wrote in, and a few of those are included in this collection, but as readers, we're continuously left wanting more and never getting it.
Canwell's introduction provides all we need to know to dive in and enjoy the genesis of the Believe It or Not! empire. A good sampling of Ripley's early work and career in newspapers, copiously illustrated. This one is worth a read before diving into the daily strips.
The design is very plain once you get past the cover. No endpapers, only blank white spaces. Two strips to a page, with the date under the strip on the left and the page numbers along the outside bottom. We do get that wonderful silk ribbon.
Production is excellent: a sewn binding of thick matte paper. No dust jacket, which is an oddity for Library Of American Comics. In truth, I'm not a fan and don't miss it as the cover provides all we need.



---

Ripleys Believe It or Not Orig Cartoons HC Vol. 01
from Things From Another World