Most people think of the Disney live-action film when they hear Rocketeer but for comic fans, Dave Stevens' beautifully illustrated character cheerfully fills our thoughts. December 2009 IDW published the collected Rocketeer works in a regular hardcover and in The Rocketeer: The Complete Adventures Deluxe Edition.  It quickly sold out but IDW has recently released a new printing for this holiday season.  Here's the publisher's blurb: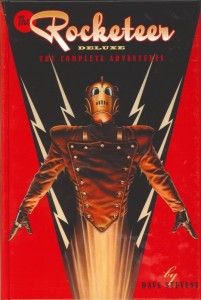 The Deluxe Edition will feature everything in the regular hardcover edition but will be printed in a larger format (8 x 12 inches) and will contain more than 100 additional pages of sketches, preliminaries, layouts, and much, much more. A cornucopia of Dave Stevens art, many of these treasures have never been published before and will be printed here from the original art to ensure the highest quality reproduction possible.
Based on that here's the blurb for the regular hardcover edition:
The Complete Rocketeer saga is collected into one handsome hardcover volume for the very first time, combining The Rocketeer and The Rocketeer: Cliff's New York Adventure into great book. Dave Stevens' classic adventure strip is set in the 1930s and is an homage to the classic pulp novels of the time. Cliff Secord is a stunt pilot who happens upon a top-secret experimental Jet pack and meets adventure head on!
Long considered a classic, the Rocketeer has been out of print for years. Now, with the blessing and full cooperation of the Dave Stevens estate, the Rocketeer will be collected as one book and with ALL-NEW COLORING by Laura Martin (who was Dave Stevens choice to recolor the series).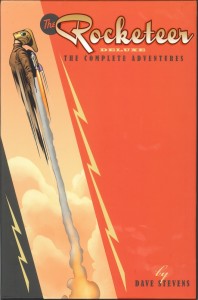 Now that's a complete picture. The Rocketeer is the story of Cliff Secord, a regular Joe in 1938 who works at an aerial circus and through a chance discovery uses a rocket pack to smash a criminal enterprise and hold on to his girlfriend. Action and to a small extent hilarity ensues as Cliff is dragged through circumstances not his own. It's a simple and direct plot that works wonderfully. Characters are charming and very memorable, as are locations and everything else that appears visually on the page. That's because at its heart Rocketeer is a beautifully drawn comic.
Cliff's girlfriend Betty steals the scene whenever she appears simple because Stevens was an expert at drawing the female form. His style is clean and expressive: facial expressions tell us everything we need as do the emphasized look of the cast of characters. With such a long development time Stevens' style develops from the first page to the last, but he was so good at the beginning its subtle and part of the enjoyment.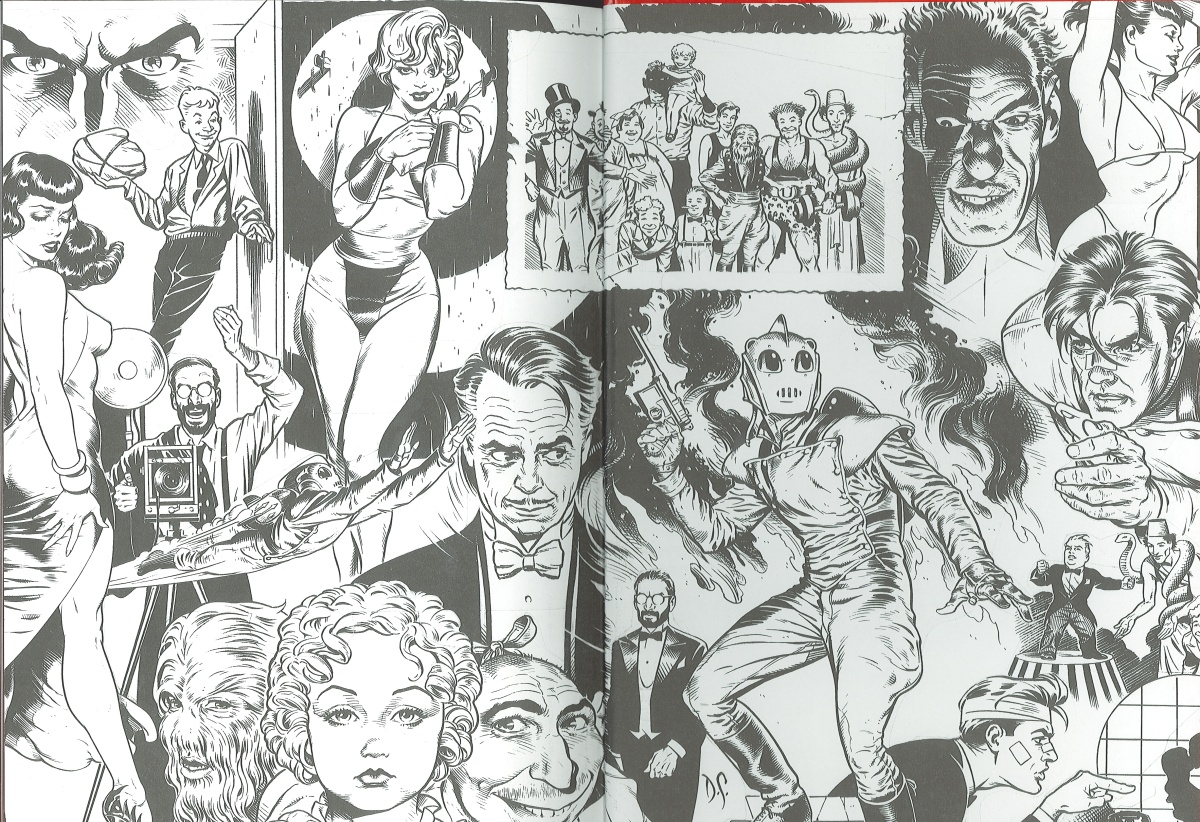 Dave Stevens produced this one story for the comic book world and along the way it took thirteen years and four publishers. Now IDW adds its name to the list of publishers in this Deluxe Edition, with 140 pages of story and 135 pages of extras. That's right, the extras are almost as much as the story and they are oh so impressive: tons of sketches, original art pages, ads, roughs, page layouts, you name it. Scott Dunbier put this package together as editor and it's well thought out: the extras unfold to bring another dimension to this work.
Production is extremely high. This is an oversized slipcased 8×12″ hardcover on a glossy heavy paper that translates Stevens' art in the best manner possible. At $75 it's not an impulse buy but the page size and extras easily mitigate any price concerns. My only complaint is the glossy cover and slipcase show fingerprints: you can see mine in the images above.
The Rocketeer: The Complete Adventures Deluxe Edition
IDW, 2009, ISBN 978-1-60010-537-1
Originally published at Comic Book Daily under my Bound Together column.