This is the story of an accidental purchase of a signed and numbered book from the 1980s.  I was rummaging among the discount trade paperback section of my local comic shop when I came across Mechanics: A Love & Rockets Graphic Novel by Jaime Hernandez.  I had seen his art around for years but never go into it so this seemed like a good time to do it based on a cheap purchase.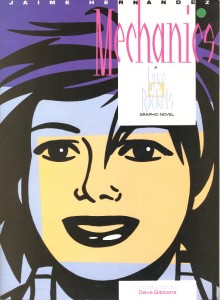 This is the second Love & Rockets book but it's published in 1988 by Titan Books in out of the United Kingdom, by way of an arrangement with Fantagraphics.  It's a great black and white story, 160 pages that really showcase how talented Jaime Hernandez is.  After several reading sessions I noticed on the first page a signature and a very bad stamping job.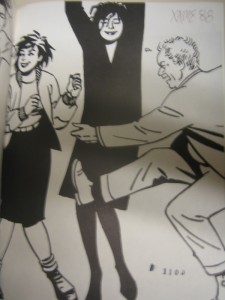 The signature says "JAIME 88″ and the stamp "1103″.  So what I had in my hands was a signed and numbered UK edition of a very popular indie book from the 80s.  Searching for other copies led me to numbers below 1000: I can't find out how many copies were signed and numbered.  Titan Books published Love & Rockets in 1987 but there doesn't seem to be a signed and numbered edition of that volume, and that's all they did.
This is a collectible volume for one reason: it's an obscure signed and numbered Love & Rockets collection.  Unfortunately it doesn't go for much beyond it's $25 cover price: the real issue is tracking down a nice copy of a twenty-five year old foreign softcover.
Mechanics: A Love & Rockets Graphic Novel
Titan Books, 1988, ISBN 1852860219