Nothing about this book from the outside interested me in the least.  When this collection was published site after comics site sang its praises so I decided to pick up Daytripper from Vertigo.  Here's the publisher's blurb: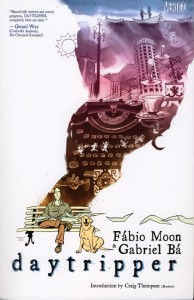 What are the most important days of your life? Fábio Moon and Gabriel Bá answer that question in the critical and commercial hit series that took the industry by storm, winning praise from such comics veterans as Terry Moore, Craig Thompson and Jeff Smith. Follow aspiring writer Brás de Oliva Domingos as each chapter of DAYTRIPPER peers in at a completely different moment in his life. Moon and Bá tell a beautifully lyrical tale chronicling Domingos's entire existence – from his loves to his deaths and all the possibilities in between.
The is the story of a man's life, told in ten chapters. Each chapter deals with a moment in his life, and ends with his death and obituary. I could end there as a nice summation, but that wouldn't define the power of this work.
We first meet an aspiring writer, Bras de Oliva Domingos, working at a newspaper writing obituaries. That lays the context for why we have one at the end of each chapter, summarizing what had been accomplished at that point in his life. Each chapter presents a moment in time, moving forward and backward from youth to old age and beyond. A detailed look at a turning point in his life, when an event or decision steers him in a different direction. It's a great premise and is pulled of exceptionally well by the team of Fabio Moon and Gabriel Ba.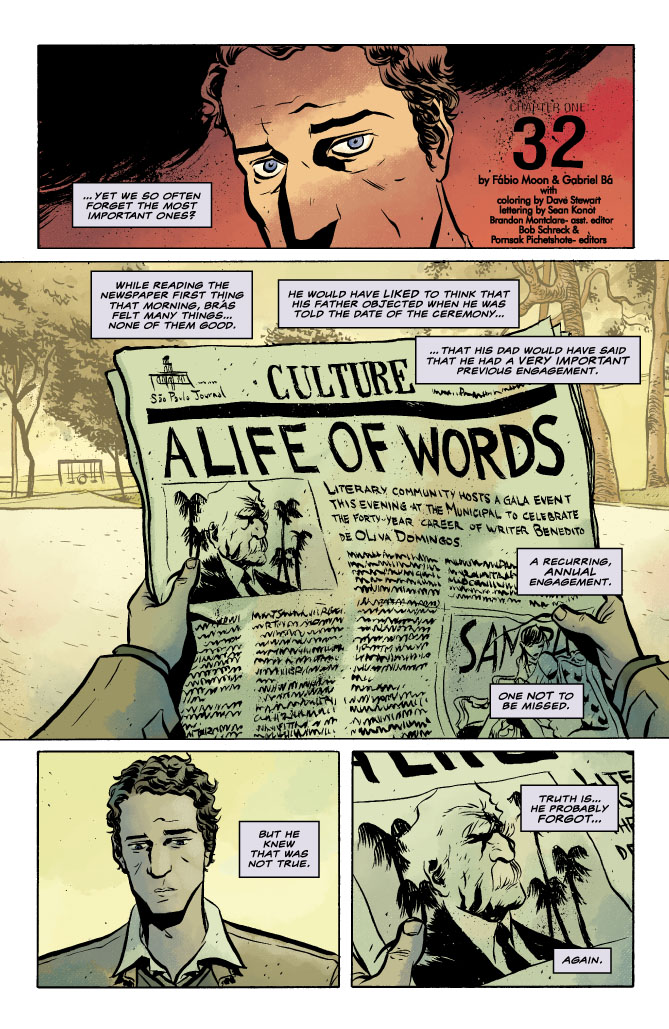 The story, dialogue and characters are all well crafted. You're brought into this living breathing world and never question it's framework. It works so well because this could be a story about yourself, the everyman. More than that we come to feel and care about Bras and his family.
The art is great, coming from this established team. It's modern and has a "today" feel to it; stylized enough to let you know it's a graphic novel but naturalistic enough to keep you tied into it.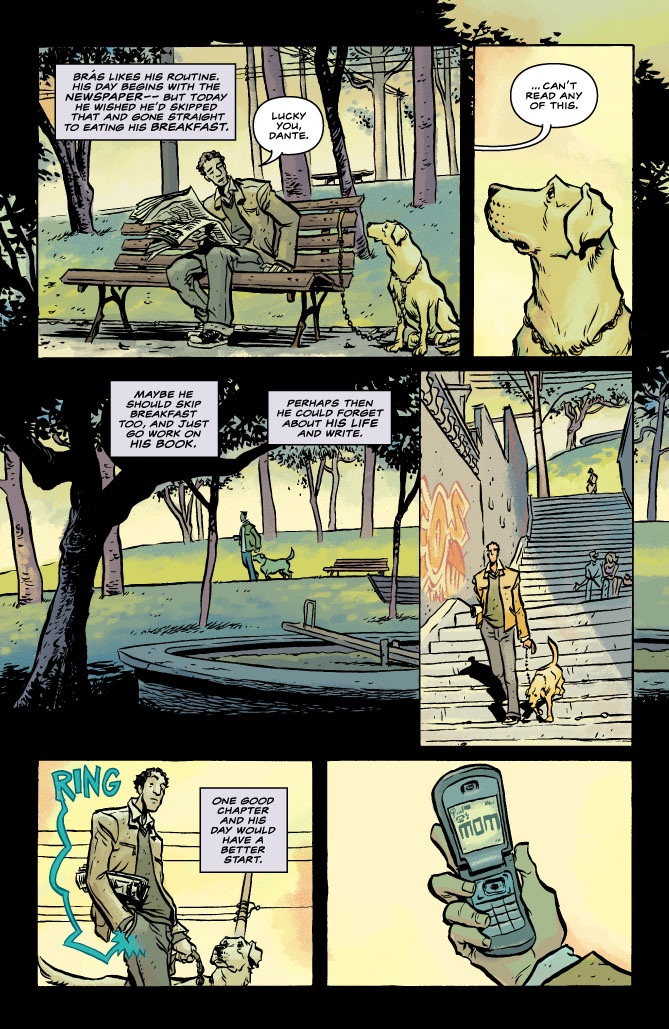 This isn't an action story or a "talking head" comic with nothing but dialogue: it's an engaging graphic novel that tells a great story about people and their relationships to each other and the world around them. As you can tell I'm having trouble putting it into words what makes Daytripper such a great read.
Daytripper
Vertigo, 2011, ISBN 978-1-4012-2969-6