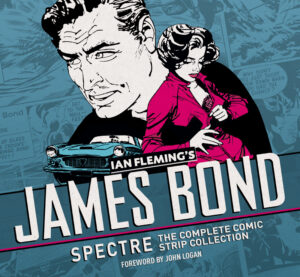 The daring James Bond is back, this time in a lavishly put-together collection celebrating the iconic SPECTRE storylines. Featuring 1. Thunderball 2. On Her Majesty's Secret Service 3. You Only Live Twice 4. The Spy Who Loved Me.
These fully restored and thrilling stories are based on the original Ian Fleming James Bond novels.
ISBN 9781785651557
11.2″ x 10.4″, 272 pages, hardcover
$39.95 USD
Order online: Amazon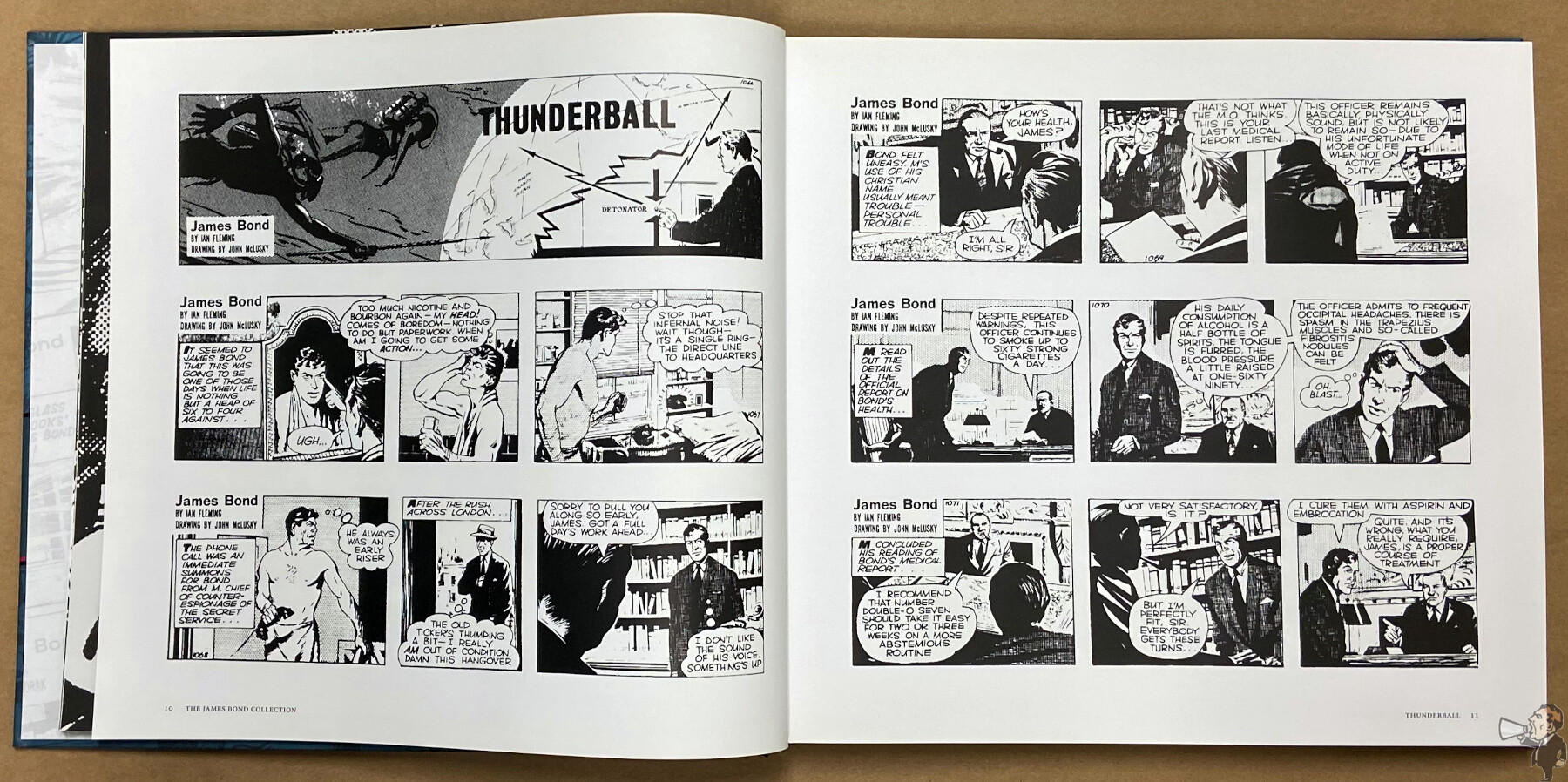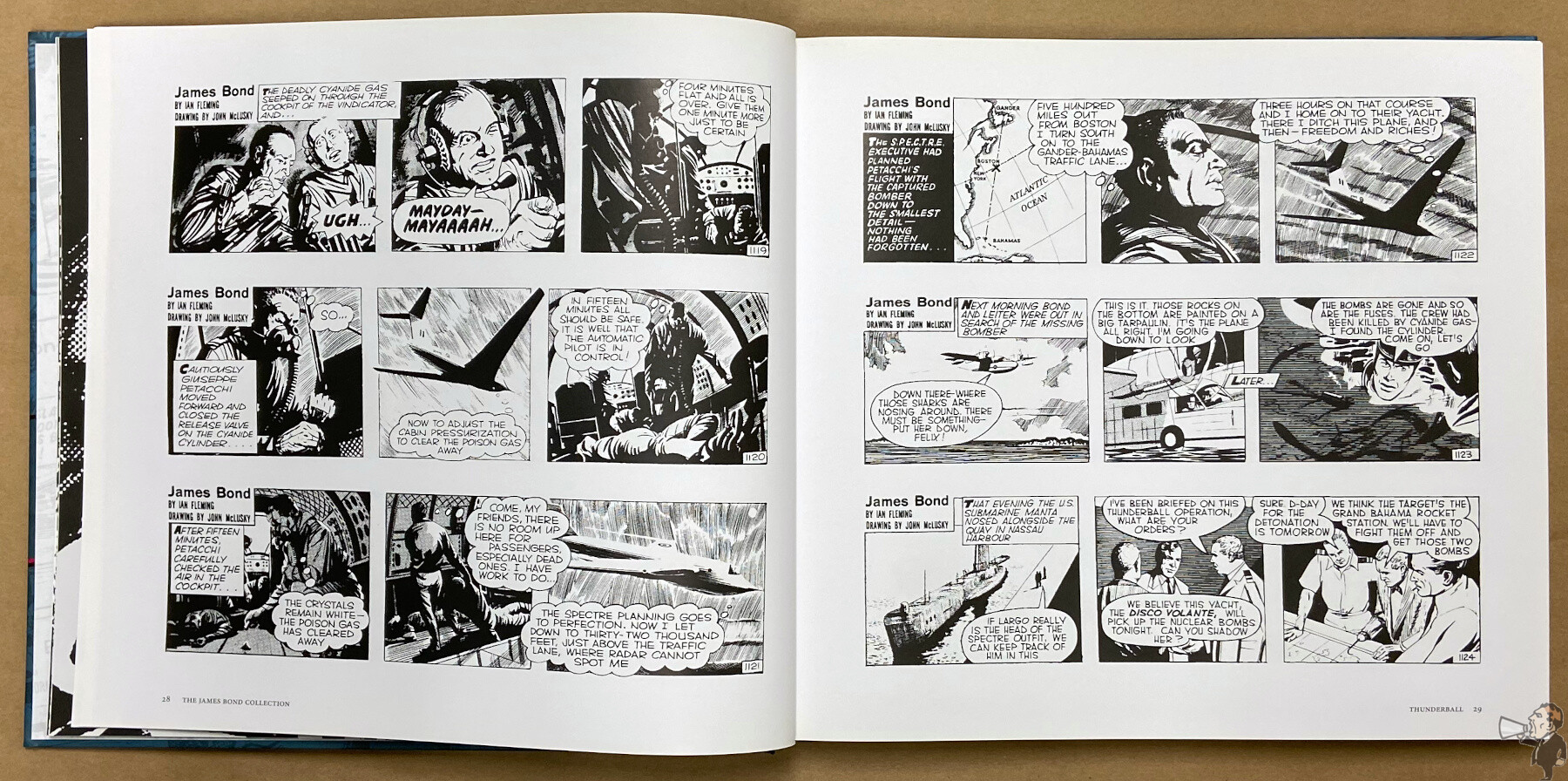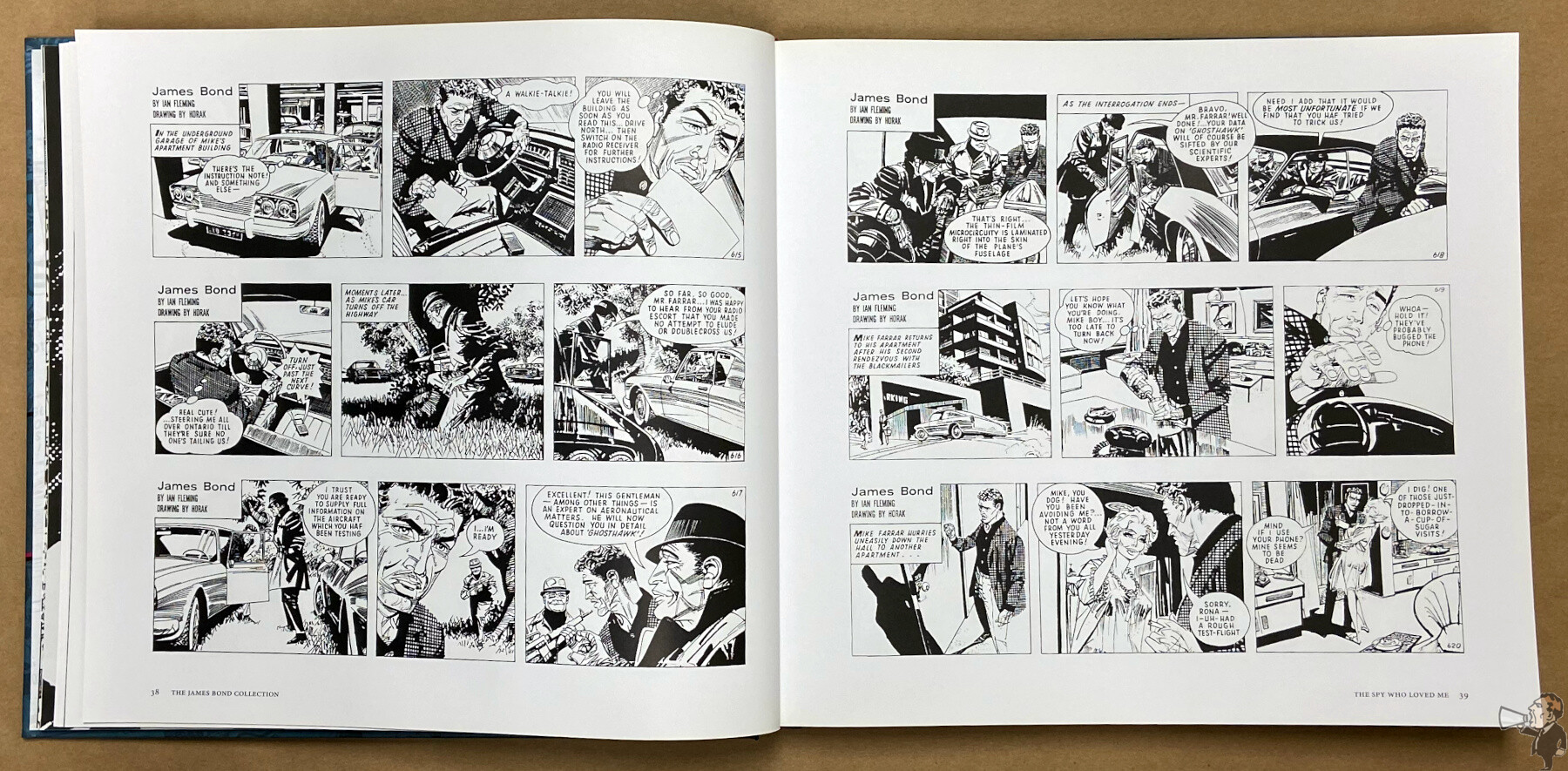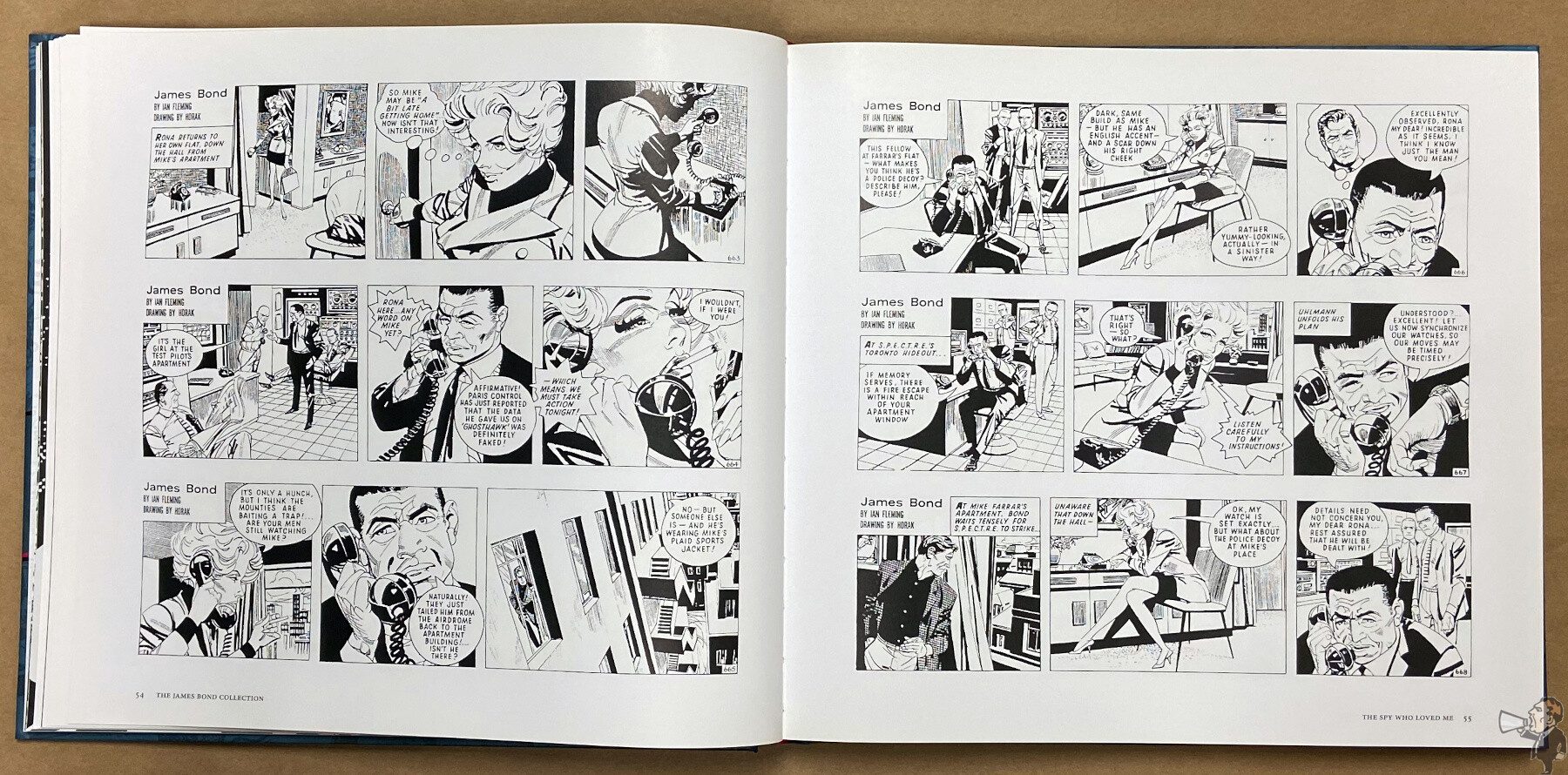 James Bond had a good run in British newspapers and that has been packaged and sold by Titan over four series. James Bond – Spectre: The Complete Comic Strip Collection is the first of this fourth series, presenting Ian Fleming novels adapted to comic strip format in a hardcover. All other Titan volumes have been softcovers.
For most of us, James Bond is a movie character. A few years ago I picked up all of Fleming's novels in a boxed set at Costco and plowed through them. It's a very different experience from the movies, focusing on the mission and the craft of the characters. These comic strips followed closely on the heels of Fleming's novels: Thunderball was released in March 1961 and the strip adaptation began in December 1961. That pattern followed for the other three stories in this volume. No movies to dilute the waters, just straight adaptations of the written word. And while this book makes no mention of the writers who adapted the novels, Jim Lawrence adapted The Spy Who Loved Me and Henry Gammidge adapted the other three.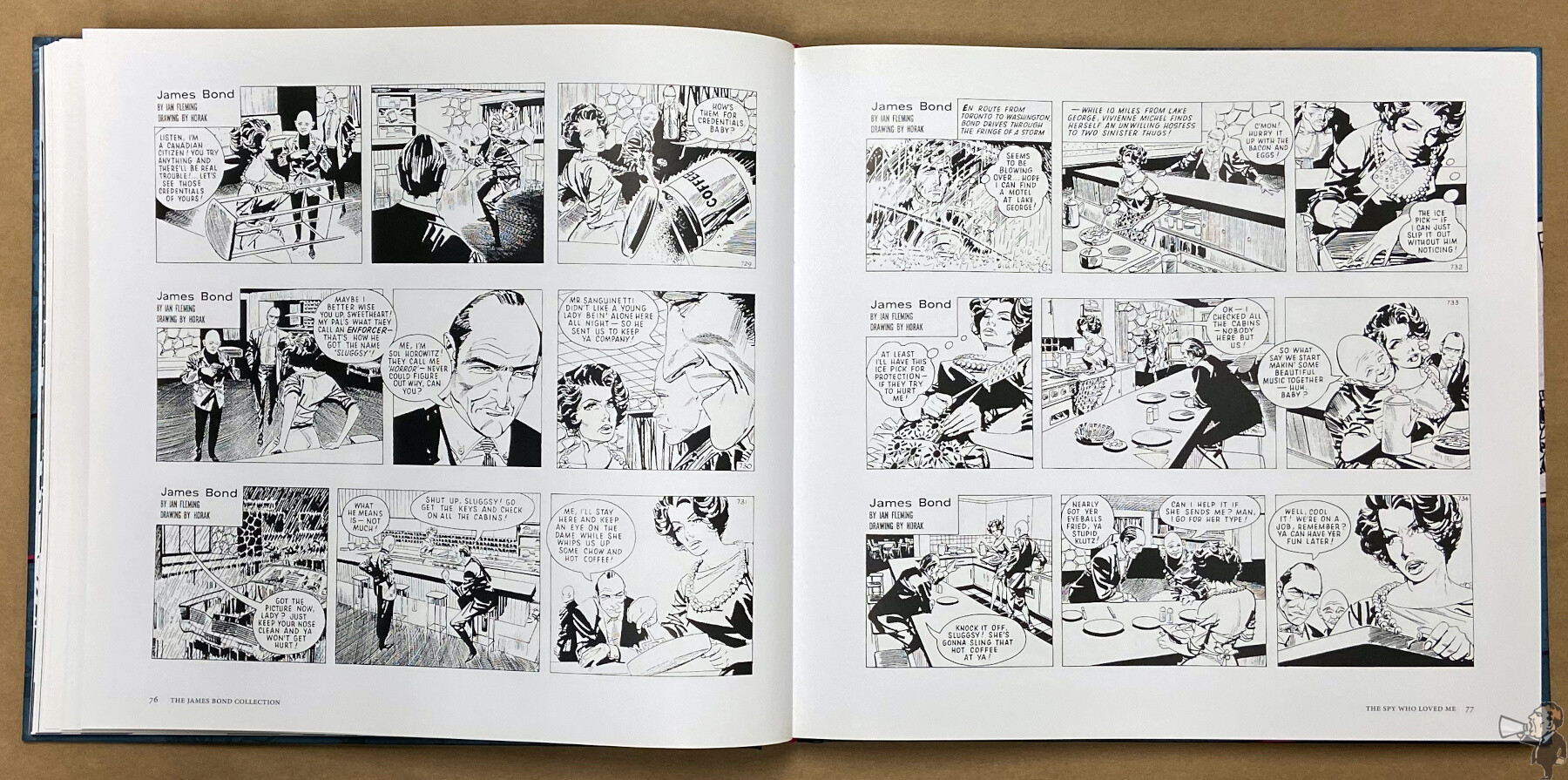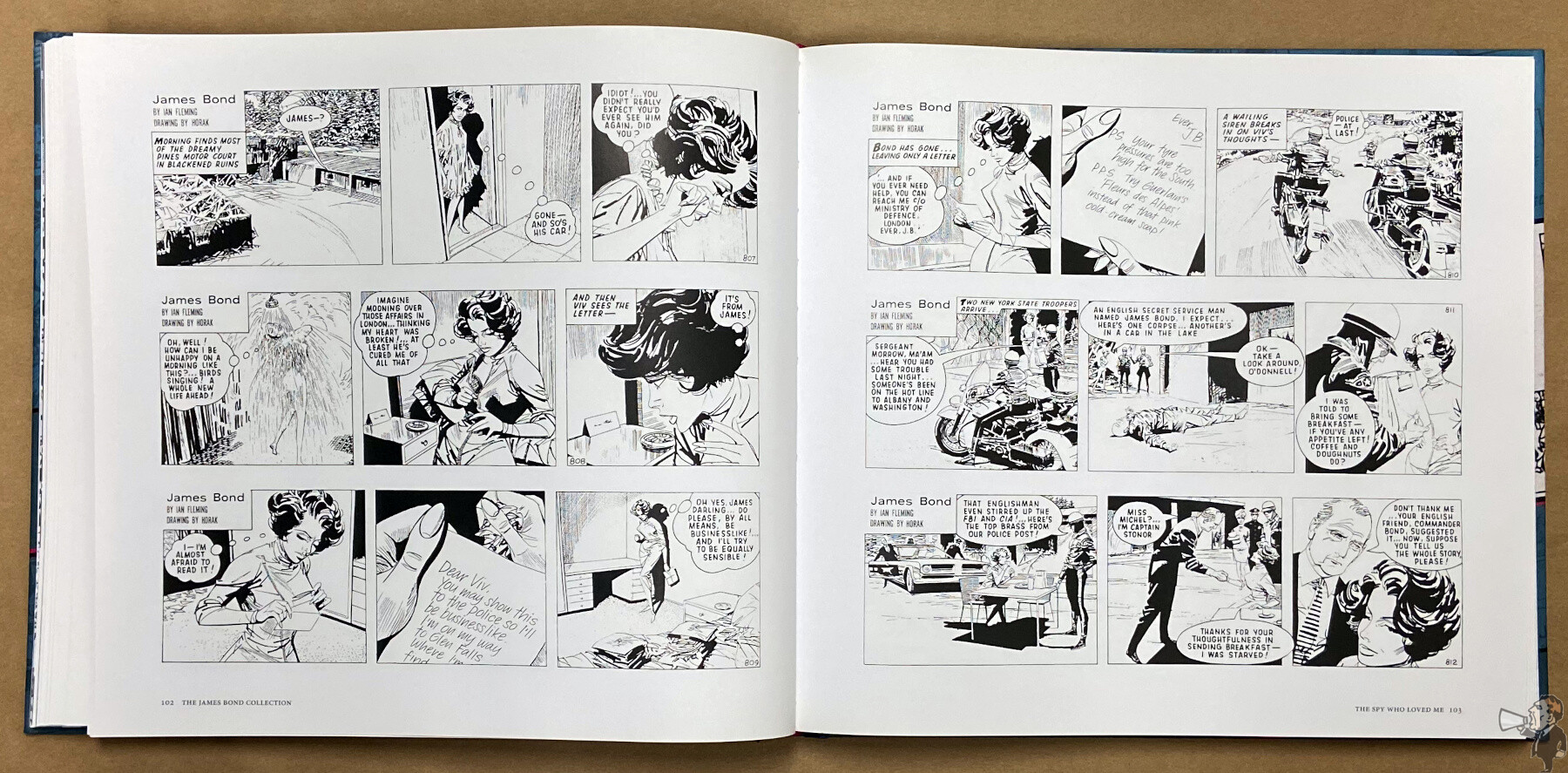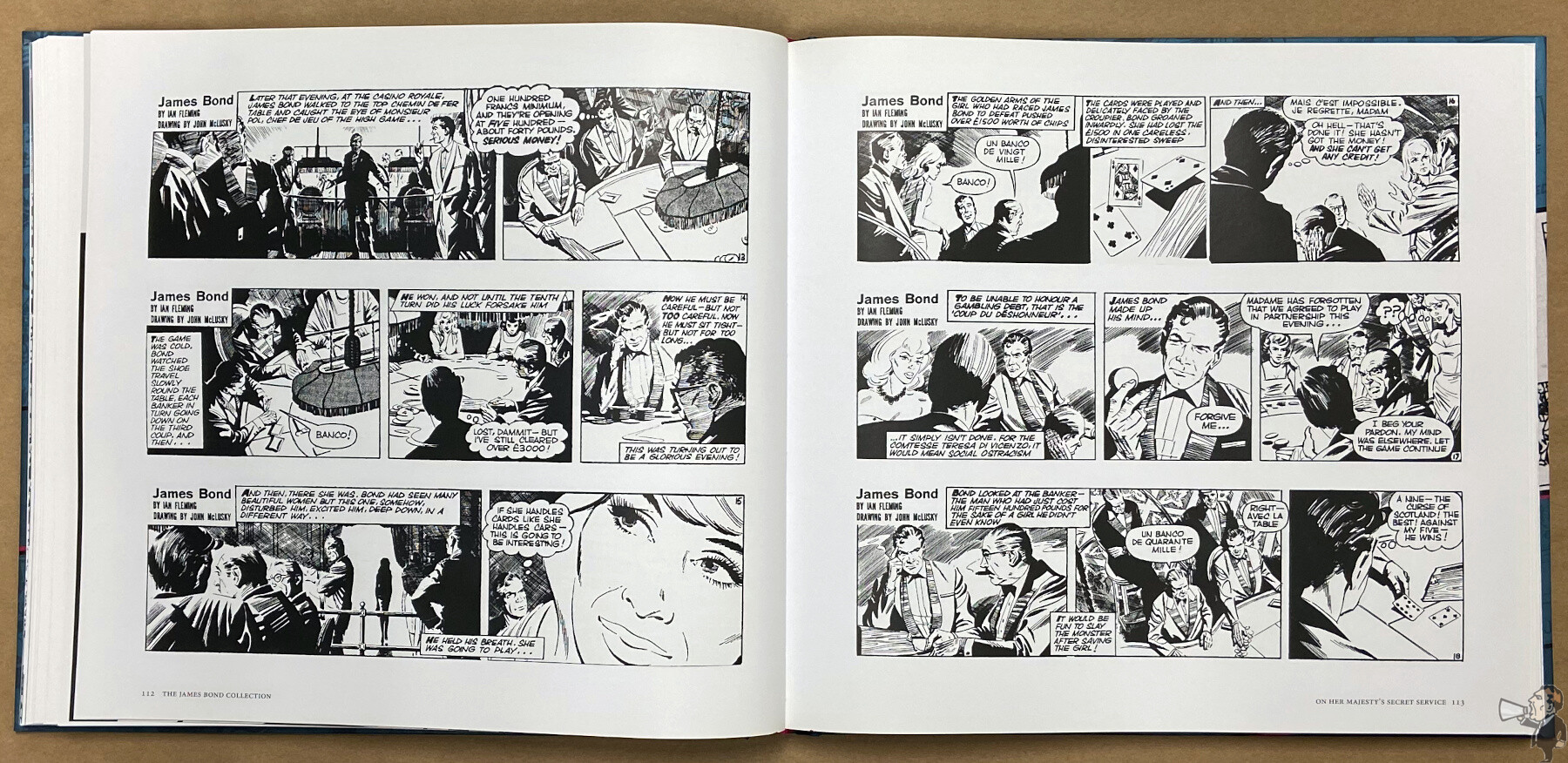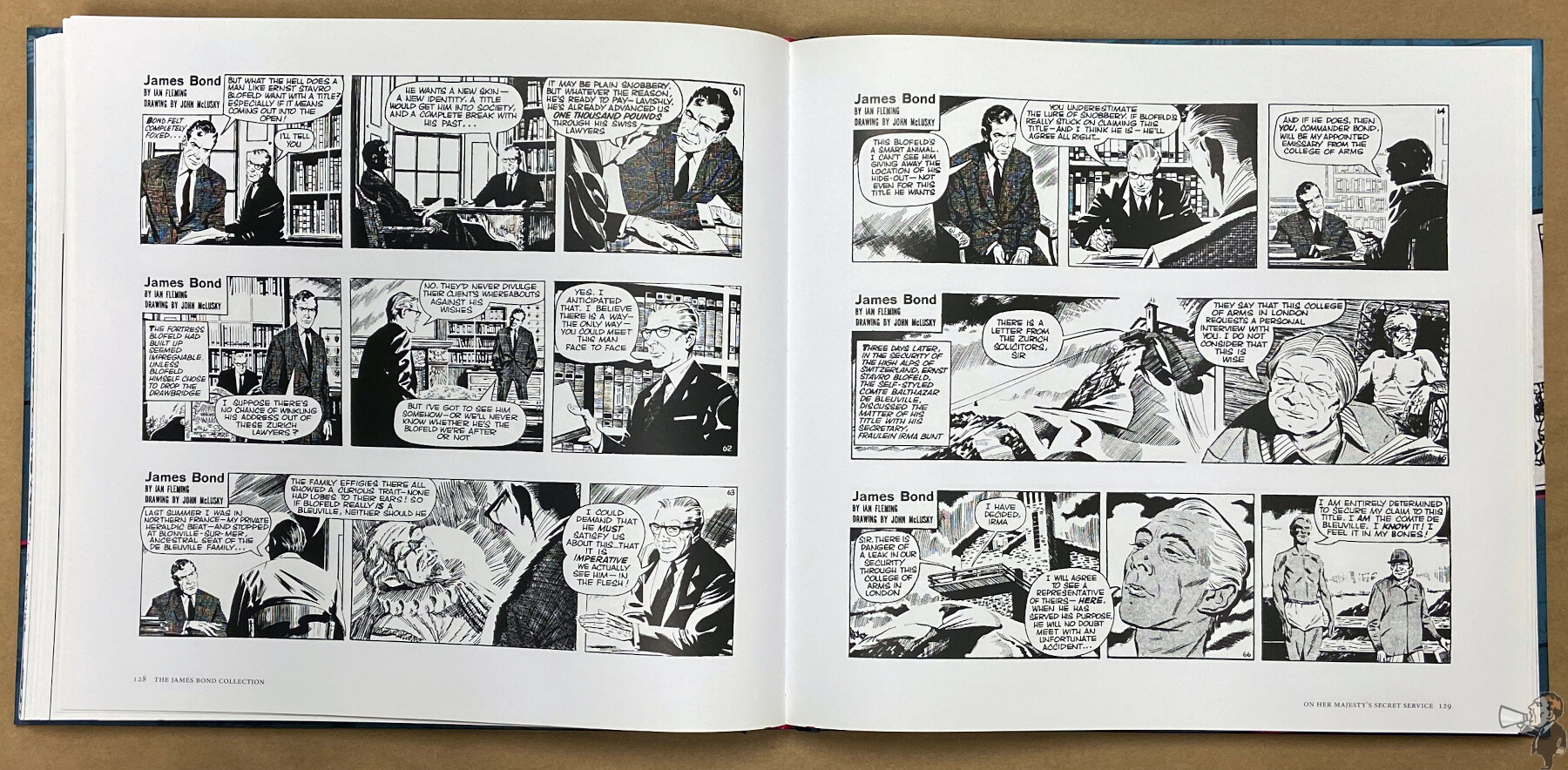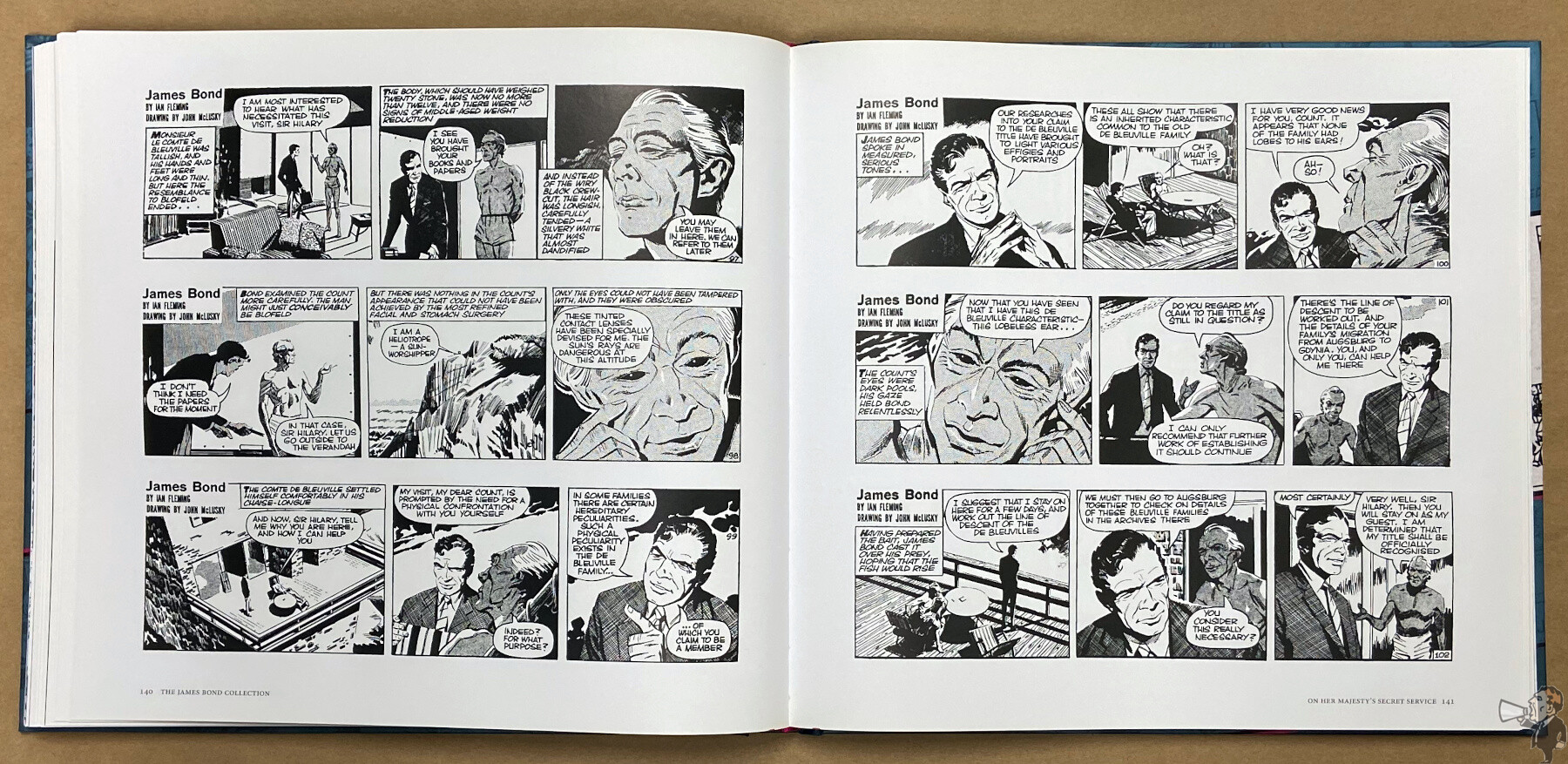 Both writers were able to faithfully adapt the material to the comic strip format. They were able to maintain the flow of the story and the sense of action and time so important to this genre. Plus they knew how to work in the newspaper strip format; no superfluous narration describing the images, just a cleanly presented comic.
Like most British strips they only ran black and white daily strips with no colour Sundays. These strips adhere to mostly three panels per strip, reducing it to two panels when presenting an environment or landscape. I don't have older editions to compare but this volume is touted as being "fully restored", and the strips for the most part present quite well. At times the blacks are overpowering, most likely from a poor newspaper source, but that's not very often. The artists were quite adept at using halftones and such for variety and texture to their illustrations.
It's a striking contrast when moving between the art of John McLusky and Yaroslav Horak. McLusky is a more traditional artist for lack of a better term, presenting his art in a naturalistic style with well-designed layouts and characters. It has a period look to it, that develops as we move from Thunderball to You Only Live Twice. Horak is very stylized, with an aggressive approach to layouts. His women are beautiful and his villains ugly. His backgrounds and costumes appear very much "in style" for when the art was created.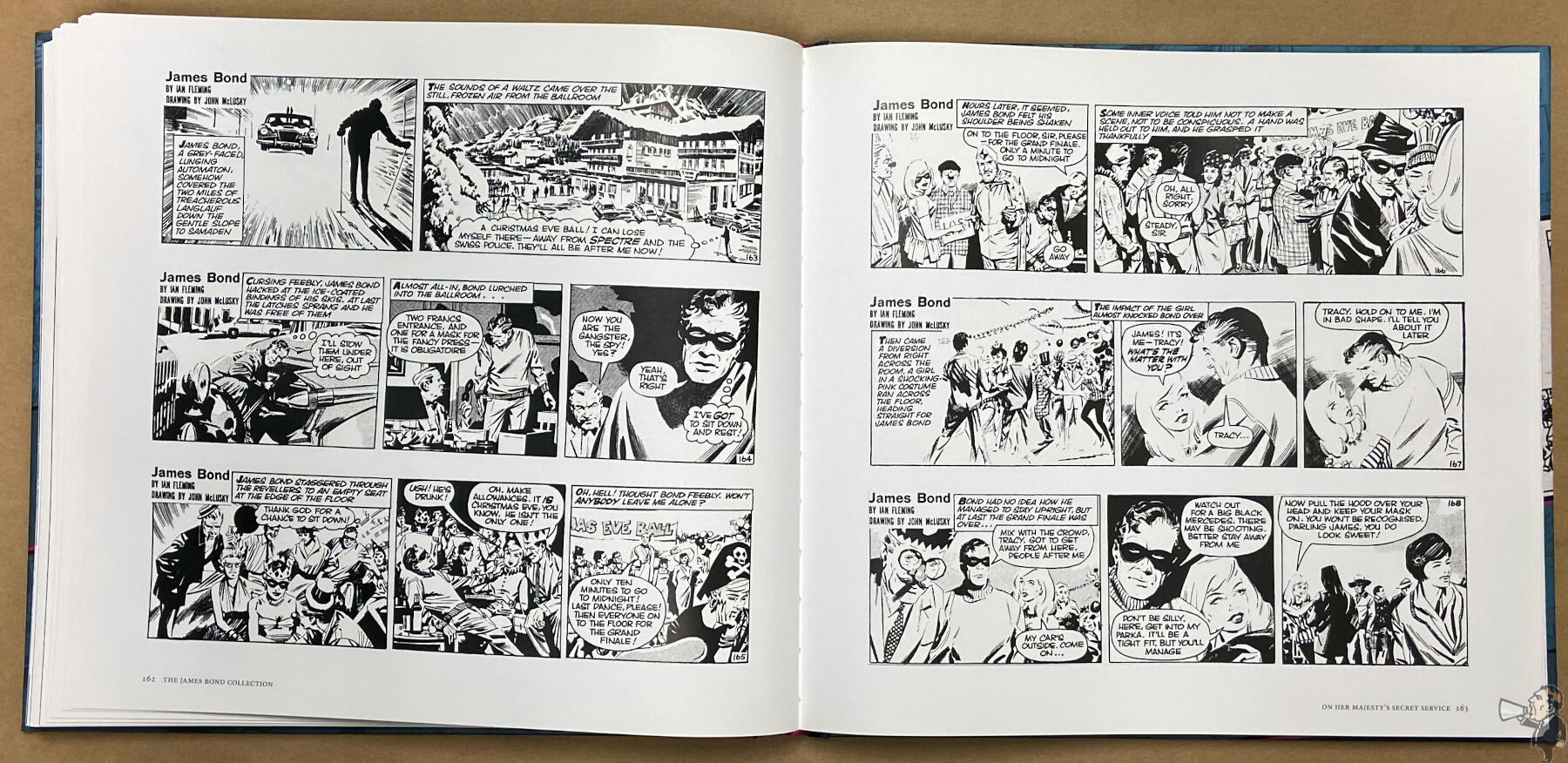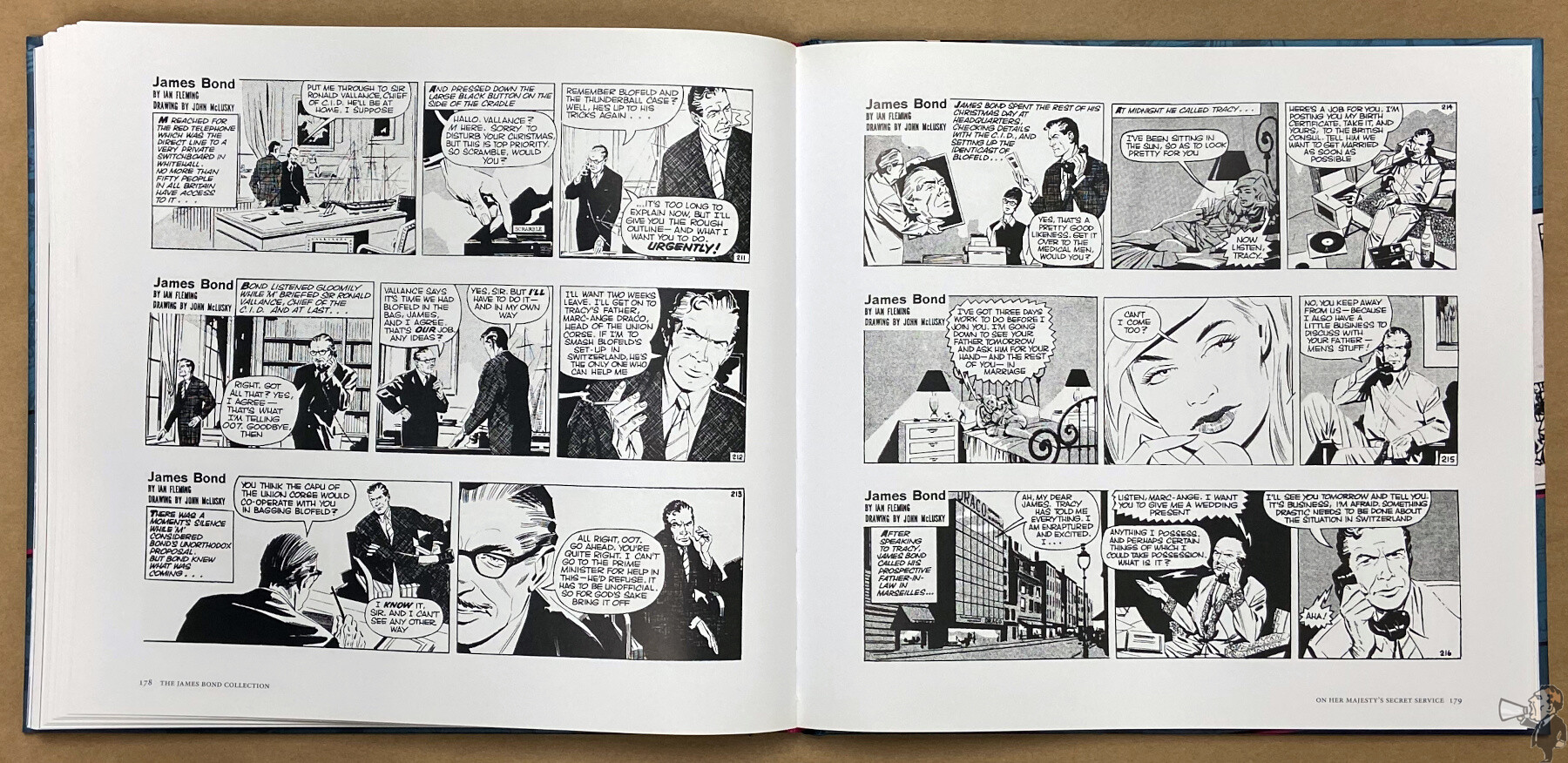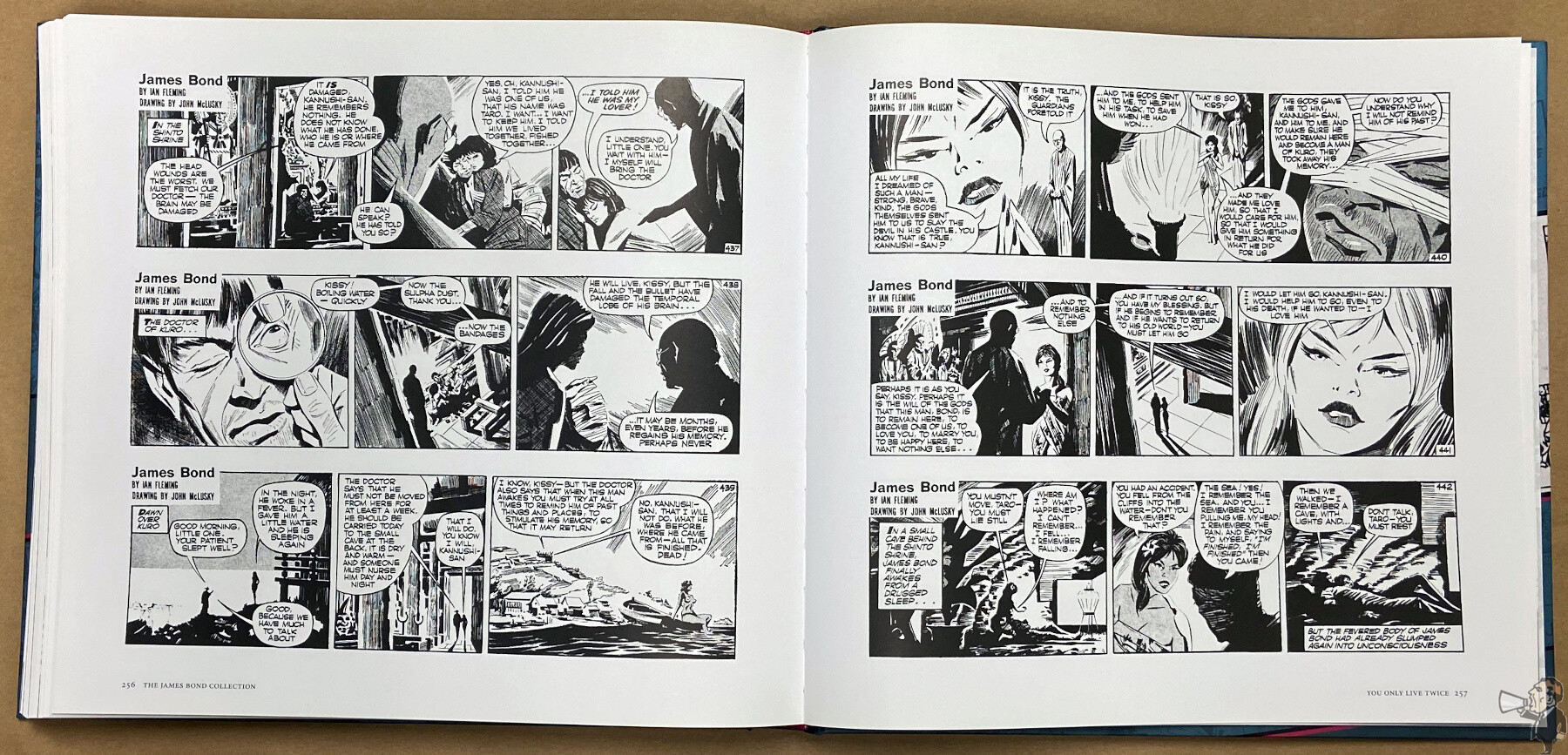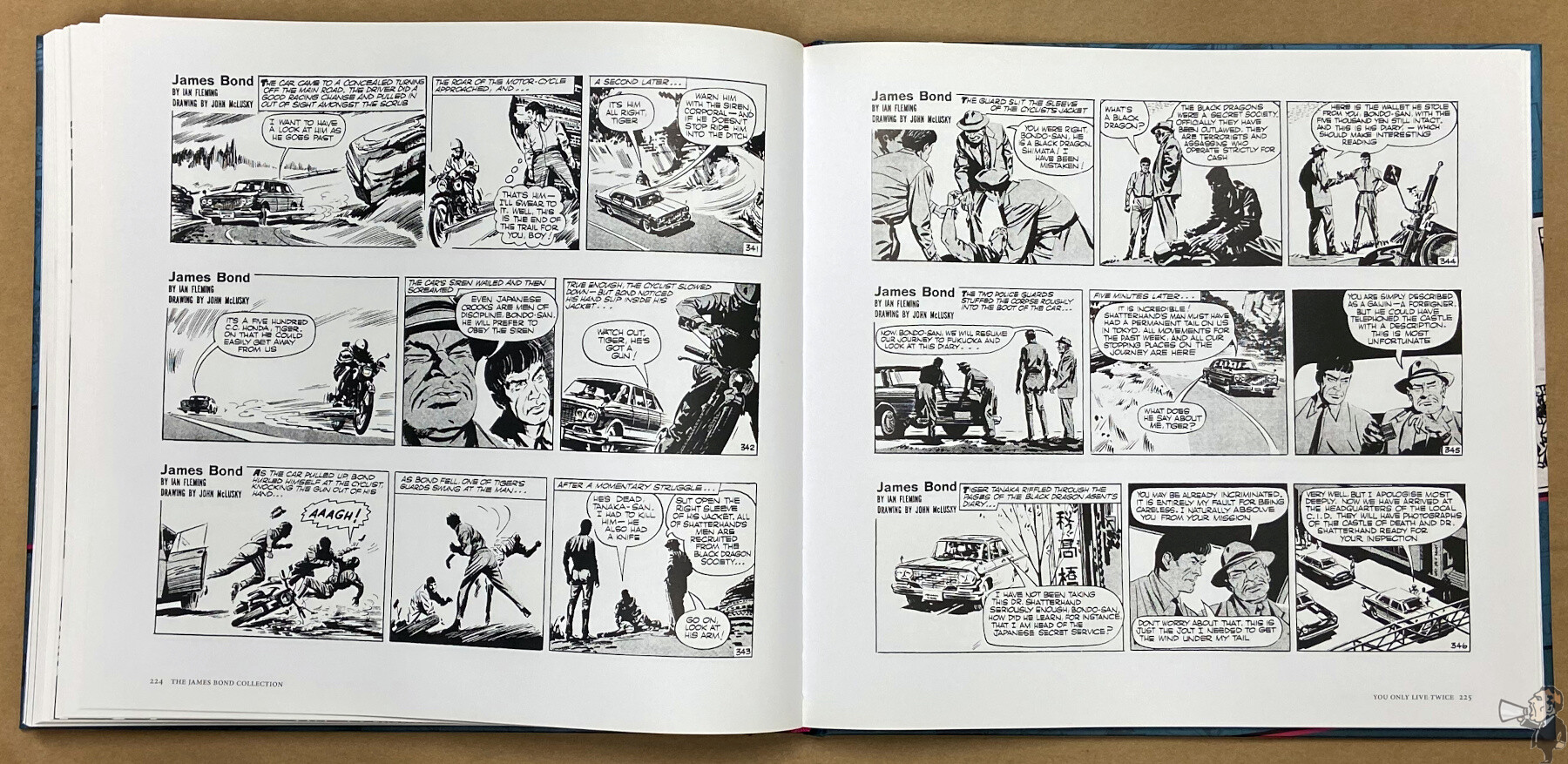 A very straightforward design. Image enlargements for the front matter, a table of contents, and chapter dividers with title and dates. The pages show three strips with the page number and story title along the bottom. The book has a sewn binding of medium thickness semi-glossy paper.
This was another discount bookstore find from a few years ago. I was able to get three of the four hardcover collections for a pittance. Looking for a new read I picked this off the shelf and thoroughly enjoyed it.
---