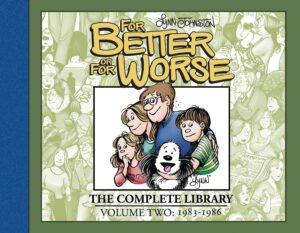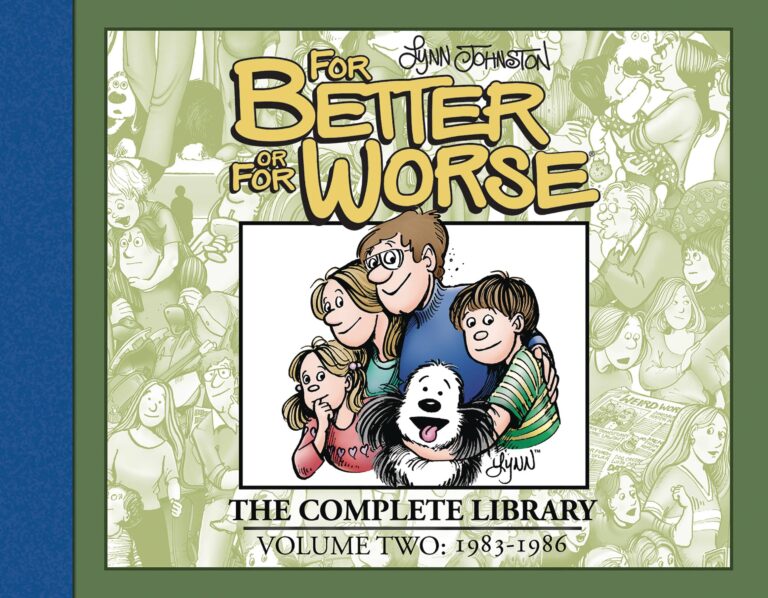 Since their debut in 1979, the world has watched the Pattersons grow up in real time-and to many readers, they feel like family. The cast expands, and roles that will play a big part down the road are just starting to bud. New adventures await Elizabeth as she enters kindergarten and has to spend some time in the hospital. Michael has to deal with a bully at school and takes a flight to Vancouver-all by himself! John has an unfortunate accident and is arrested for breaking and entering! And Elly finds a worthwhile cause in heading up a campaign to save the historic city hall that has been scheduled for demolition. Lynn Johnston's signature style becomes more defined and her storylines more complex as we carry on through the '80s. Volume Two collects the complete daily and Sunday comics from January 1983 through July 14, 1986, with all Sunday comics printed in colour.
ISBN 978-1-68405-256-1
Hardcover, 11″ x 8.5″, 564 pages
$39.99 USD
Order online: Amazon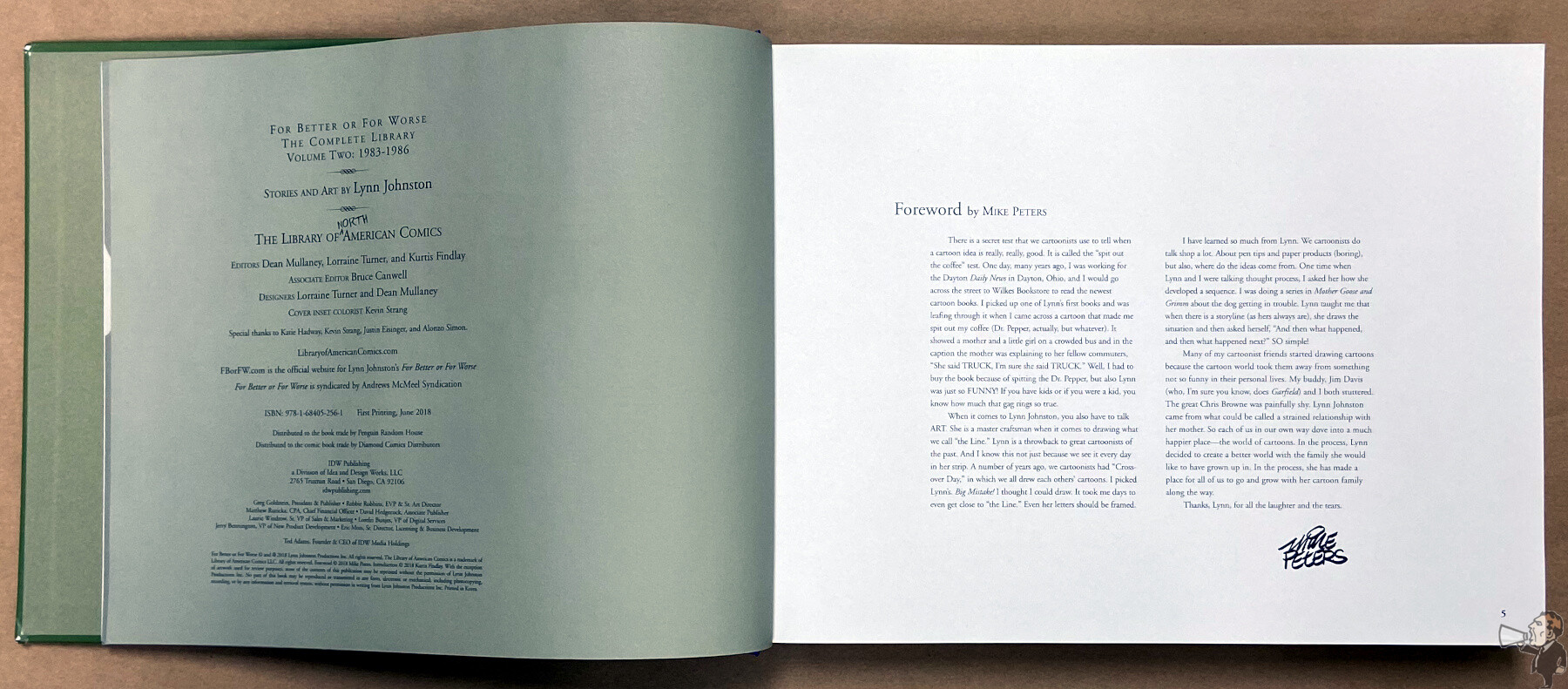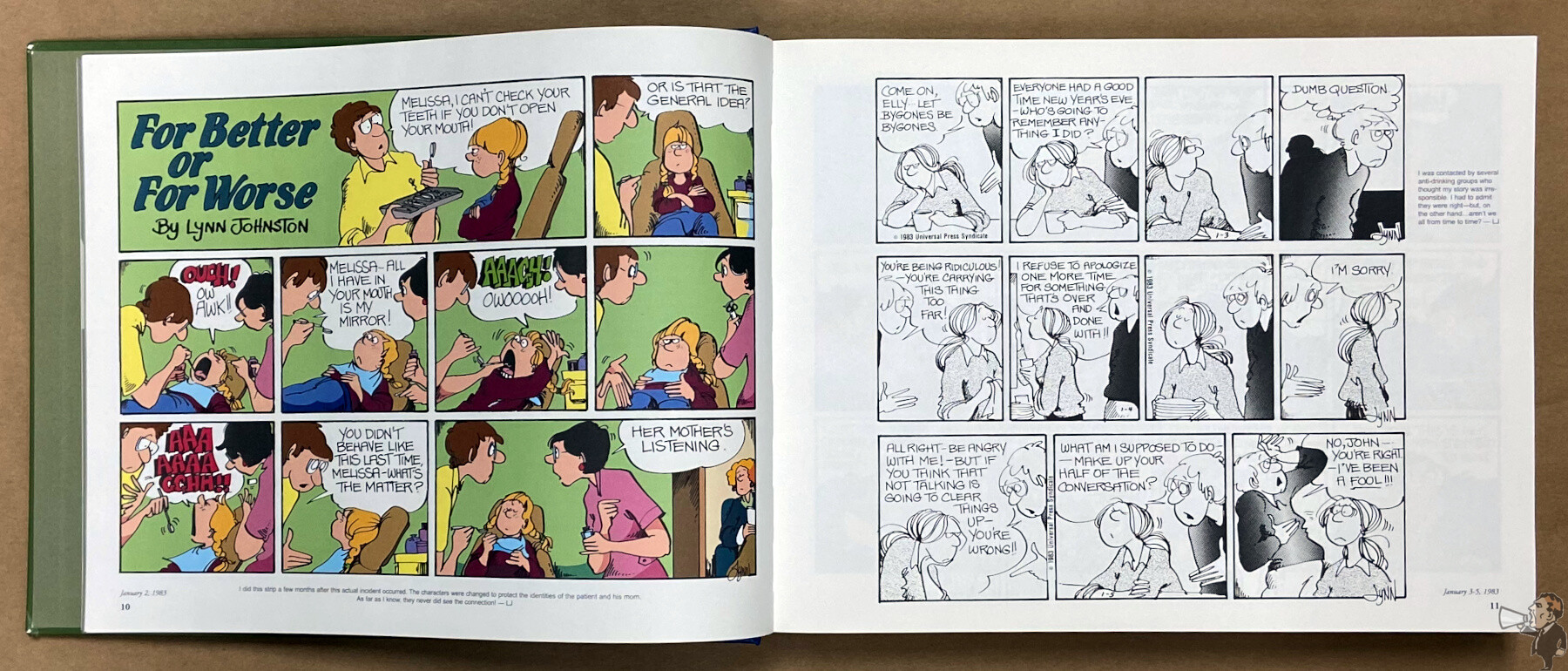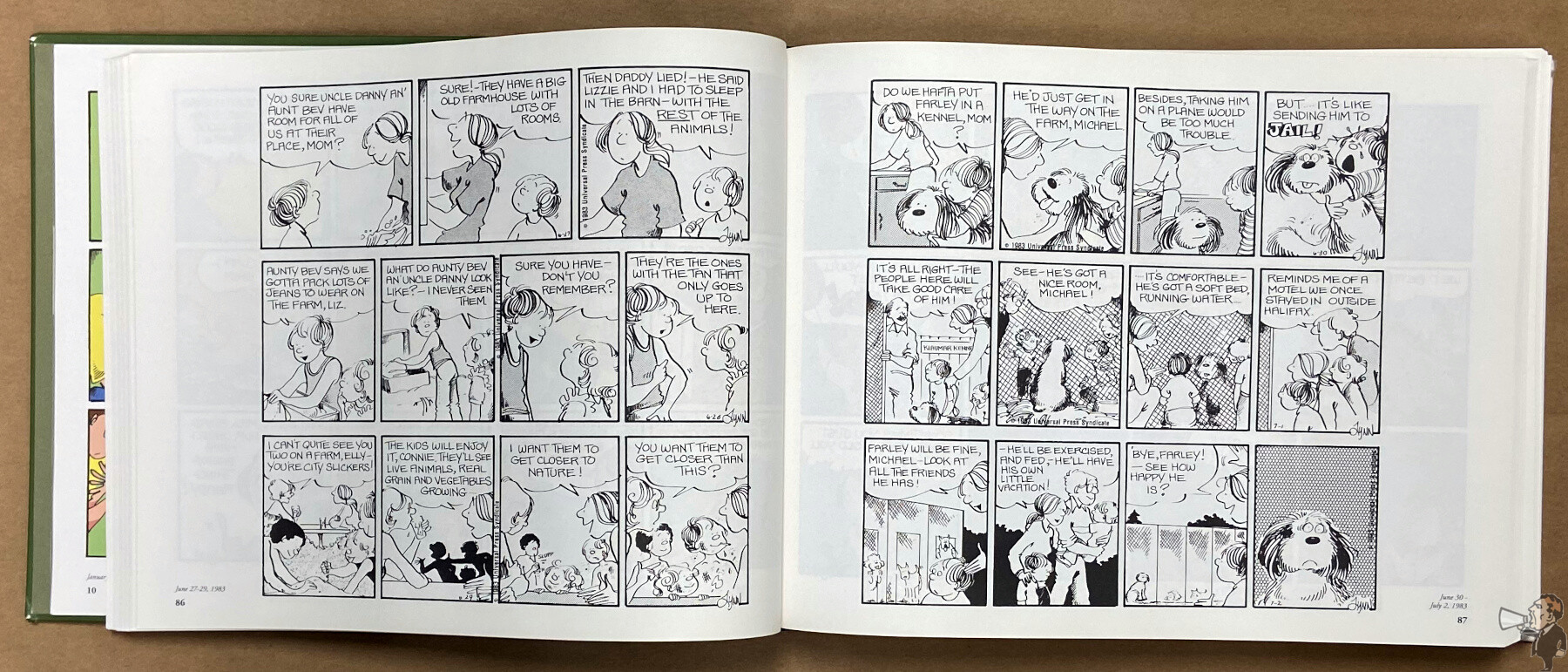 This second volume builds on the work of the previous, with Johnston finessing her style of art and storytelling. That round, soft character style tightens up a bit and the characters each have a wonderfully unique visual, which greatly helps as we get even more supporting characters.
It's Johnston's skill at facial and body expressions that enhance every punchline. A lot of expression in the shoulders and arms, along with hilarious faces. Too often I was caught up in the dialogue and missed some of the action taking place in the background or alone the bottom of the panels.
Each character gets more solo time or perhaps more focus. As the children age, they get their own supporting characters and small adventures. The only discord is Lizzie's thoughts versus her speech: when she speaks it's as a hesitant toddler but her thoughts appear quite adult or developed.
While we've gotten used to the Patterson's story moving and ageing, but this volume introduces longer stories that keep dailies interesting. The family goes to a farm for the summer, with all the hard work, early rising and animal husbandry references you'd expect. Elly gets a paying gig at the library and the realities of maintaining a home and working full-time shape quite a few interactions. With each Johnston plays on her own experiences and conveys the warmth and humour of daily life.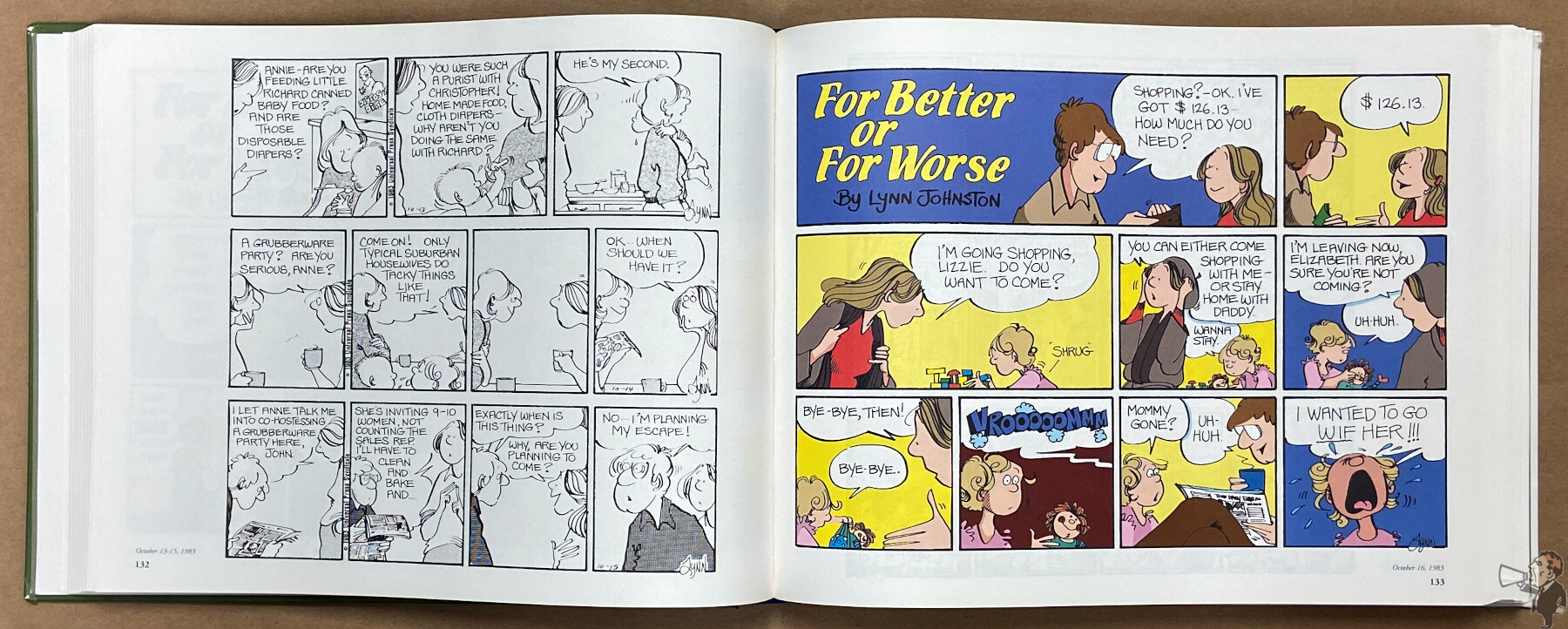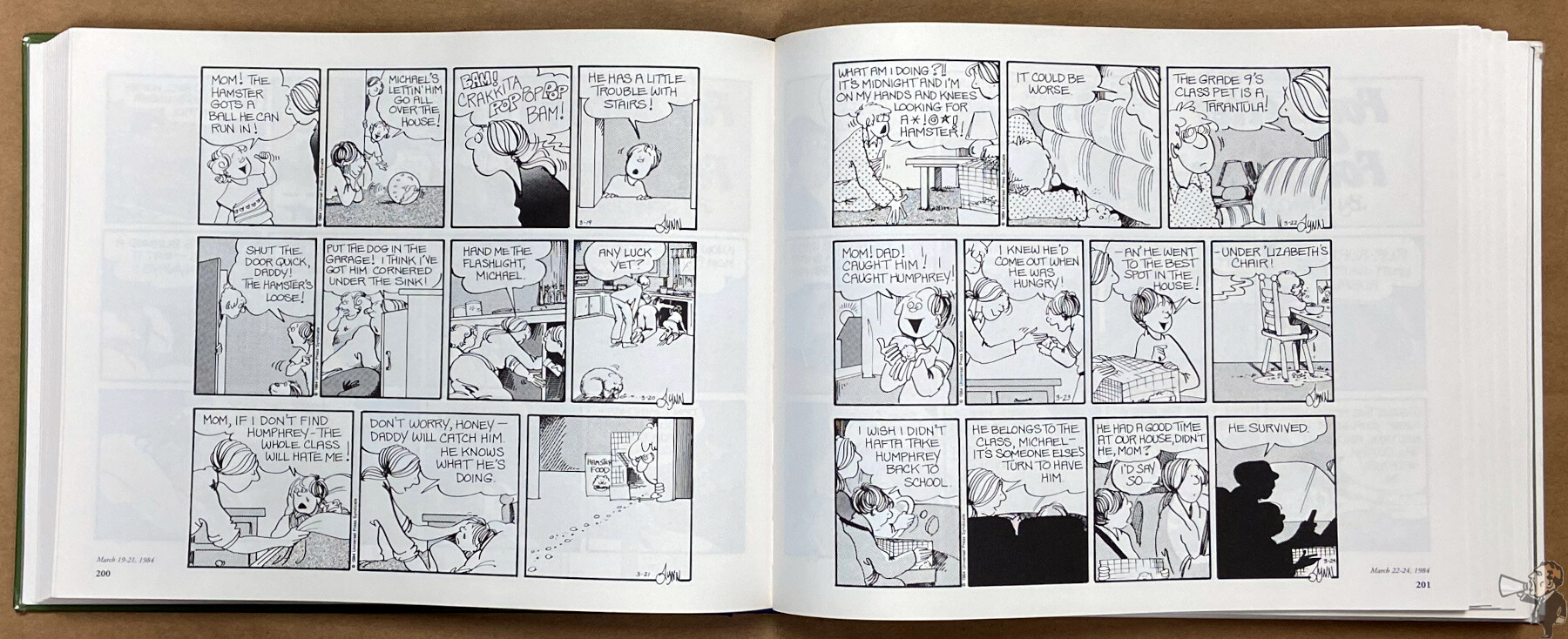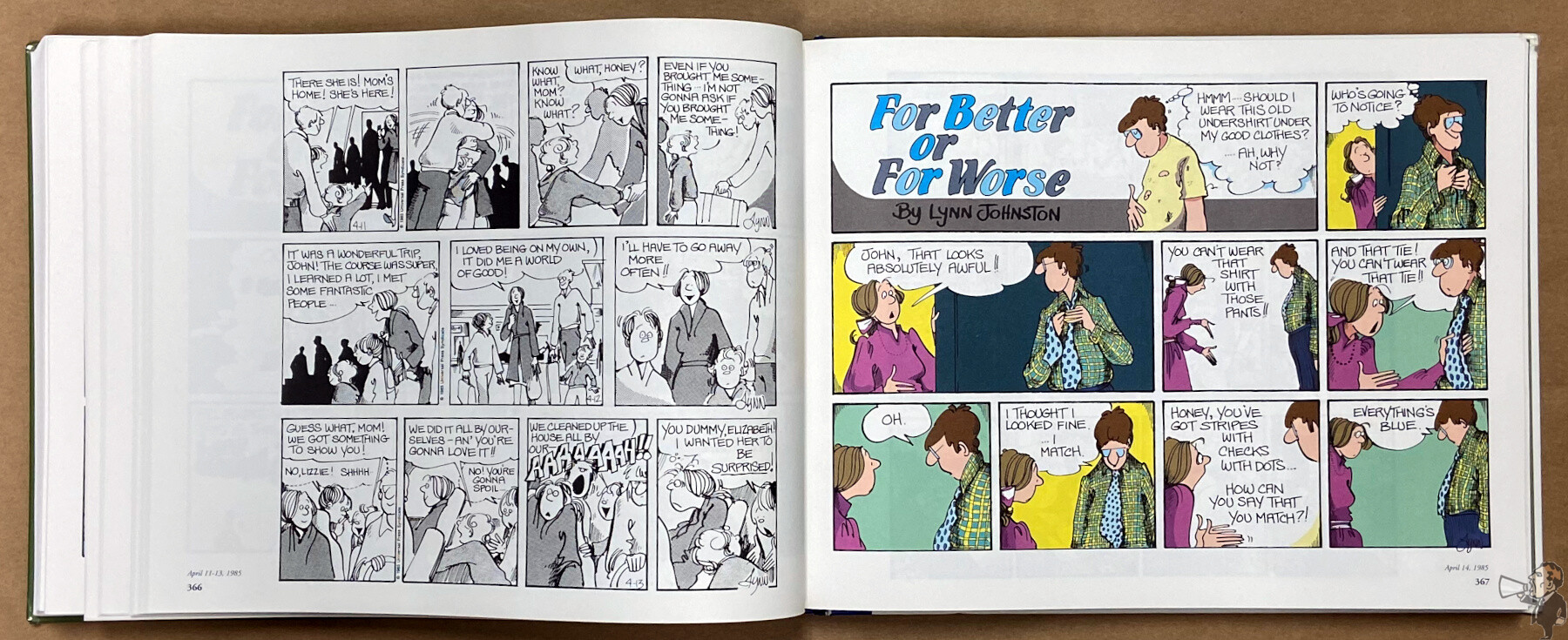 John's longtime assistant goes on maternity leave and he's left in the lurch searching for a replacement. For a few strips, Elly fills in and made me question if she was a certified dental hygienist and we just didn't know. I was hoping for one of Johnston's wonderful strip notes to shed more light but it didn't happen; the author shares her thoughts on a lot of strips regarding her inspiration, editorial and reader feedback. It adds a wonderful dimension to the strips; most of us enjoy a peek behind the scenes.
New neighbours move in next door as two longtime supporting cast move away. It impacts our main cast and they experience that loss of the familiar and comfortable as Johnston is able to explore something new. The Enjos at first appear to add something new with a cultural influence but then they fade pretty quickly. Perhaps they play a larger part in the coming years.
The dailies and Sundays continue on their own paths, with the dailies covering the ongoing stories and the Sundays providing standalone events. This is understandable from a syndicated perspective as some papers would only carry the Sunday while others would carry both. It just works.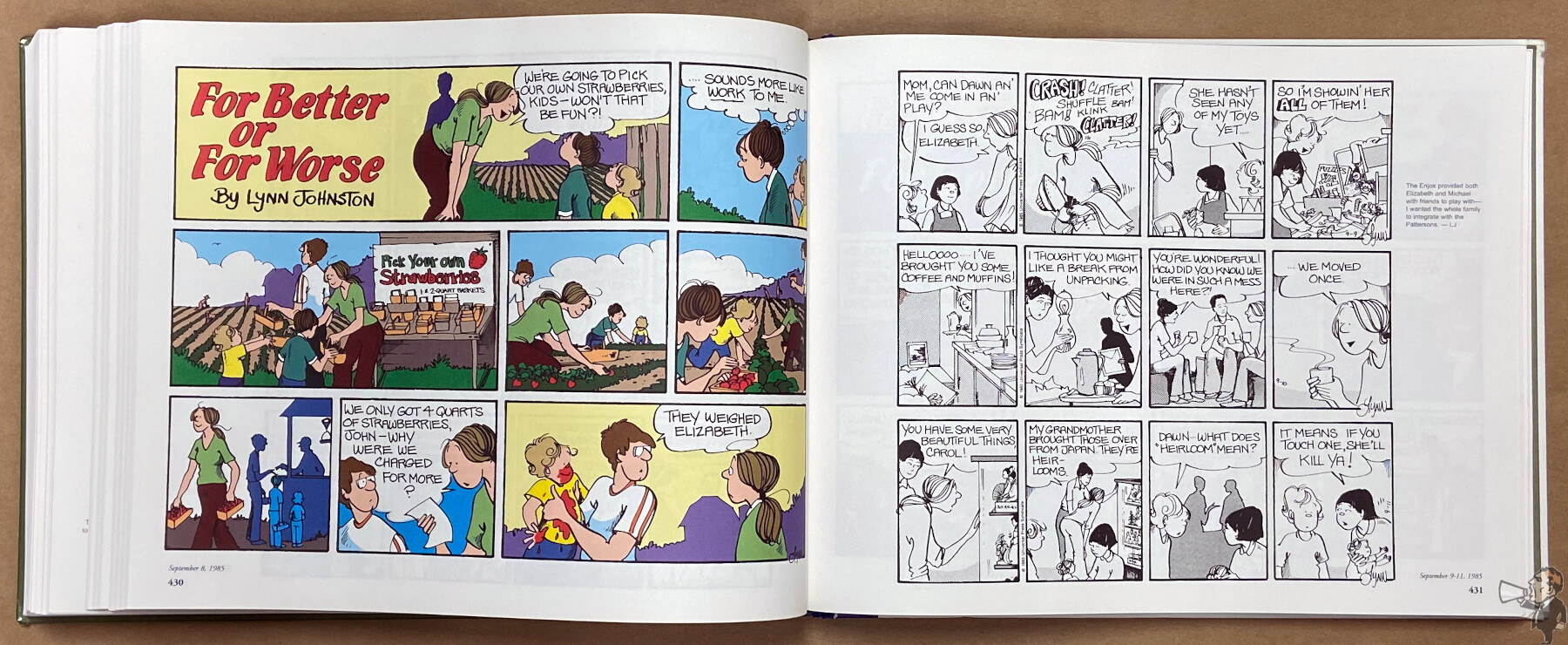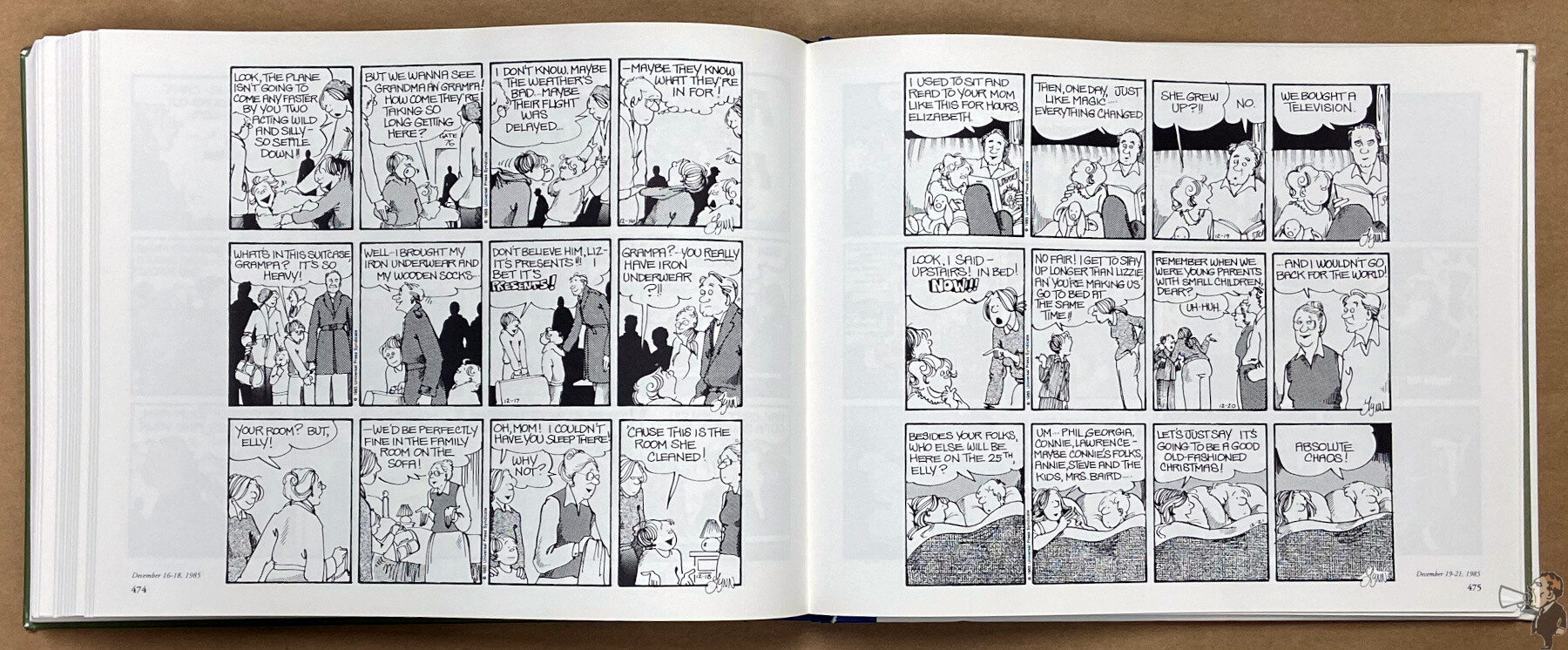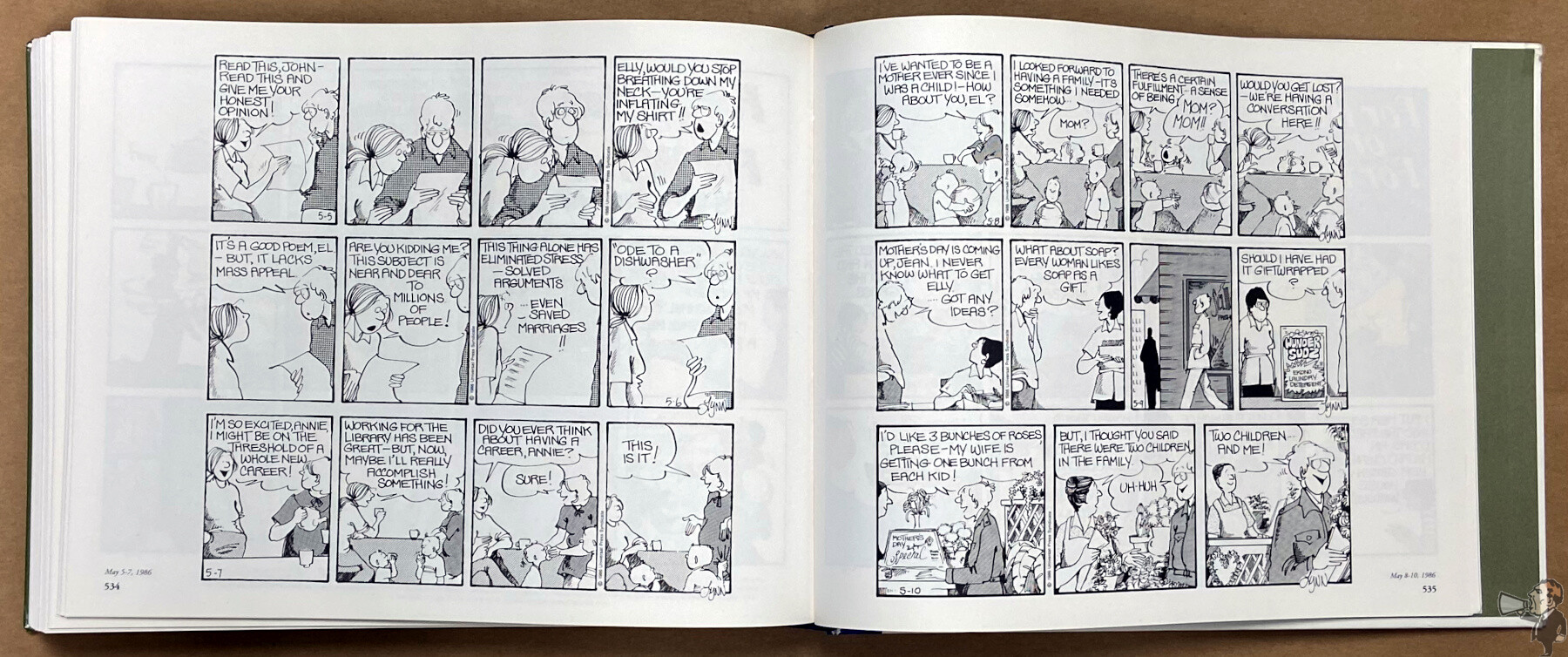 This many pages for $39.99 USD is a commendable feat. The paper is a bit thinner than we're used to from the Library of American Comics, but it allows for a very full book at a reasonable price. There is image bleed from the other side of the page, but it doesn't detract from the reading experience.
The quality of the strips are quite high. It's worth mentioning the Sundays have all been recoloured to match the original palette of the strips but without the Ben-Day dots of newsprint.
The book is a hardcover with sewn binding and no dust jacket. The spine colour continues from the first volume but the focus colour on the cover carried inside to the endpapers, frontispiece, colophon and title page. Because of the landscape orientation, the pages lay flat when reading.
---