This is my second book from the newly relaunched Humanoids English division, and Madwoman Of The Sacred Heart is not your average comic book.  Here's the publisher's blurb: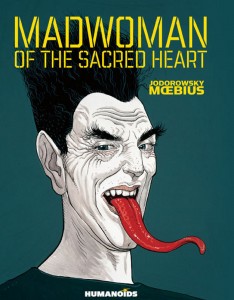 Professor Alan Mangel's journey of madness begins when he impregnates Elisabeth, a student, with what she believes is John the Baptist reincarnated. They meet and conspire with people convinced in bringing forth the Second Coming of Christ. Are they delusional? By the creators of THE INCAL, Moebius and Jodorowsky.
Let me give a brief overview. Alan Mangel is our main character, a philosophy professor at the Sorbonne. He's far removed from everyday life, including his wife and students. He gets involved with Elisabeth, a student who believes she will give birth to a second coming of John The Baptist if it's conceived with Alan. Along the way he overcomes impotence and becomes part of a religious cult of four, adding a Mary and Joseph to the group. Mary is the daughter of a drug cartel leader and Joseph is a drug addict.
With this cast of characters Elisabeth, Mary and Joseph are committed to their ideology of a new John and Christ while Alan is along for the ride enjoying sex with young gorgeous women. They all live communally for a while until everyone is kidnapped and whisked back to South America to join in a gang war; hilarity ensues. Throughout the story there's a battle between Alan's philosophy versus Elisabeth's faith. European influences add madcap humour, sex and spirituality in an entertaining mix: I doubt we'd ever see anything like this from a North American creator. Alan's philosophy gets heavy at times and it seems to go way off course in the third chapter but Alexandro Jodorowsky's story kept me engaged throughout.
The artwork is classic Moebius, at least for the first two chapters. The style change in chapter three is so different I can only guess a great deal of time passed. Superb detail and character development combine for a wonderful visual element to the story. Chapter three the style becomes more cartoonish and less defined, taking away from the overall work.
The first two chapters were published by Dark Horse in black and white in 1996 but this is the first complete coloured English edition. Unfortunately there is no introduction, forward or afterword and no information about the creation of the work in the book or online at the publisher's website.
At 192 7.75×10.5″ pages this is a good value for $30: the paper is thick and the artwork really pops. I can definitely say the material will allow for successive readings. Oddly I could only locate Madwoman Of the Sacred Heart at Amazon.com: Amazon.ca, Bookdepository.com and Chapters.ca only listed the old Dark Horse edition. I picked mine up at my local comic book shop.
Madwoman Of The Sacred Heart
Humanoids, 2010, ISBN 9781594650987