I was wandering the supermarket with the family just before closing and came across a pile of tilapia and cod fillets on 50% discount as their best before date was the following day.  We bought a bunch and came home ready to make fish and chips.
A really authentic British fish batter was required so after several web searches I cobbled this together:
1 Cup Flour
1 TSP Baking Powder
1 TSP Smoked Paprika
1/2 TSP Salt
1/2 Cup Milk
1/2 Cup Water
Mix it together and it resembles glue or paste: very thick.  I like to add paprika to any flour dredge to give it that little something extra and cut some of the flour taste.  Different recipes call for soda water or beer as the liquid but this worked very well and most of us have these ingredients in the cupboard.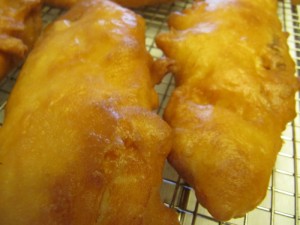 In order to have my battered fish and french fries come to the table hot and crisp I decided to double fry the french fries.  My wife made short work of a stack of russet potatoes run through our Good Grips mandolin that has a setting for fries.  I put three inches of canola oil, what looked like enough to cover the fries once they were in the pot,  in my large Le Creuset Dutch oven and with my clip-on candy thermometer waited until the oil was at 300 F, then loaded in my fresh-cut french fries.  They cooked away but didn't brown or crisp at that temperature.  Once they were soft I removed them from the oil and increased the heat.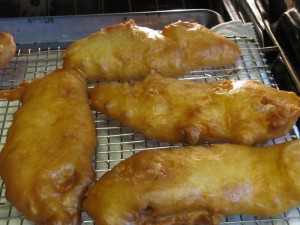 When the oil was at 380 F I dredged my fish through the batter and dropped them in: the batter expanded and I removed them when they were golden brown.  Make sure to get any excess batter off the fish: it's very thick and you only need a thin coating.  As the fish came out I put them on a sheet pan with a cooling rack on it to keep the fish warm but crisp.  After all the fish was cooked I waited until the oil his 380 F again and added the par cooked french fries.  They crisped and browned quickly; once removed from the oil they joined the fish on our table, everything hot and inviting.  A squeeze of lemon and a dollop of homemade tartar sauce completed the meal.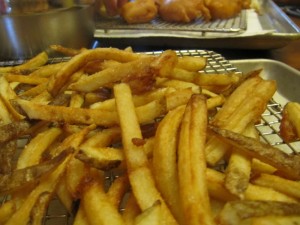 My daughter was very disappointed when she came to the table: "where are the chips?" she asked.  I explained that was another name for french fries but she didn't seem convinced or pacified.