A beautiful oversized volume showcasing Terry Dodson's ability to draw sensual and captivating comics, Muse is a must have for fans of good girl art.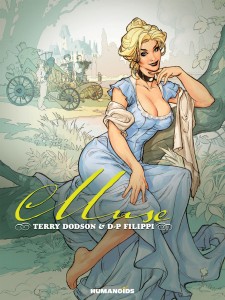 Available for the first time in the English language, in its original size, and in its entirety are the sexy, dreamy adventures of Coraline, a beautiful young lady who serves as governess to a wealthy, inventive and very mysterious homeowner.
Written by frequent Humanoids collaborator D-P Filippi (JOHN LORD, THE BOOK OF JACK) and drawn by U.S. comics superstar Terry Dodson (Marvel's UNCANNY X-MEN, THE DEFENDERS), Muse is a lyrical and titillating ride through reverie and nostalgia.
Humanoids Inc., 6 Mar 2013
104 pages, 9.5 x 12.5 inches, Color
ISBN-13 9781594650383
$34.95 USD
Order online: Amazon
Let me lay out the book as quickly as possible so we can get to the good stuff. This is the story of Coraline, a stunning woman who answers an ad in the paper for a governess. She arrives at a massive estate run by two servants who look after Vernere, their adolescent ward. This young man is a genius and creates automatons for everything, giving the estate a steampunk look and feel. Every night they drink a potent elixir and Coraline awakens to take part in bizarre adventures that invariably lead to her losing most of her clothing. This happens for several nights until she figures out what's going on and saves the day.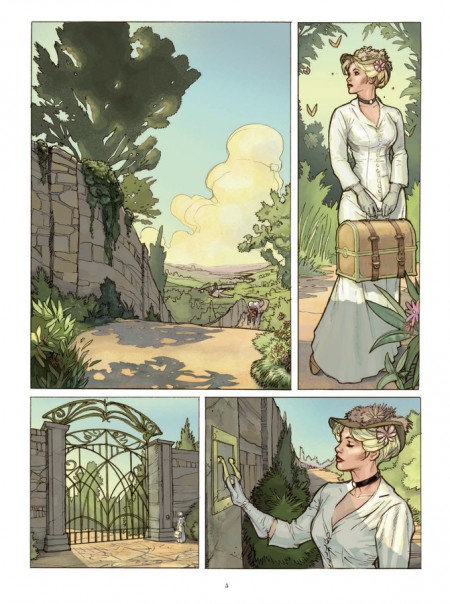 The story is not the focus of Muse; the characters don't develop, the dialogue doesn't do much and the ending will just leave you scratching your head. In fact the story exists as a vehicle for Terry Dodson to draw beautiful women in exotic locations, with steampunk thrown in for good measure. And with this 9.5×12.5″ hardcover you will be drinking in every gorgeous page. That may seem a little unfair, as Filippi provided a story that hops between steampunk Victorian to pirates to cannibal islands to Eastern harems and a few more places. A means for Dodson to shine with every venue.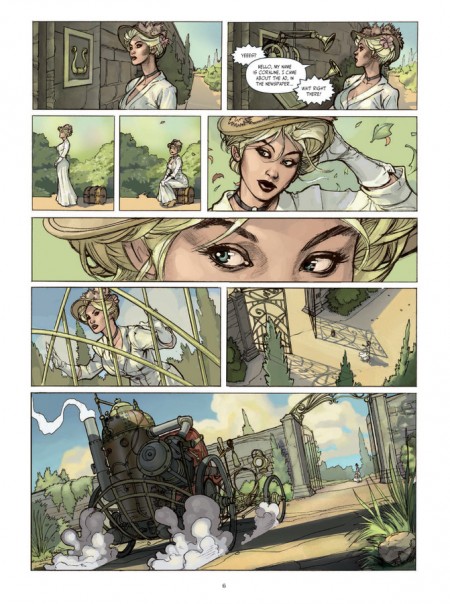 Yes, there is a lot of topless panels throughout the story but that's not what captivates here: Dodson knows how to make everything look good. Coraline appears in a variety of outfits, most somewhat revealing and wonderfully Victorian, but everyone looks good, including the villains. It's like Dodson can't help but draw everyone in the best possible light. These three sample pages are the most demure of the story and are in fact the opening sequence, but stop and drink them in. All the details pop, from Coraline's dress to the design work of the front gates to the steampunk car. Exceptional.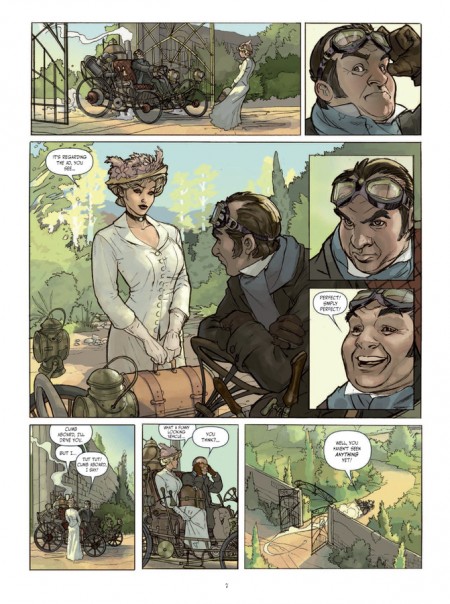 The style is different than we've seen from the artist. It appears the pencils were done and then digitally inked and coloured, providing a unique look that takes away some of the polish, but in a good way. The colour palette is muted but shines every page in its choices and application. Panel layout doesn't stand out but works very well; take a look at the second page where the small panels show time elapsing and the tight shot of Coraline's eyes indicating she's finally spotted something.
Muse is a well packaged book. Published by Humanoids in English at the same size as its original French volumes, North American readers are given a taste of what it's like to enjoy Bande Desinee works. If only every graphic novel was as well done. Good binding, silk bookmark but no extras. An excellent value at $35.
---
Originally published at Comic Book Daily.