This one caught me by surprise.  As I read more and more collected editions my library of Fantagraphics books grows with new releases and older material "discovered" online and at my local comic shop.  I was perusing their 2011 catalogue when I came across volume 2: it looked interesting but I needed to get King Of The Flies Volume 1 Hallorave first.  Here's the publisher's blurb: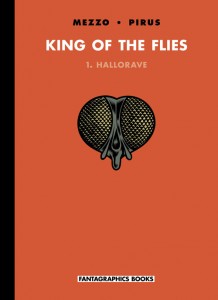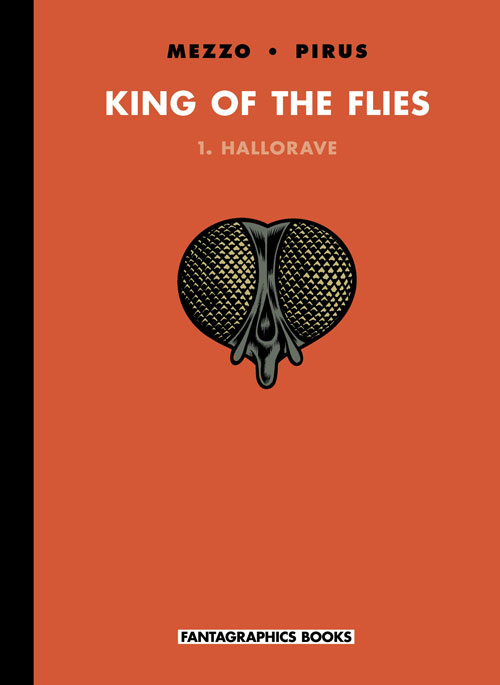 Set in a suburb that is both nowhere and everywhere, King of the Flies is a glorious bastard, combining the intricacy and subtlety of the best European graphic novels with a hyperdetailed, controlled noir style derived from the finest American cartoonists.
King of the Flies first appears to be a series of unrelated short stories, each starring (and narrated by) a different protagonist, but it soon becomes obvious that these seemingly disparate episodes weave together to form a single complex narrative, with events that are only glimpsed (or even referred to) revisited from different perspectives — revolving around Eric, a ne'er-do-well, drug-taking teenager at war with his stepfather and, apparently, the whole world. (He is the titular King.)
This is a dark tale and you immediately liken it to David Lynch's work. Odd characters with dubious behaviour interacting in a suburban setting. It's a commentary on society and the drain we're circling. Michel Pirus has crafted this disturbing tale with excellent dialogue and a gripping story; you don't like any of the characters but can't wait to see where it's all heading.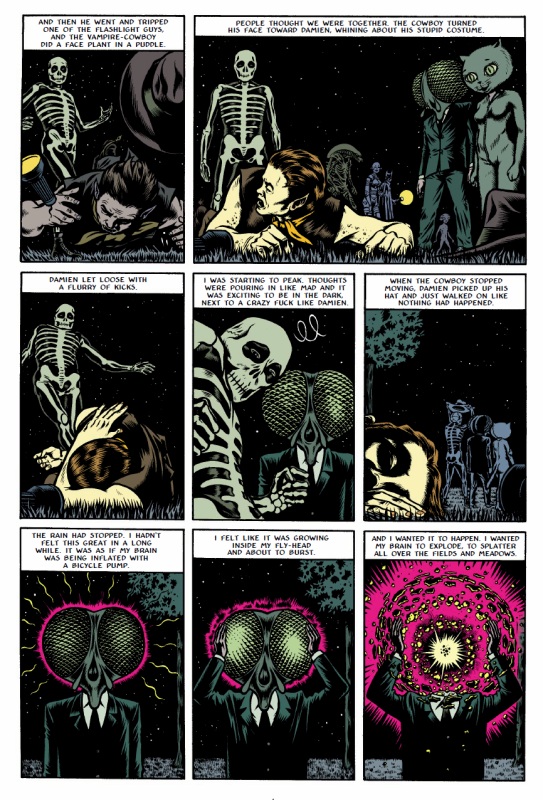 Art by Pascal 'Mezzo' Mesenburg immediately brings Charles Burns to mind with its thick black inks and flat colours. It creates the perfect feel for such a dark story and really immerses the reader. The pages are mostly 3×3 panels: nothing innovative but the layout works so why mess around. It's so visually gripping I was hooked and had to finish it in one sitting.
Part of the immersive feeling comes from the format: 9×12.5″ hardcover.  It's a big book and Fantagraphics maintained the European formatting.  At first blush $19 for sixty-four pages seems expensive but once you have it in your hands the value comes through. 
King Of The Flies Volume 1 Hallorave
Fantagraphics, 2010, ISBN 978-1-60699-320-0