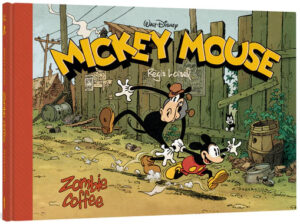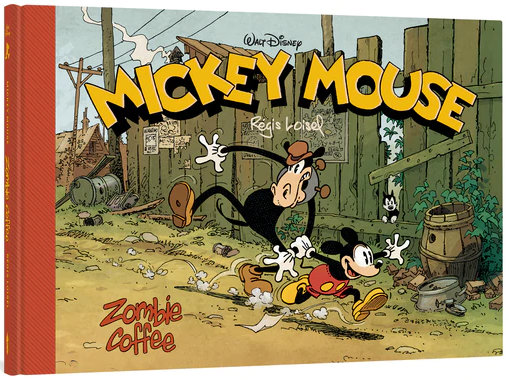 Award-winning French cartoonist/Disney animator Régis Loisel presents an amazing brand-new Mickey adventure — set in Mickey's classic 1930s golden age!
Mickey, Minnie, Donald Duck, Horace Horsecollar, and Clarabelle Cow go camping to forget the Great Depression. But when they return to Mouseton, they find shady real-estate developer Rock Fuller destroying it to build a golf course… with the help of an army of "zombies," transformed from normal citizens with a magic drink! What does Mickey's old enemy Pegleg Pete have to do with this evil scheme… and can Mickey trip it up?
Famed French cartoonist Régis Loisel won the Angouleme International Comics Festival's Grand Prize in 2006 and has been nominated in other years for numerous projects. Loisel has also worked as a Disney animator and was thrilled to produce this stellar tribute!
Zombie Coffee is told in the daily-comic-strip-serial style of Disney legend Floyd Gottfredson's beloved early Mickey adventures — packed with action, laughs, and magnificent details that explode off the pages! This deluxe edition is a landscape-formatted hardcover that comes in a portrait-formatted slipcase — and so the buyer can shelve it vertically but read it in its full cinemascope-style glory!
ISBN 9781683964377
8.7″ × 12.5″, 80 pages, hardcover
$24.99 USD
Order online: Amazon



Eighty pages of 1930s Disney action, told in 135 strips, two to a page. It's great and has an all-ages approach, but left me wanting more from it.
Mickey and Horace can't find work and it's getting them down. Something strange is happening in town and they keep getting denied any work. To get out of this funk they take their girlfriends Minny and Clarabelle to do some camping and boating our Donald Duck's way. Coming back from vacation they learn whole swaths of town have been cleared out for some luxury construction. And the workers all seem obsessed with grinding their own Zomba coffee. A nefarious plot comes to light that our heroes are able to thwart. Hijinks and hilarities abound along the way.
The story is pretty linear, following Mickey and Horace as they work with Minny and Clarabelle to put things right. There is an excellent pace that keeps the reader engaged with the story and all the antics happening throughout. What doesn't fit is this camping trip with Donald, since it's mostly pages of slapstick and he doesn't take part in the main storyline. I'm not sure what purpose it serves, since it's comic relief before we get into the heavy part of the story that could use it.
Loisel is able to bring these characters to life through naturalistic and exaggerated movements and facial expressions, which sounds like a dichotomy, but isn't. We get anthropomorphic animals moving and engaging with each other in a very fluid and human way, all the while giving over-the-top eye pops, gaping mouths, and the rest that we know and love from animation.



Where the art caused problems for the story are the panels or foregrounds that Loisel chose to colour in a gray and brown, putting the focus on the background. It may work if the panels here were larger, but the reader gets a loss of detail when this technique is applied.
The design is quite engaging. A lot of white space, letting you focus on each panel. Very simple title page, colophon and introduction. Putting a horizontal book in a vertical slipcase allows for "normal" storage of this book on your shelf. On one spine the title runs top to bottom like English-language books, and on the other spine, it runs bottom to top like French-language books. Each page has two strips, and the page number appears bottom center. The cast of characters after the story pulls images from the story, but perhaps it would have served better before the story. The endpapers are a real treat and I didn't want to spoil the surprise by adding a photo.
Production is excellent: a sewn binding of a medium to heavy paper with a slight gloss. The book mostly lays flat when the center is smoothed. It feels a bit pricey at $24.99 USD for 80 pages, but everything about this package feels luxurious.



---