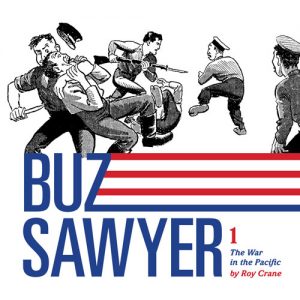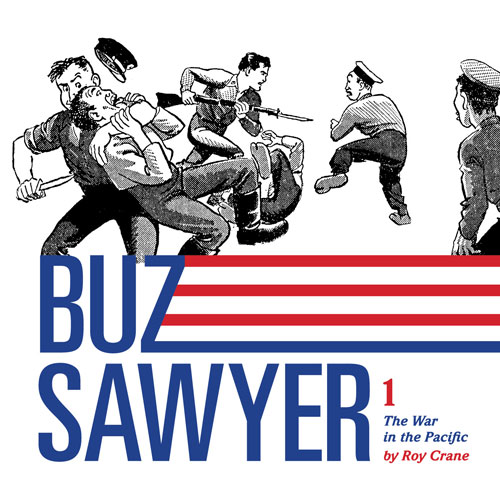 Roy Crane created the adventure comic strip with Wash Tubbs, and many a superhero owes a debt to Crane's square-jawed, hard-hitting adventurer Captain Easy. But during World War II, he left the Captain Easy strip to create a more realistic fighting man, a Navy pilot named John Singer Sawyer, who fought in the Pacific Theater from 1943 until V-J Day in 1945.
This book, the first in a series reprinting the Buz Sawyer strip, reprints all of the daily strips published during World War II. Buz serves aboard an aircraft carrier, flies combat missions against the notorious Japanese Zeros, crash lands behind enemy lines, and is captured by a Japanese submarine.
The book also includes a selection of the best of the Sunday strips, which featured Buz Sawyer's pal and gunner, Rosco Sweeney, presented as full-color fold-out pages.
Everywhere Buz goes, he finds high adventure and beautiful women — in fact, his fellow flyers kid him about his ability to find romance on even the most hostile Pacific island, where he meets a dangerous spy named Sultry (!). And when he goes home on leave, it is only to be caught up in a rivalry between rich heiress Tot Winter and girl-next-door Christy Jameson.
It features some of Crane's most atmospheric drawing, aided by his expert use of Craftint tones, luscious romance, and exciting action scenes.
Also featured in this handsome archival volume: an introductory essay by comics historian Jeet Heer and a selection of letters to and from Roy Crane (including one from "Al Toth").
ISBN 978-1-60699-362-0
9.25″ x 9.25″, 240 pages
$35.00 USD
Order online: Amazon
This was another book I picked up as a remainder for a deep discount and let languish on my shelf for five or six years. I had enjoyed Captain Easy Vol 1 from Fantagraphics and appreciated Crane's style of art and story.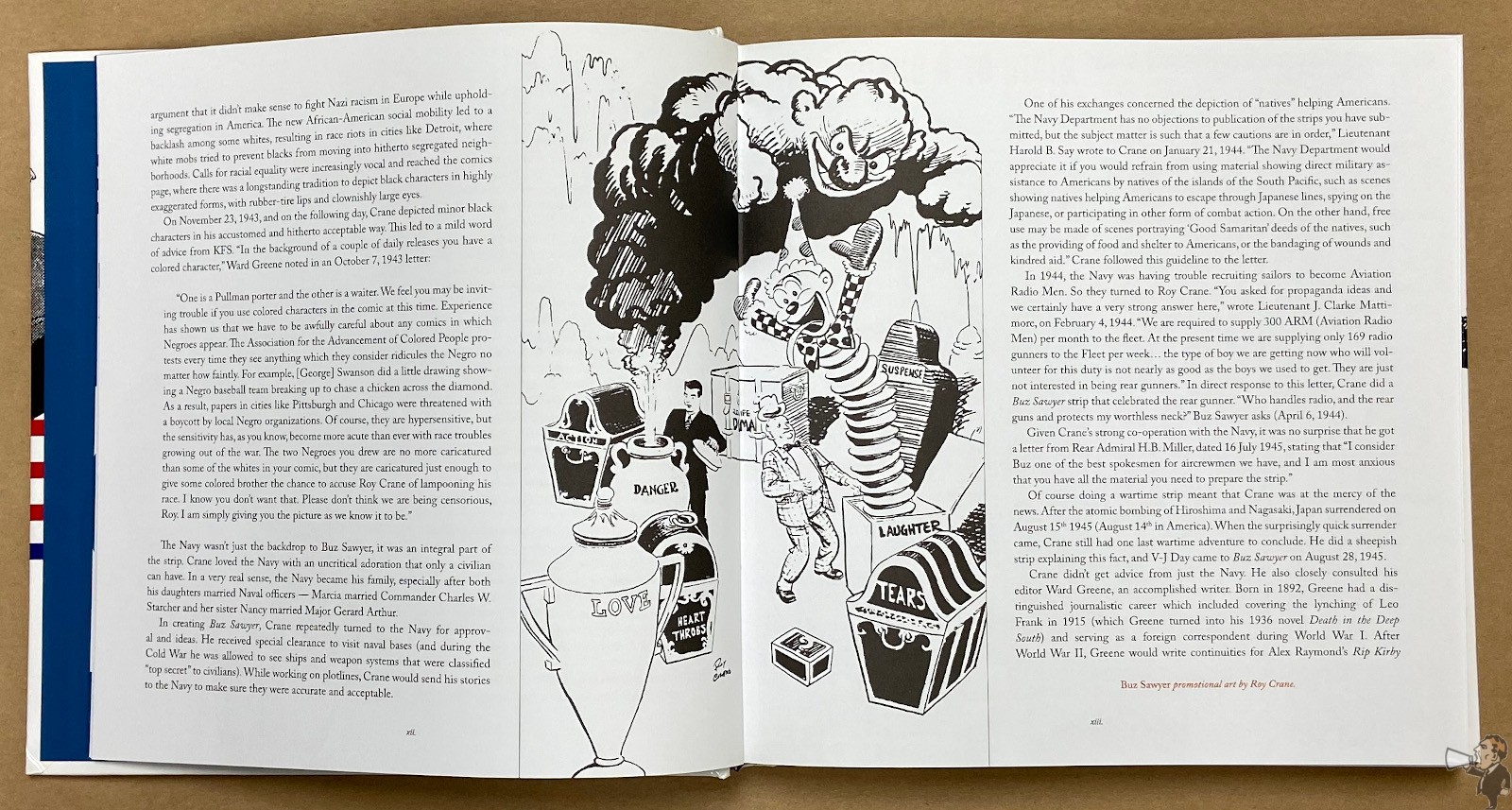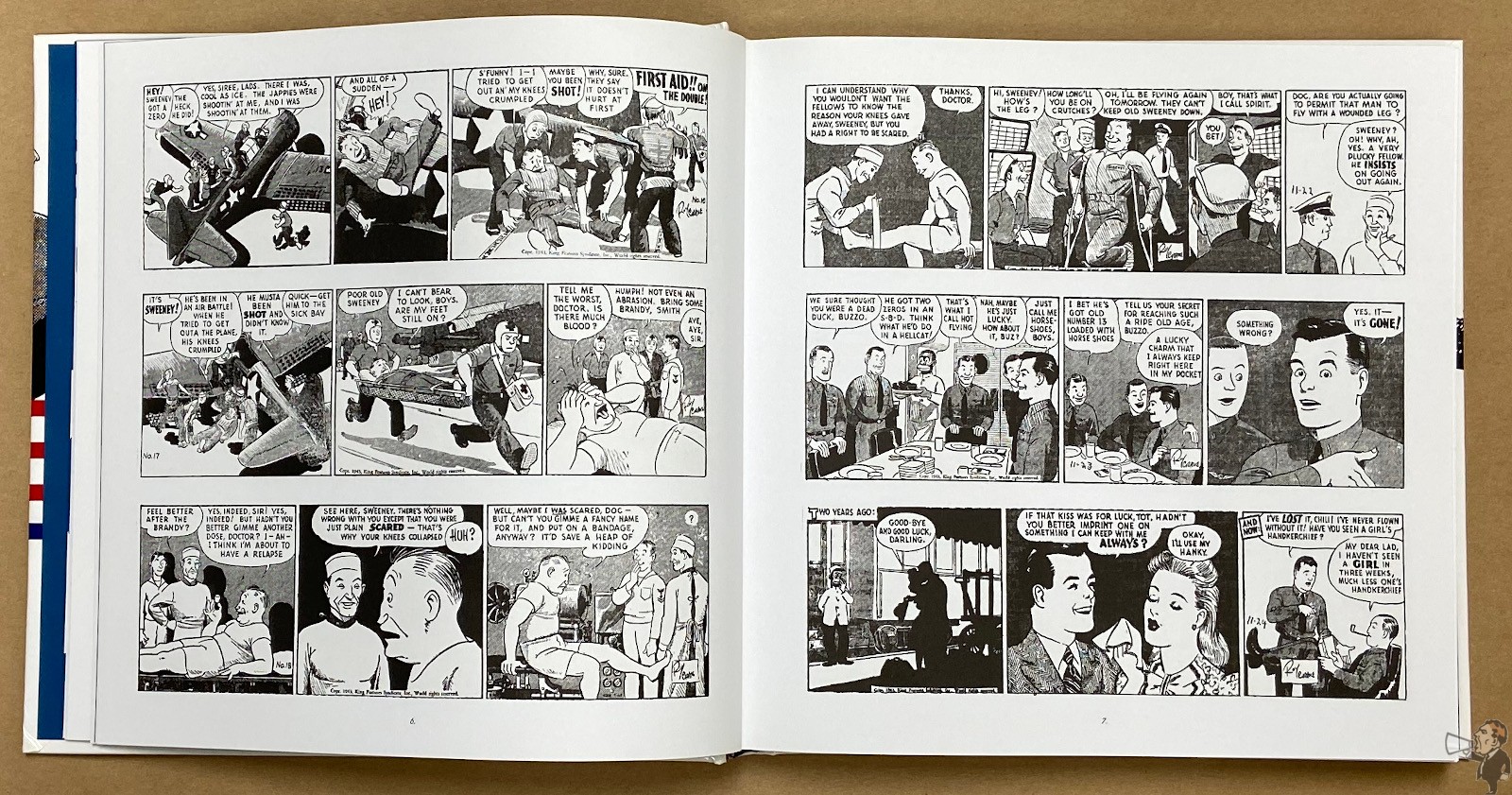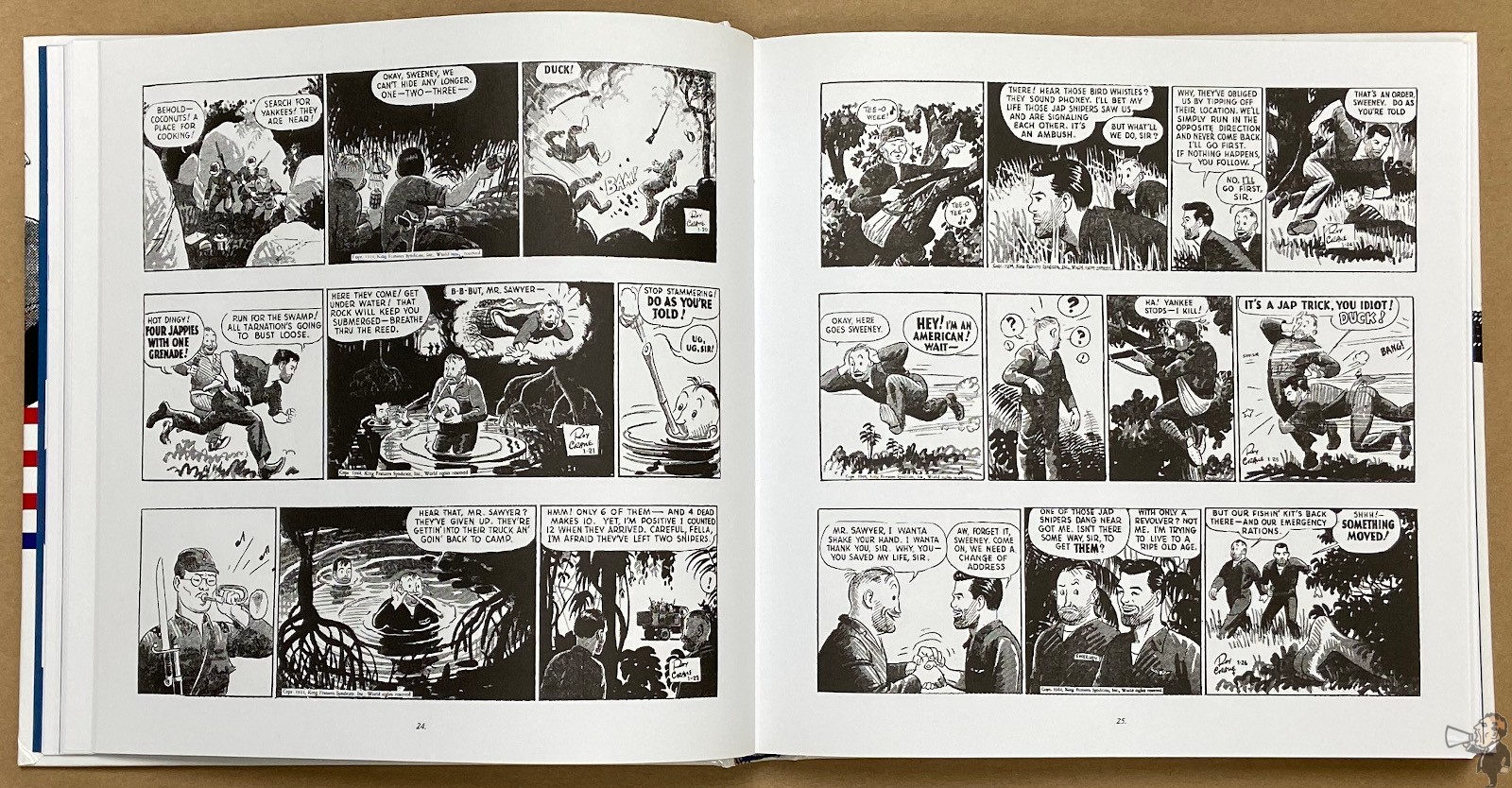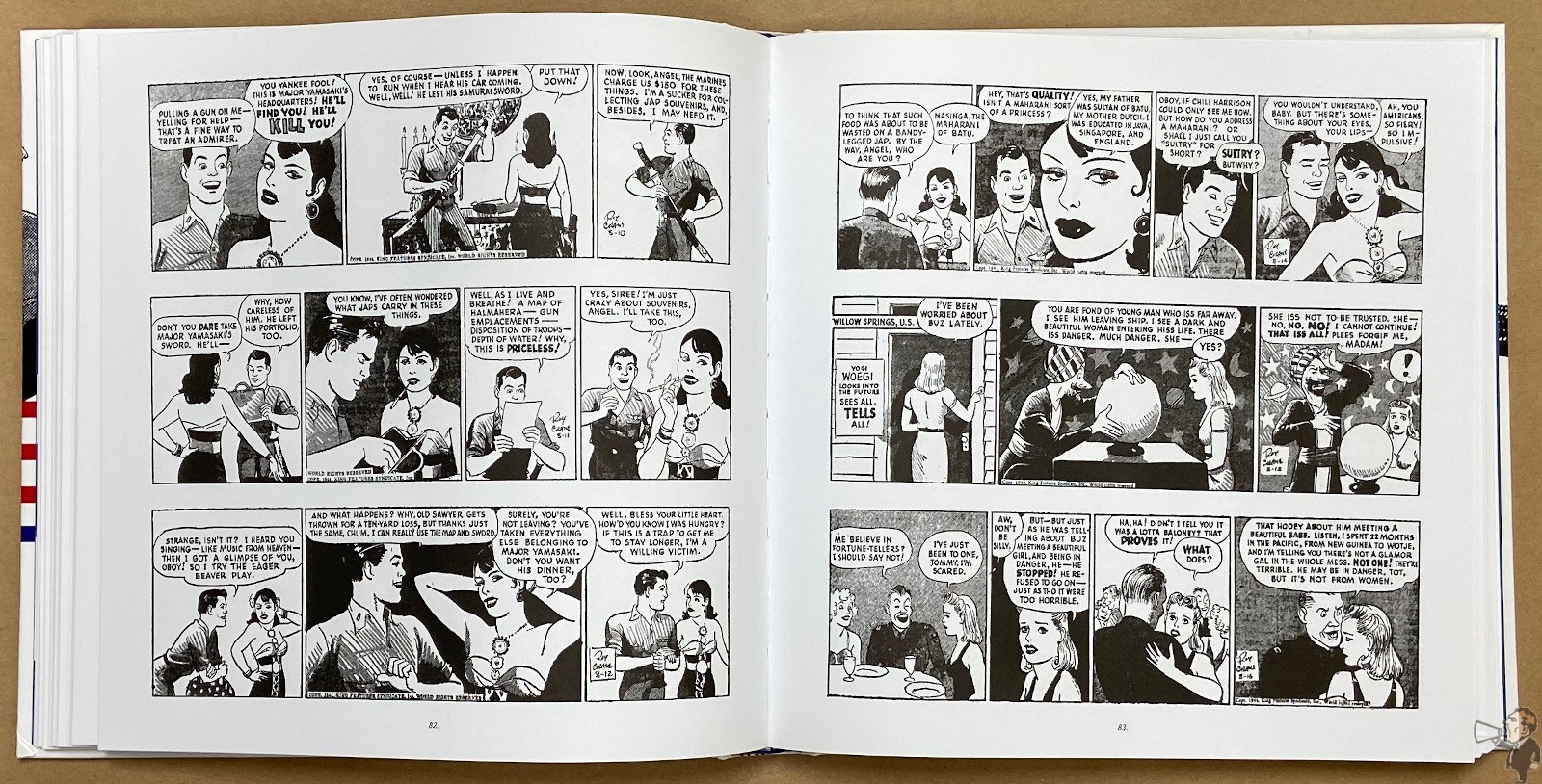 We're immediately pulled into the life of Buzz Sawyer and his small supporting cast, with the action of the war and Sawyer's many lady friends. Thankfully both of these move at a hectic pace and readers are carried along for a most enjoyable ride.
Crane wonderfully employs facial and body expressions to carry many a scene. At first blush the art appears simplistic, perhaps too clean in its use of line. But there is an abundance of detail in the scenes and backgrounds, well-developed costumes and environments.
Having never read any of the material I skipped Heer's essay and dove into the strip. When I was done I went back and Heer's insights into Crane and the circumstances of the strips' creation added to the overall experience.
Production is quite good. All but a few strips are clean and legible, presenting well at three to a page. The square shape works.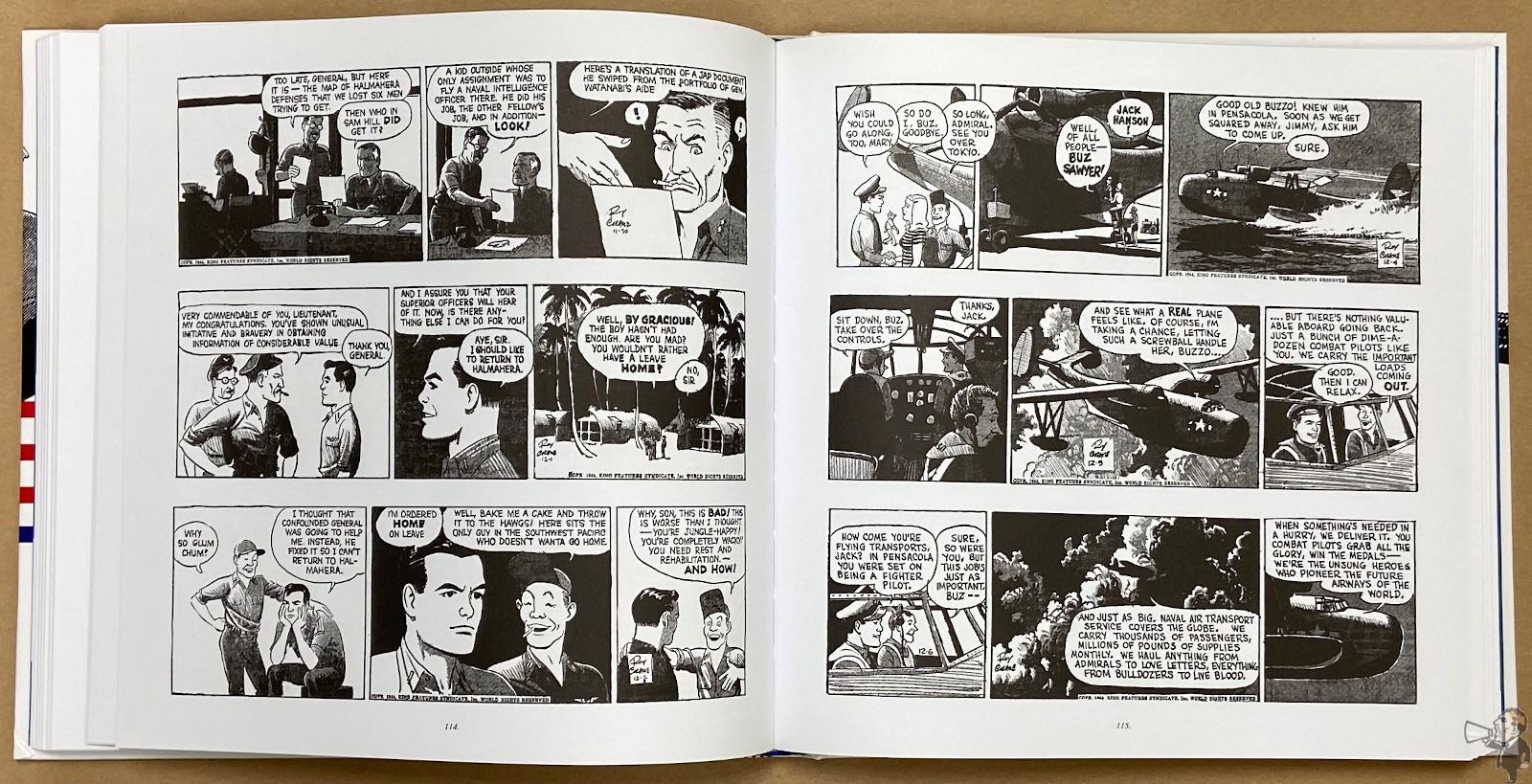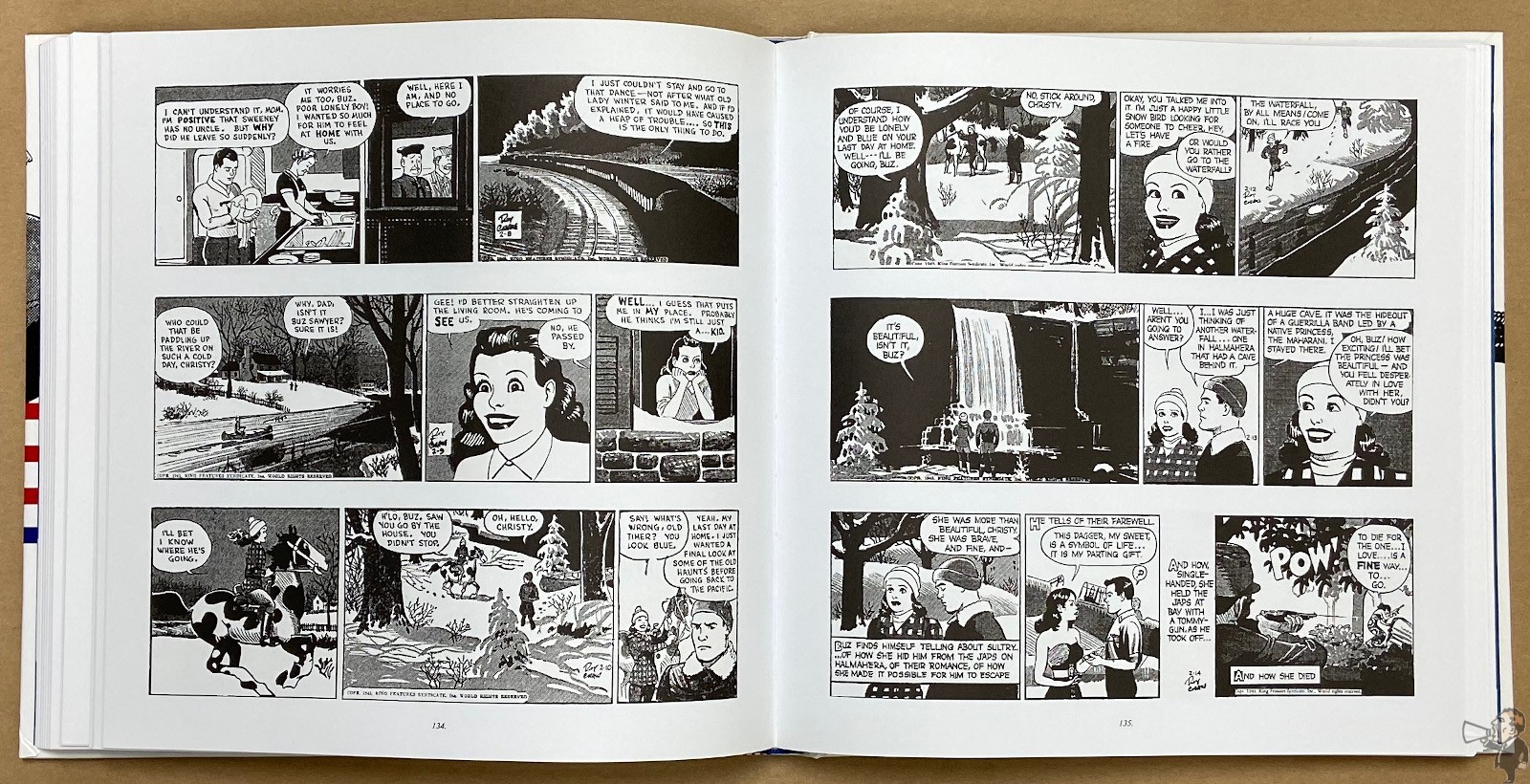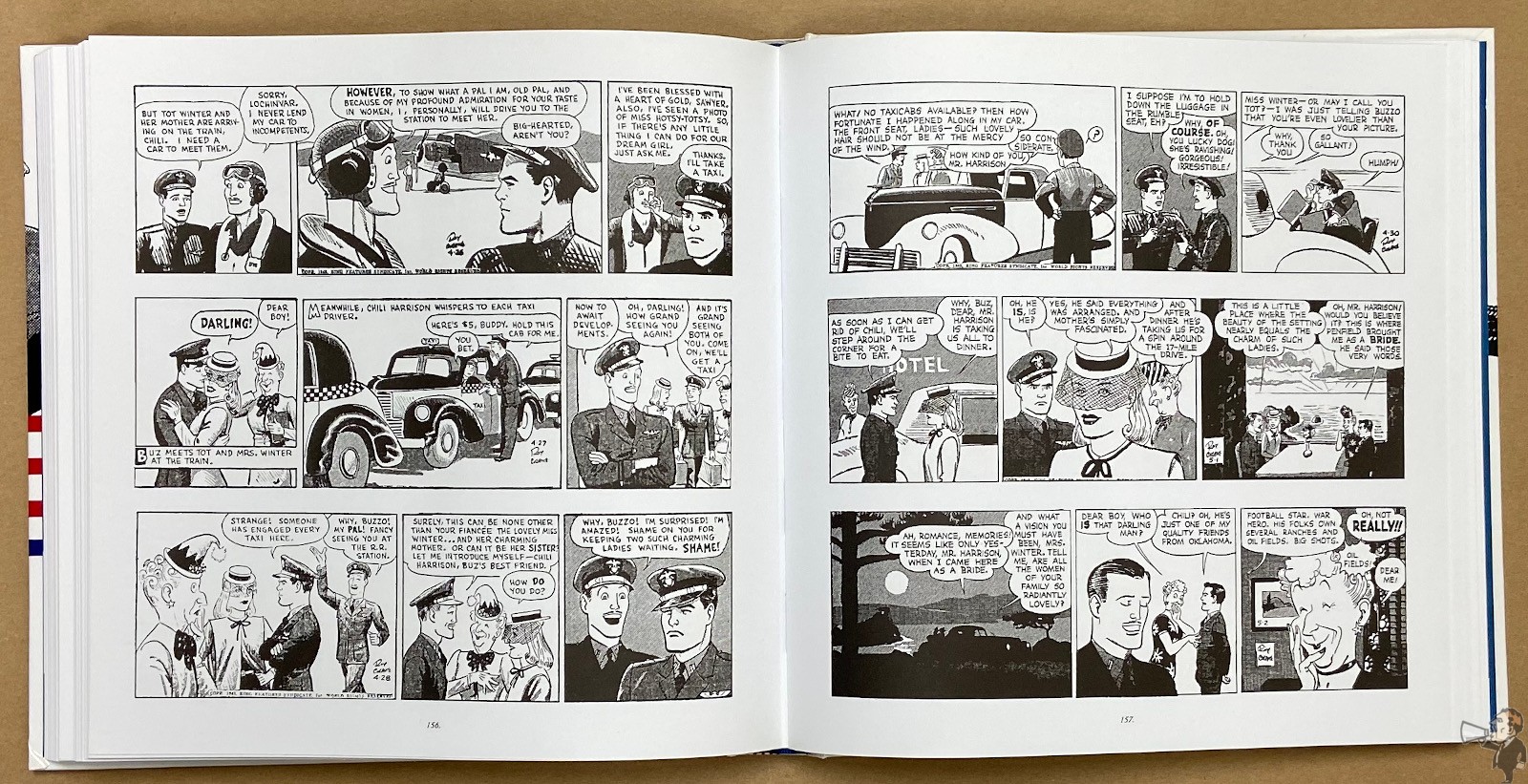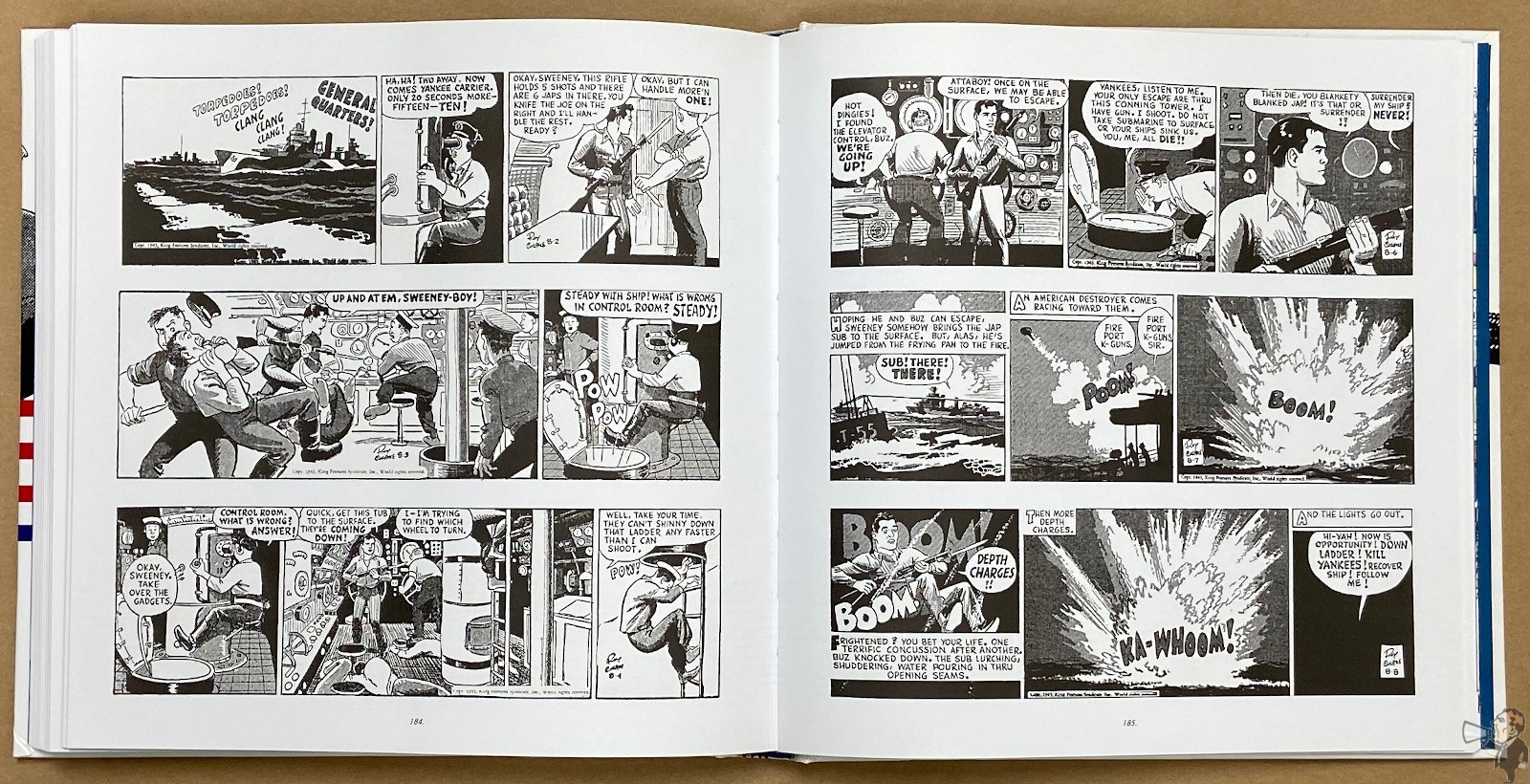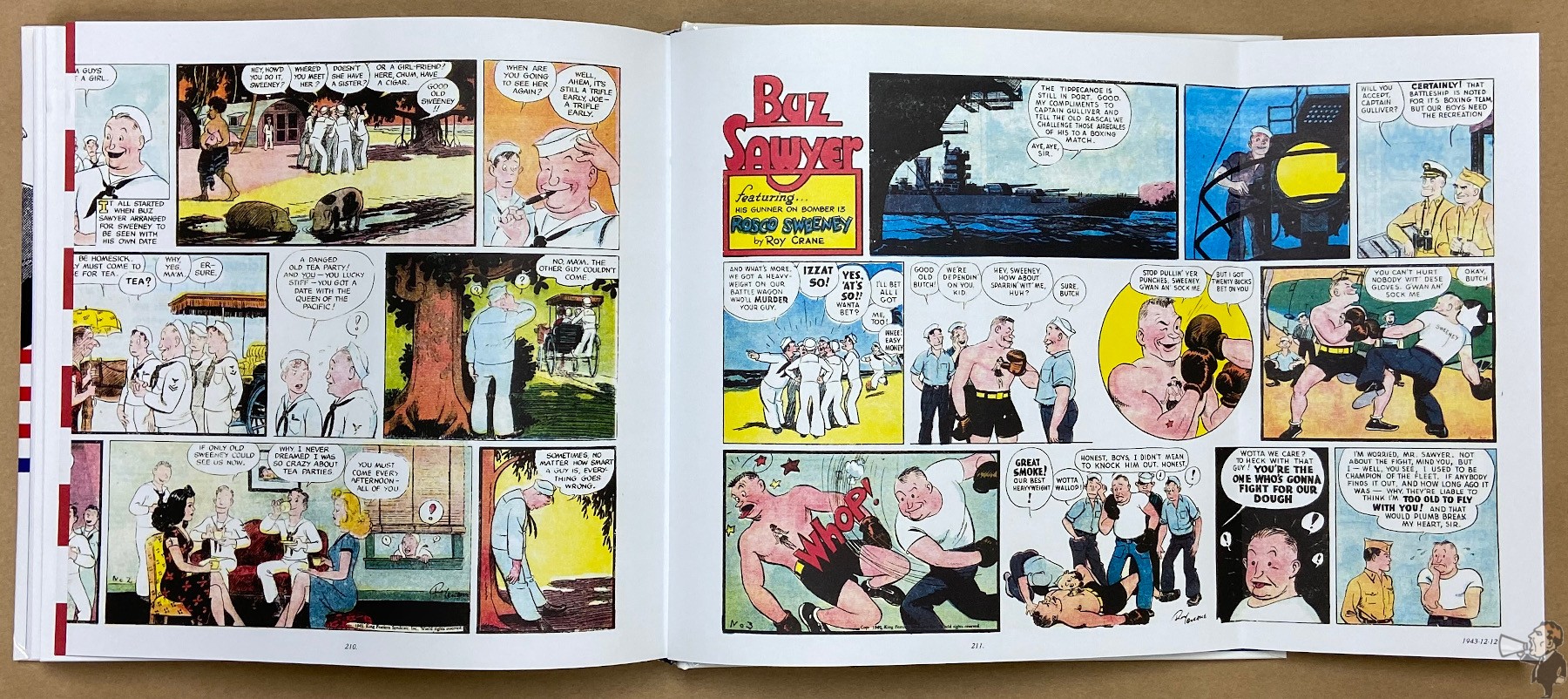 The Sundays weren't part of story continuity and focused on gags and Sawyer's sidekick Sweeney. A selection of these are presented at the back in a format I haven't seen: about 33% of the strip is folded to meet the dimensions of the book, so each Sunday is a partial foldout.
I found the ease at which the strip delves in and out of violence unsettling, but it was a war strip released during World War II and the audience was experiencing all the effects that entailed. As Sawyer and Sweeney take on some Japanese Sweeney grins as he stabs an enemy in the back; the image chosen for this volume's cover. Yet we also have Sawyer's commanding officer Flint weighed down by the burden of command and loss of life, eloquently explained to Sawyer by Mrs. Flint. But this time the focus is on American lives. I get it, Japan was the enemy and we have the luxury of reading this in the freedom hard-fought by our grandfathers.
---