After conquering the kitchen and freezer with my Brother P-Touch labeler it sat sadly in a drawer with little attention paid. That is until I was poking around a bin of electronics and had no idea how to identify what power adapter went with what device. Back in the old days manufacturers used to make or at least brand the power adapter; I had no trouble identifying the AC adapter for a U.S. Robotics modem. Unfortunately I can't foresee any possible use for that. What I wanted was the AC adapter for an eight port switch; there were about three different AC adapters that fit the power socket on the switch but which was the right one. Jiminy Christmas!
I immediately reached for the labeler and put a label on every AC adapter I could identify. Trial and error helped me identify the rest and I was completely labeled and in the know. Nothin' to it.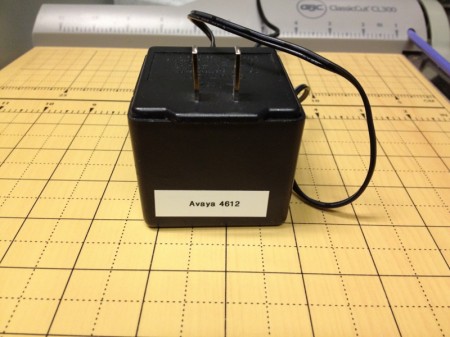 Way back in August I wrote about [intlink id="2383″ type="post"]endurance testing some labels[/intlink] in the freezer and fridge, on a plastic storage bag and plastic storage container. The labels were still firmly affixed as of this week. In fact they both peeled off relatively easy and the container washed up without any residue.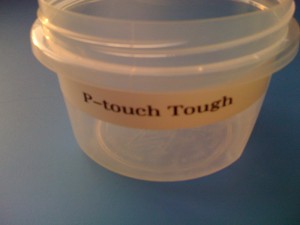 In fact I haven't had any issues with the labels, even after microwaving one affixed to a container until it browned up. I was able to pull it off and after a wash had no residue.
I wrote this review while participating in a campaign by Mom Central Consulting on behalf of Brother P-Touch and received a product and gift card to facilitate my review and a promotional item to thank me for taking the time to participate.