This book came into my hands via a recommendation from my local comic book shop.  Liar's Kiss is a quick black and white crime drama.  Here's the publisher's blurb:
THE WAY HE INVESTIGATES IS A CRIME IN ITSELF.

Nick Archer isn't much of a detective, but he's managed to get himself one pretty sweet surveillance gig: once a week he sends a jealous millionaire the photos that prove his wife is faithful, leaving Nick plenty of free nights to spend making a liar of both himself and the client's wife. But when the client turns up dead, his cheating wife is the prime suspect and it's up to Nick to clear her—except Nick has an agenda of his own, and connections to this case that go deeper than anyone realizes. An amazing crime noir debut! — A 120-page deluxe hardcover graphic novel, 6″ x 9″.
This is my first exposure to the creative team of Eric Skillman and Jhomar Soriano; in fact this may be my first Top Shelf purchase.  It's a crime drama with some whodunnit thrown in for good measure.
Skillman creates a nice framework for us quickly with a private investigator, a damsel in distress, cruel cops, a handful of possible suspects and a few choice clues dropped hither and fro.  The crime noir label fits as the reader doesn't get a chance to like any character, just relate.  Dialogue is a little too hard-boiled but the clichés are witty in their integration.  It moves and reads quickly: no time to get muddled or over think the details.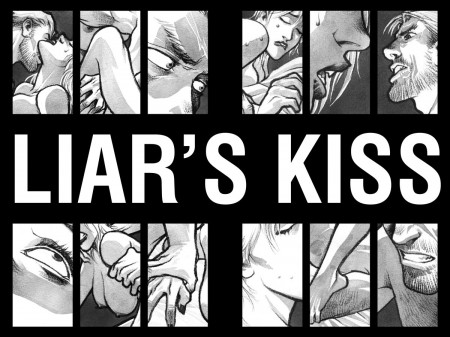 Soriano presents the art in a compelling and engaging manner.  Black and white obviously works well here but it's punched up by great use of shadows and blacks.  The main story is presented as the pages above but flashbacks are softer and just better looking, as the title page above illustrates.  Soriano's background seems to be in manga and that style comes through even though he's trying hard to use a North American look.  Panel layout was pretty standard; it did seem to emphasize the contrast of background versus no background in a lot of the story, which would probably have worked better in colour.
This is a solid read but it's quick: I would have liked a little more cat and mouse to the tale, more clue chasing.  It's a 6×9″ hardcover and I haven't warmed to the format size; I know it's "novel" proportions but we need to emphasize the "graphic" portion of graphic novel more.  $15 seems a steep for a story with little re-readability. Liar's Kiss is a fun book for fans of crime dramas.
Liar's Kiss
Top Shelf, 2011, ISBN 978-1-60309-070-4
First published at Comic Book Daily.