I have the good fortune to take part in a Brother P-Touch blogging promotion.  I'll be writing three posts over the next few months chronicling my experience with Brother and its labels.  To start if off they sent this product challenge kit: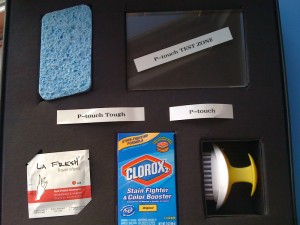 It's an interesting mix of products: a piece of plexiglass with a label affixed, sponge, scrub brush, powdered bleach, nail polish remover, and two extra labels.  If this was designed to test the labels then what's important in a label?  I'd say two things: it stays on whatever you affix it to and the writing doesn't wear off.  With that I had my criteria.
I took to work on the labeled plexiglass, giving it a rough scrubbing with the bleach powder and brush, then wetting the block and more scrubbing.  Next came the sponge with more water and bleach.  Drying it off I tried the nail polish remover.  Not drying this time I was back at it with the brush and sponge.  At no time did the label loosen from the plexiglass, nor did the writing fade.  I left it a few days for a rinse and repeat but it held up.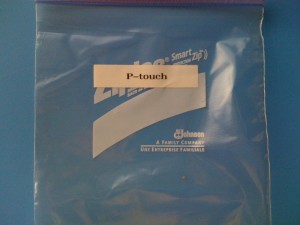 The extra labels I applied to two items we use in our home regularly: a food storage bag and a food storage container.  I try and make everything from scratch and have some leftovers for lunches so I use both items all the time, especially in the freezer.  Normally I write on the bag with a permanent marker but that frequently rubs off so we're left guessing what things are while standing in front of the freezer letting all the cold air out.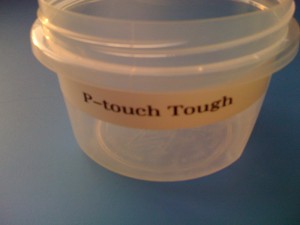 After affixing the labels both went into the freezer for a few days and emerged pretty much the same so no need for before and after photos.  So far Brother and its labels get the job done.
I've also received a Brother P-Touch labeller to tackle the kitchen: my goal is to organize and label the raw ingredient cupboards and the freezer.  Yikes!  Watch for that post this December.
I wrote this review while participating in a campaign by Mom Central Consulting on behalf of Brother P-Touch and received product and a gift card to facilitate my review and a promotional item to thank me for taking the time to participate.