Labels, who wants to waste their time with labels? My wife has owned and used a Brother P-Touch labeler for some time, keeping things neat and organized. I'm the cook and kitchen manager in the house and until now have been happy with a hunt-and-peck outlook to kitchen management. Sure my wife complains she can't tell what meat is in the freezer, but isn't half the fun taking out a frozen hunk of dark meat, turning it over and over again in your hands and making a complete guess as to what you're about to prepare for dinner? Isn't it?  Anyone?
I've tried in the past to be partly organized: writing on plastic freezer bags with a permanent marker, keeping similar meat or stock together.  This worked for a while, until a $0.77 / lb turkey needed to be shoved in there somewhere or the permanent marker ended up on my hand and off the bag.
As [intlink id="2383″ type="post"]previously mentioned[/intlink] I had the chance to take part in a Brother P-Touch blogging promotion and received a shiny new label machine, all my own.  We were asked what room needed to be organized and I knew right then and there it had to be the kitchen and by extension the stand-up freezer in the garage.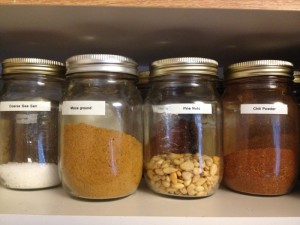 I'm a bulk shopper: I try to only buy meat and butter when it's on sale and then I go all in, and dry goods I buy in bulk.  This means every other week I'll come home with five whole beef eye of rounds or twenty pork tenderloins.  Though I like to procrastinate, hence the unknown mess that is our freezer, I've learned that meat not dealt with the day you get home goes bad.  The same goes for bulk items: leaving ten pounds of coarse sea salt in a clear bag next to ten pounds of white sugar can lead to interesting baking.  Deal with it right away.
That was the approach I took with the new Brother P-Touch: get it into the kitchen and into the routine.  Meat was broken down into family serving portions, placed into clear plastic freezer bags and then a label was printed and attached.  The nice thing about typing out a label that says "pork tenderloin" and printing it is that the P-Touch keeps the last information in memory and on the screen so I can just hit "Print" nine more times without any extra hassle.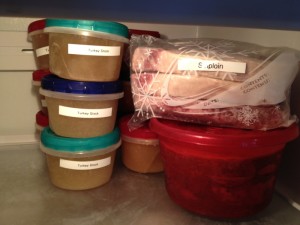 I try and [intlink id="1901″ type="post"]make stock[/intlink] after any meat breakdown so the bones are out of the way and the finished product is all I have to deal with.  Here again labels saved the day, as I use two cup round plastic containers to hold my stock in the freezer.  Until now if it looked dark it was turkey or pork stock, light was chicken stock and very dark was beef stock.  Now I actually know…
I wrote this review while participating in a campaign by Mom Central Consulting on behalf of Brother P-Touch and received product and a gift card to facilitate my review and a promotional item to thank me for taking the time to participate.