I wholeheartedly enjoy the Spirit: it's a classic character in a crime-ridden city with a colourful supporting cast, mixing action, drama and comedy in equal measure.  DC Comics has recently launched their second iteration of a Spirit ongoing series and collected the first two story arcs in The Spirit: Angel Smerti.  Here's the publisher's blurb: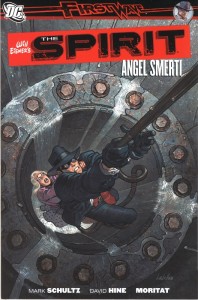 In this first collection of the new SPIRIT series, an international crime syndicate wants to help Central City's villain, The Octopus, consolidate control over the underworld. They've offered The Octopus the services of one of their finest assassins to take The Spirit's breath away for good. Collecting THE SPIRIT #1-7.
From this softcover's title and the publisher's information you'd think this entire trade paperback was a story arc called Angel Smerti, but it's actually only half the book.  The second half is called Frost Bite and is written by David Hine, and for pure story I thought it was the better of the two.
Let me backtrack a bit and look at both stories.  After finishing the book I felt both writers darkened the characters: there was tension and angst where I had previously read friendship and support.  No humour present this time around.
For the first arc we have Mark Schultz present us with a tale of a foreign assassin coming to Central City to take down the Spirit.  It's gripping and somewhat predictable but works well because of the supporting cast.  My big issue is the assassin pretends to be someone else and speaks perfect English, but once emerged as their true self the assassin is constantly using Russian intermixed with English that lacks tense.
The second story arc from David Hine presents us with Central City being overrun with a designer drug that's killing people.  We're introduced to a new member of the Octopus crime family and are taken for a ride through his rise and fall.  Again it plays out dark and at odds between the Spirit and police commissioner Dolan.  Hine added enough twists to keep it interesting and as always the Spirit plays the straight man to his supporting cast.
Art for the entire book is handled by Moritat; that's right, a one name artist.  It's a great style that seemed fractured this time around; sharp crisp panels contrasting with loose scratches.  A few times I checked to make sure it was the same artist: hit and miss sums it up.  Moritat does draw beautiful women.
I'm currently reading DC's The Spirit Archives series so I may be unfairly comparing this work to Eisner's run in the 1940s and Cooke's relaunch of the series but it doesn't feel true to the characters.
The Spirit: Angel Smerti
DC, 2011, ISBN 978-1-4012-3026-5