In 2008 The Umbrella Academy took the comic world by storm, winning an Eisner for best limited series and cementing the creative team of Gerard Way and Gabriel Ba as up and comers. It was followed up by a second mini series and Dark Horse released both in deluxe oversized limited edition slipcased hardcovers.
For a relatively new product, Dark Horse really went all out: 12.8×8.4″, hardcover, slipcase, limited print run.  Full stories plus extensive added material including creator afterwords, character designs: extra upon extra.  The oversized pages make the art jump out at you: these volumes give an enhanced read to this excellent material.  Add in all the extras and you get a complete start to finish inside story on The Umbrella Academy: I can't recommend them enough to fans of the series.
These were premium volumes with a relatively low price: Dark Horse has consistently put out archive, library, absolute, whatever you want to call it oversized hardcovers that are priced about 25% less than their competitors.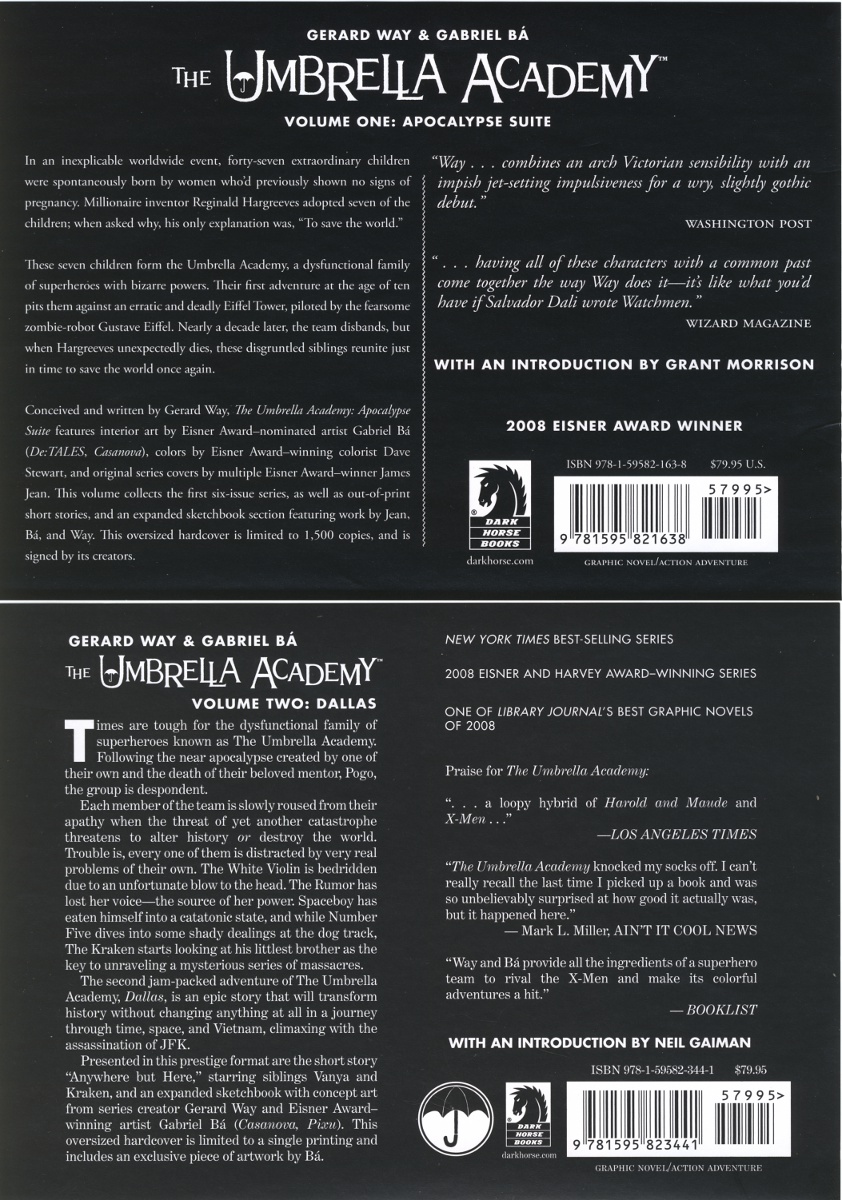 The Umbrella Academy Volume 1: Apocalypse Suite was limited to a print run of 1500 and contained a signature page with a new image adorned with Way and Ba's signatures. The only thing they missed was numbering the individual books but that's a minor quibble.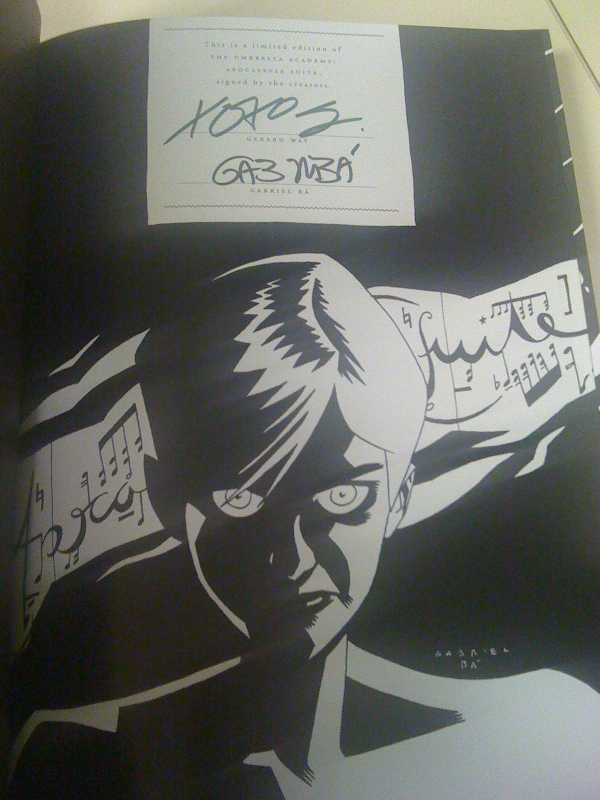 The Umbrella Academy Volume 2: Dallas was released the following year for the same price, $79.99, but was now "limited to a single printing" and included an exclusive piece of artwork.  No indication of how many were published but three years later it's still available for a discount.  An exclusive piece of art does not a signature plate make.
This is a classic case of a publisher trying to ride the coattails of a successful project, reducing value while maintaining the same price point.  When I saw volume 2 for sale I assumed it was signed and limited like the first since the price was the same; luckily I bought both books at a discount through my local comic shop.  Collected edition readers weren't fooled: volume 1 goes for around $250 while volume two limps along at $60.
The Umbrella Academy Volume 1: Apocalypse Suite
Dark Horse, 2008, ISBN 978-1-59582-163-8
The Umbrella Academy Volume 2: Dallas
Dark Horse, 2009, ISBN 978-1-59582-344-1