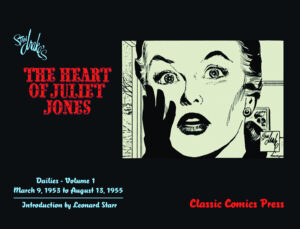 In the 1950s, small-town soap opera dramas stories meant for a romance-hungry female audience with newfound economic clout saturated all forms of entertainment ranging from movies to the Sunday funnies. Classic Comics Press presents the most romantic and dramatic comic strip from that era, advertising illustrator Stan Drake's The Heart of Juliet Jones. The first volume of a series that will encompass Drake's entire 30-plus years on The Heart of Juliet Jones, this edition reprints the complete dailies from March 9, 1953, to August 13, 1955, including a never-before-reprinted eight-month two-story sequence. Also featured is a biographical essay on Stan Drake by Armando Mendez and an Introduction by award-winning cartoonist and lifelong Stan Drake friend, Leonard Starr.
ISBN: 978-1606438916
Softcover, 11″ x 8.5″, 280 Pages
$24.95 USD
Order online: Amazon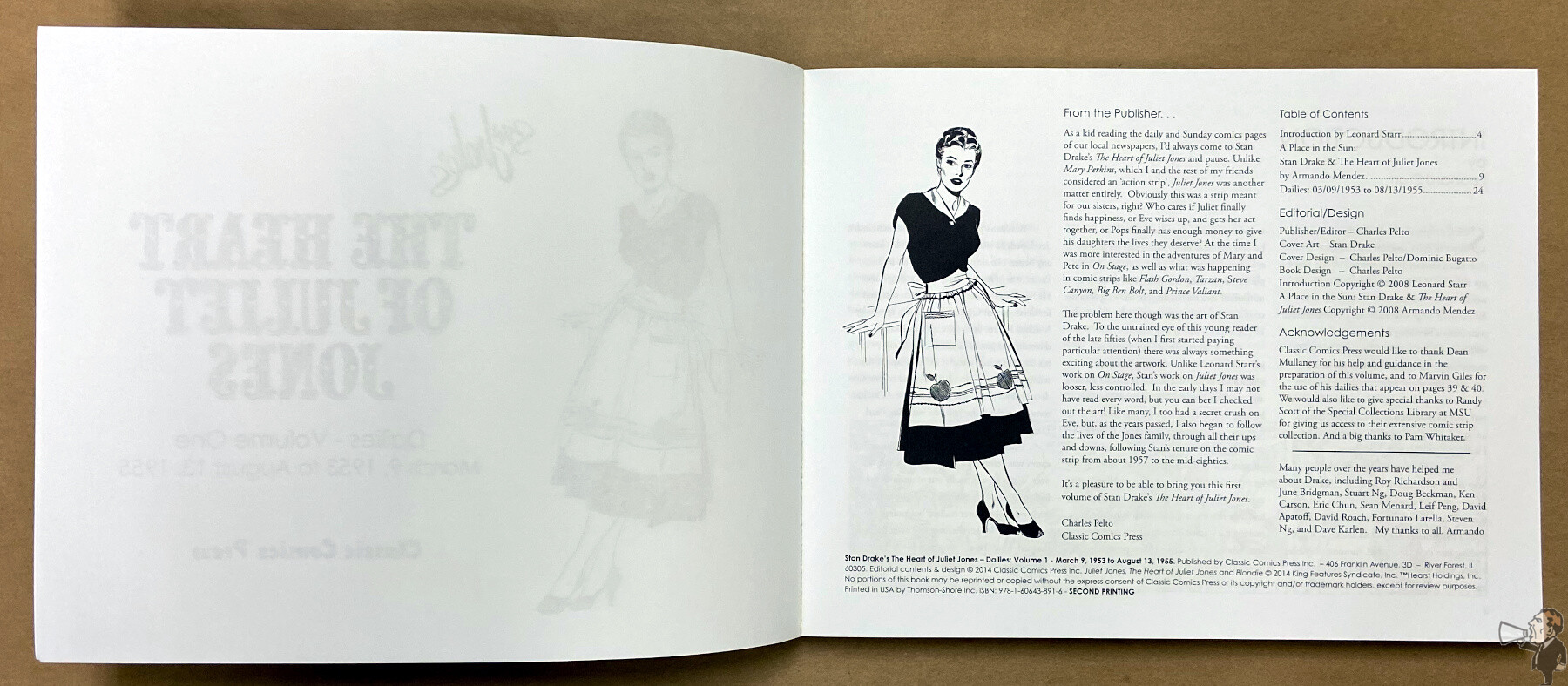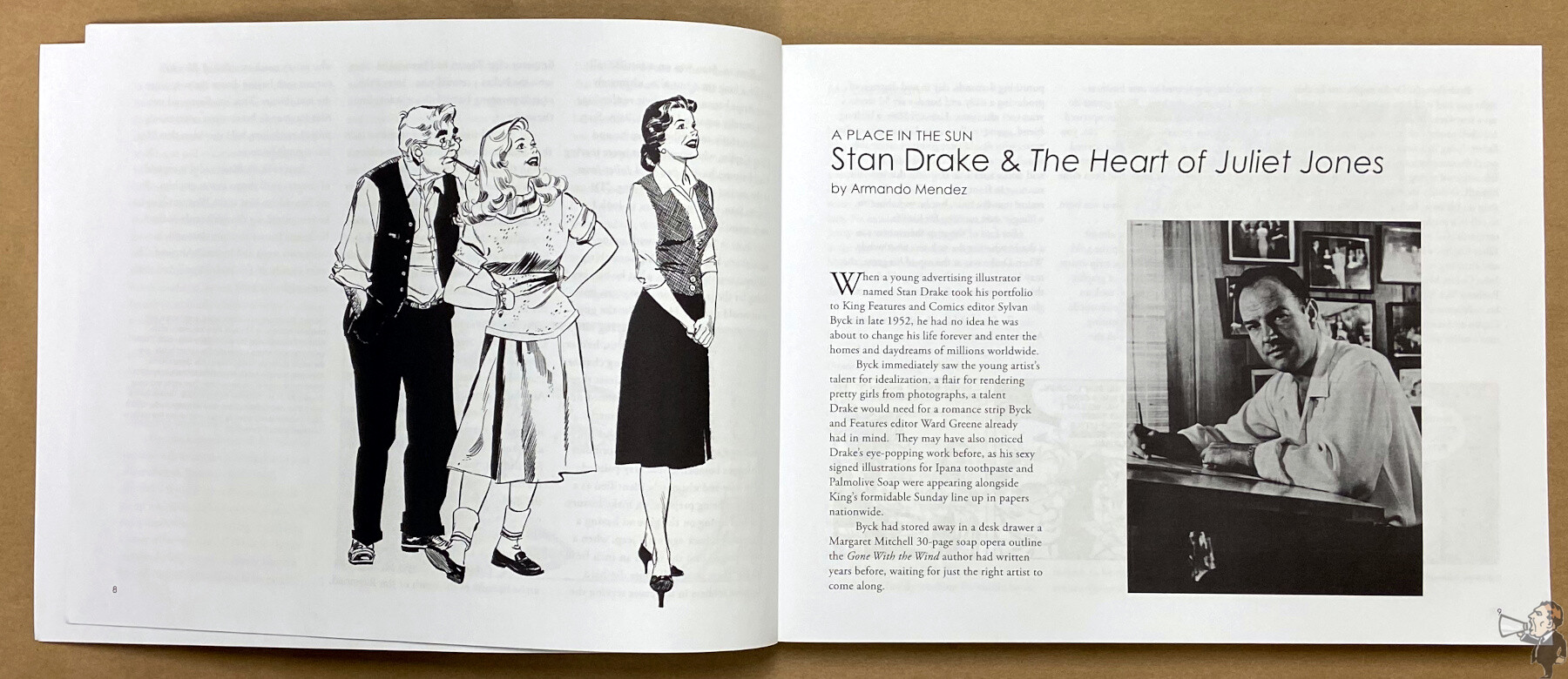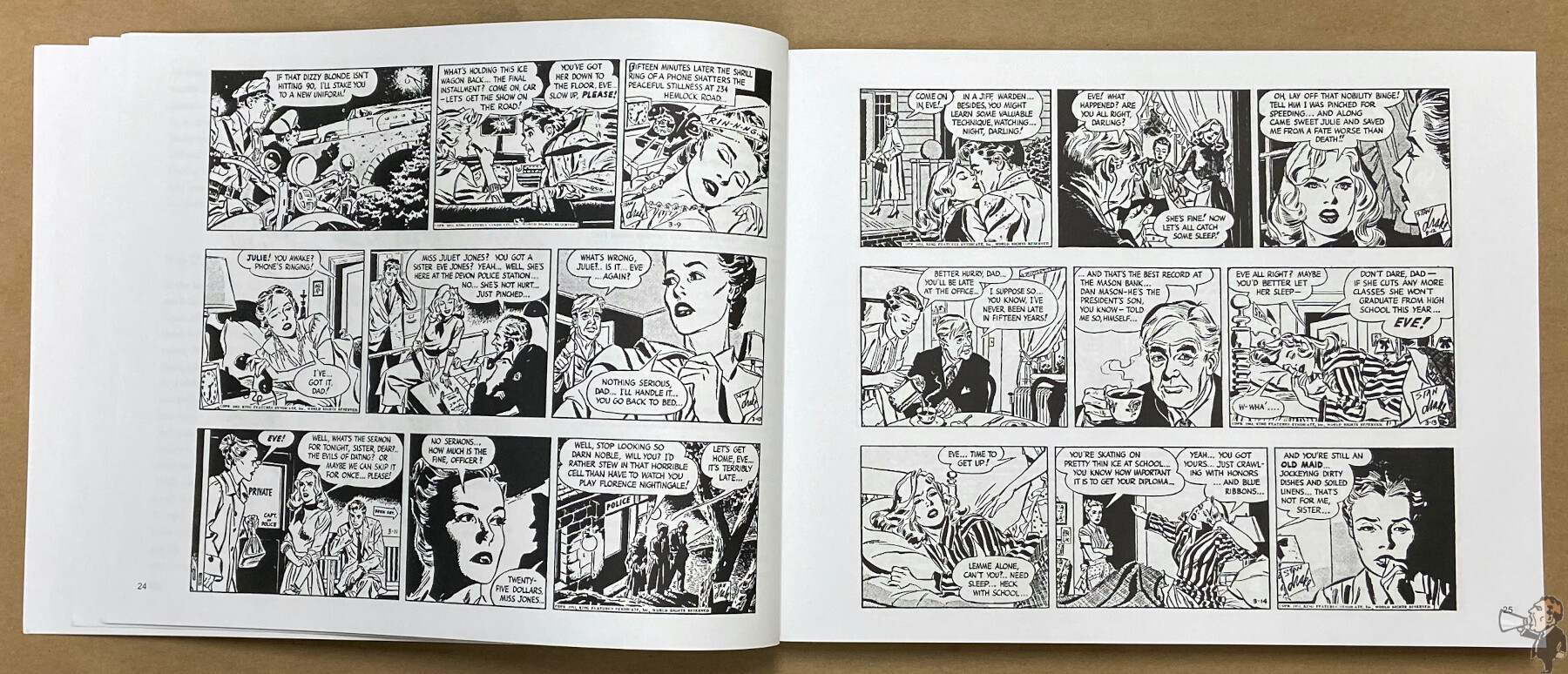 This is my first romance comic read, ever. I had no preconceived notions and had no idea what to expect. The first storyline felt a bit clunky and clichéd, but Drake found his footing shortly thereafter and kept me turning pages.
We have a tight center cast made up of the Jones family: Pops, Juliet, and Eve. Pops is a single parent with no mention of his wife, somewhere in his late fifties. Absent-minded and a little overwhelmed by life. Juliet appears to be a bit of a spinster, somewhere in her late twenties to early thirties. She runs the house and is a mother figure to Eve, who is a typical teenager and all that entails.
I was slightly concerned as the first story was a classic romance cliché: Eve is angry with Juliet for acting like her mother so she seduces Juliet's fiancé. Good riddance since he was so weak as to be wooed away by some flirting and a kiss with one of his high school students! It was cringe-worthy.
As with most strips, the artist's name is featured prominently but we get no idea someone else is writing. Elliot Caplin wrote this strip, and thankfully moves quickly from that first story and we're treated to a variety of stories focusing on each of our main characters. A new romance with the rich bad boy of the town, helping two friends get together, a failed business venture, a college excursion, and more. Each story is better than the previous, and by the end of this first volume, the story was nuanced, charming, humourous and engrossing. These are quite engaging and drew me into this strip completely.
The last story centers around Eve and her working at a department store. She tries to be practical and in doing so gets engaged to the store manager. Along the way she has some misadventures with the owner's son as he tries to find his way in the family business. Many turns and about-faces as Eve navigates this formative time in her life and the dichotomy of the two "retail" men in her life. Some excellent supporting characters make for a completely charming tale.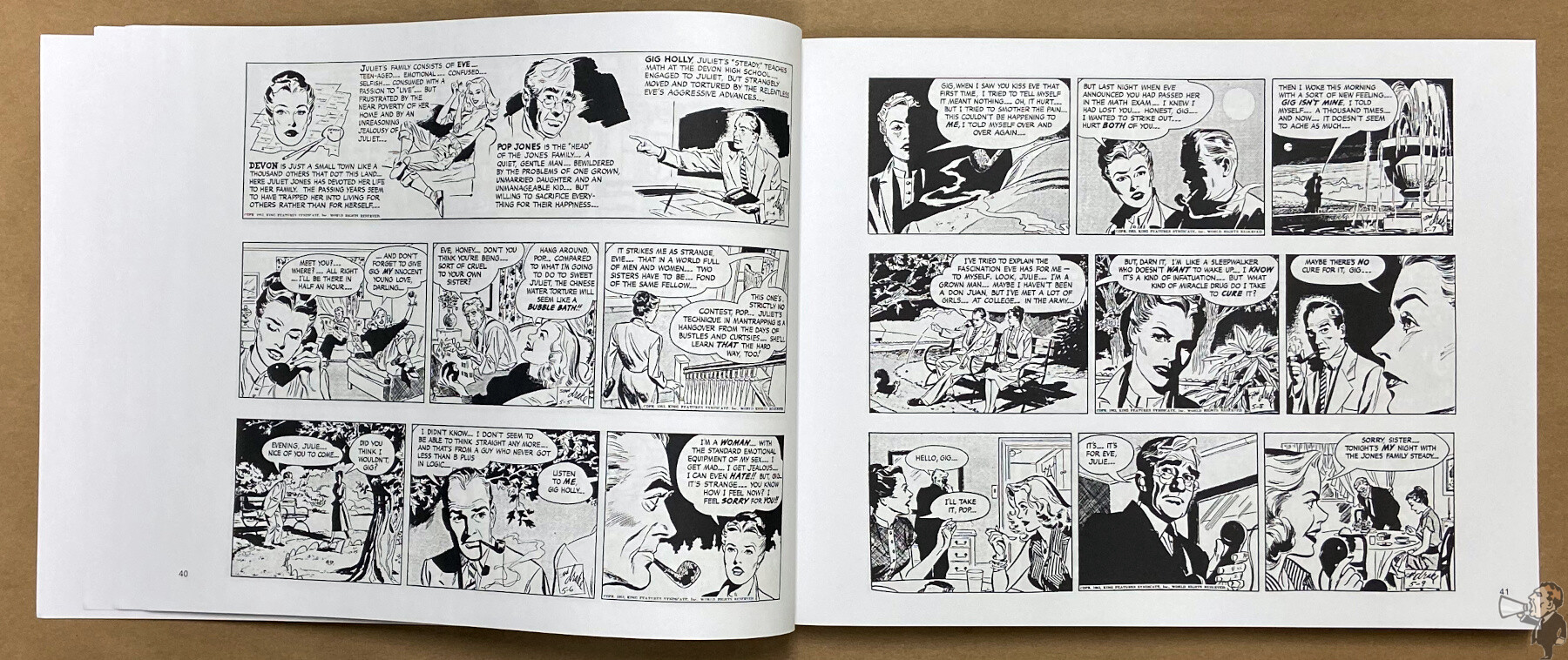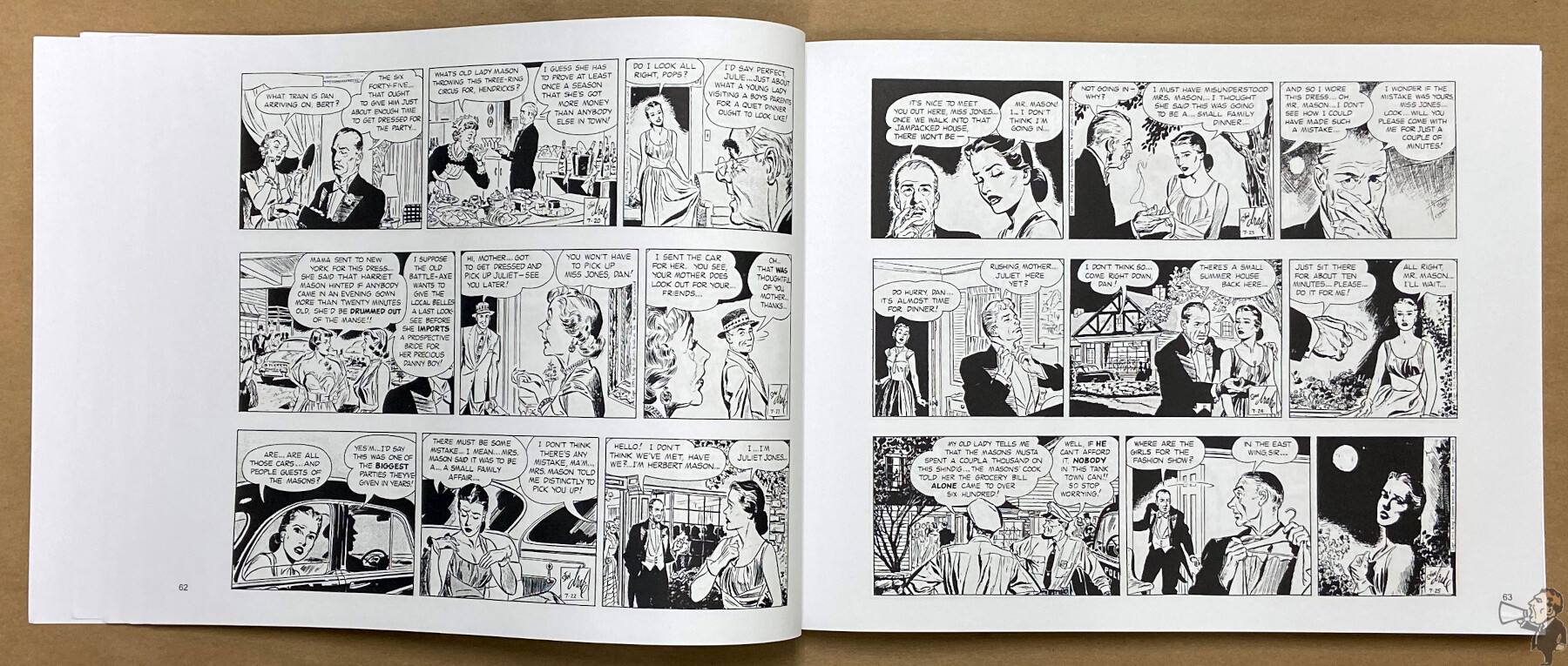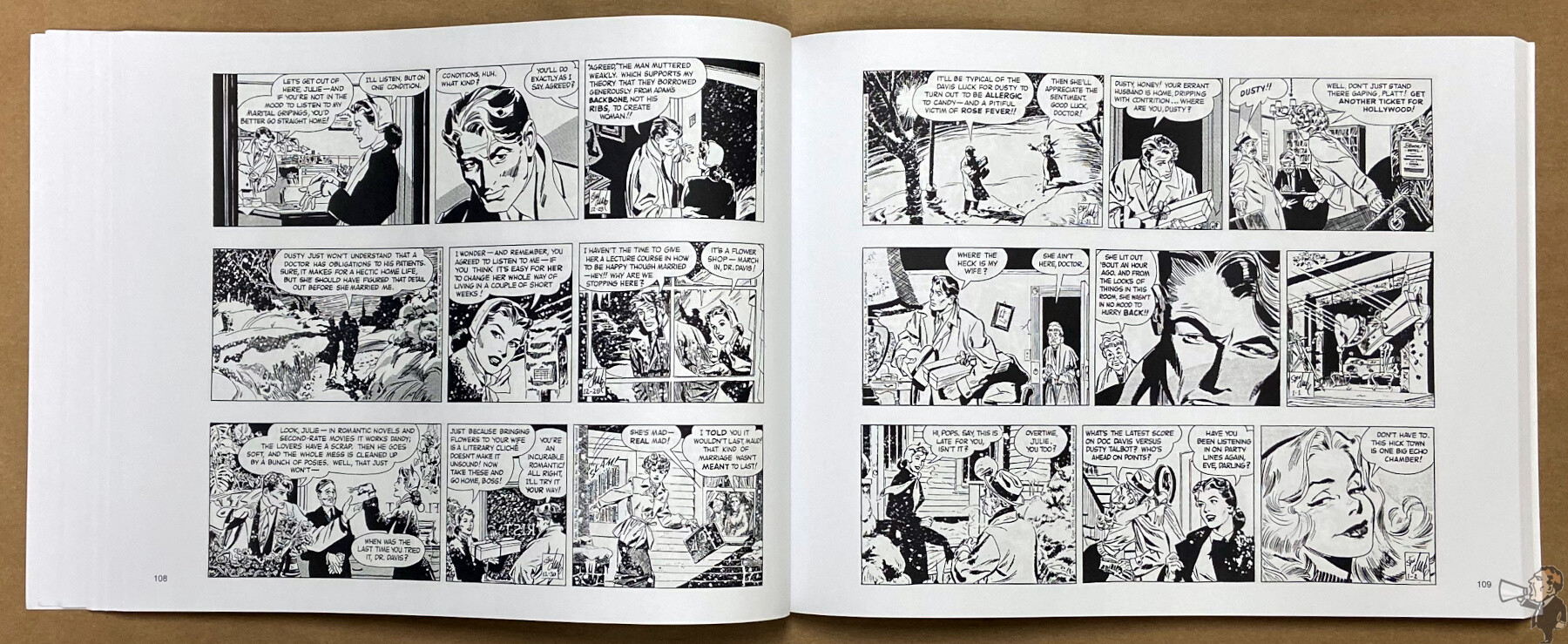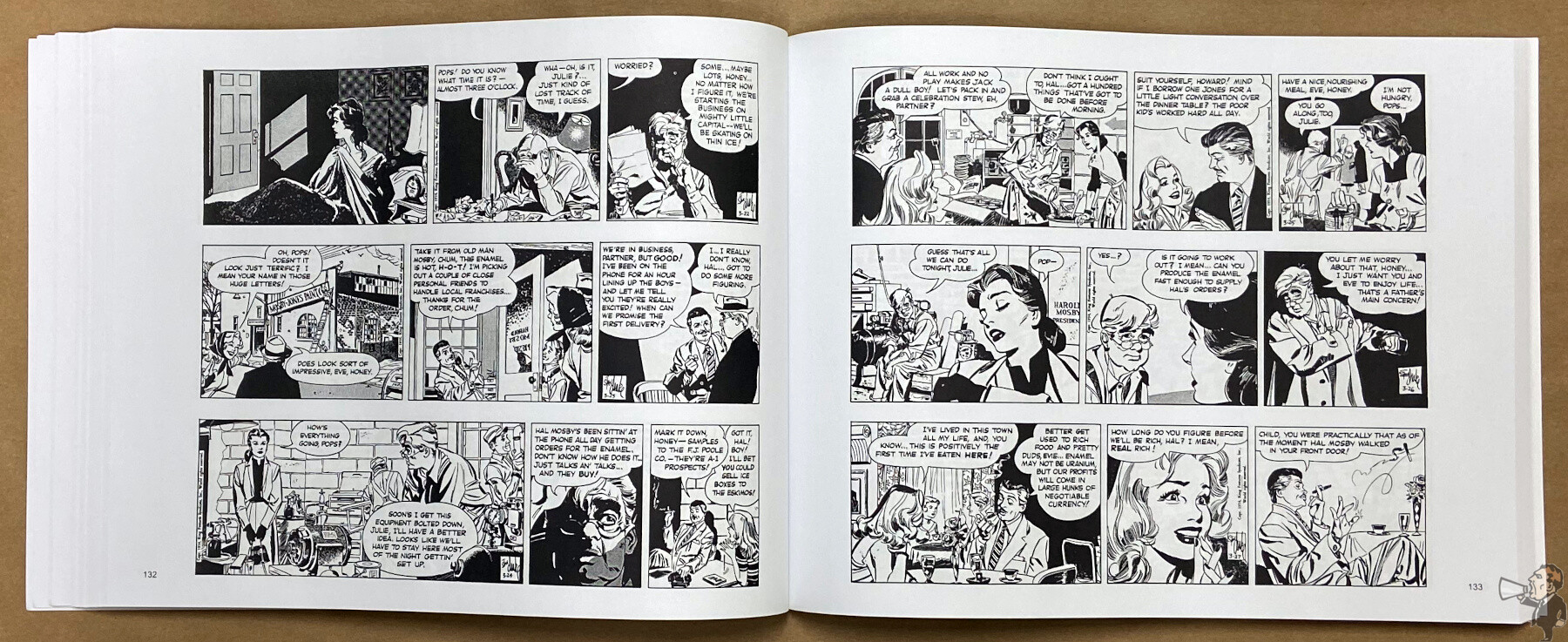 While the stories were engaging, Drake was an astounding artist and brought it all to life. His characters are always naturalistic and expressive in their movement. So much of the stories rely on emotion and the facial and body expressions portray everything for the reader. He knows his medium and these black and white strips really pop with Drake's use of blacks and textures. Take a look at the images here and revel in the close-ups, shadows, compositions and panel layouts.
The strip doesn't deviate very often from a standard three-panel daily. The size of the panels may differ slightly, but it works. Reproduction of the material is excellent, with the earlier strips a little darker than the rest. The design is straightforward and minimal. Table of contents on the colophon. No dates on the strips, just page numbers. That cover really pops with the black background and the red text jumping ahead of the blue.
This is a softcover collection of a light matte paper in a glued binding. Images bleed through as shown in the samples here, but it's not detracting when reading the book. The pages mostly lay flat because of the horizontal orientation of the book.
As is my normal reading style I finished the strips and then went back and read the introduction by Leonard Starr and "biography" of the strip by Armando Mendez. Starr gives a great overview of Drake's life from a friend's perspective with some colourful insights like the type of pen Drake favoured. Mendez gives an excellent overview of the two creators, their work and this strip.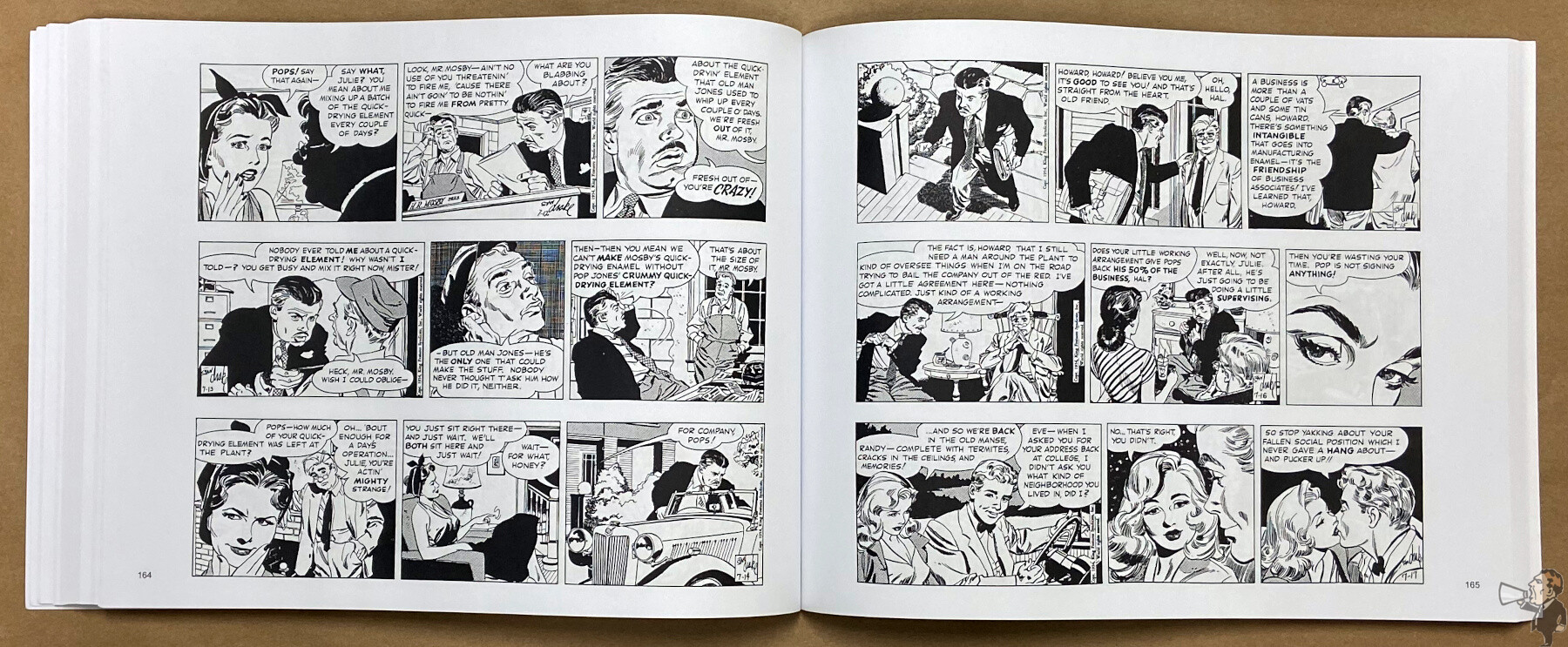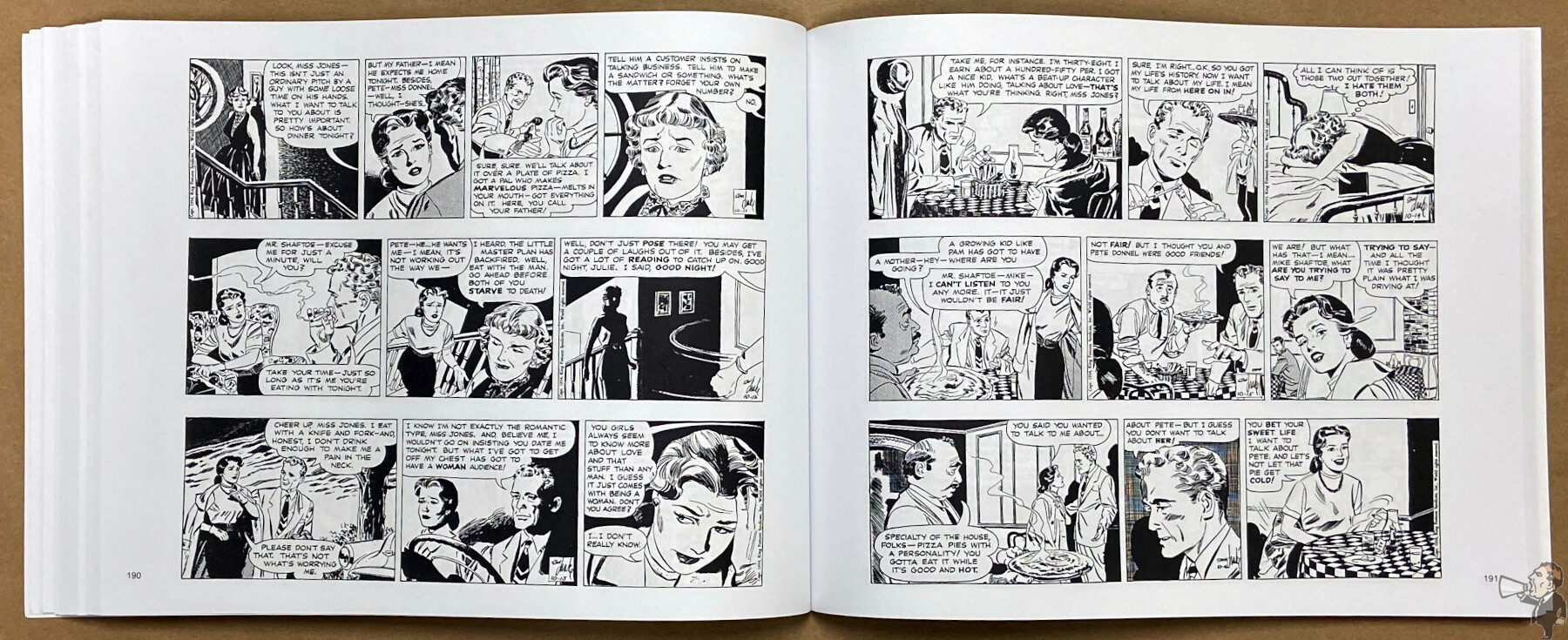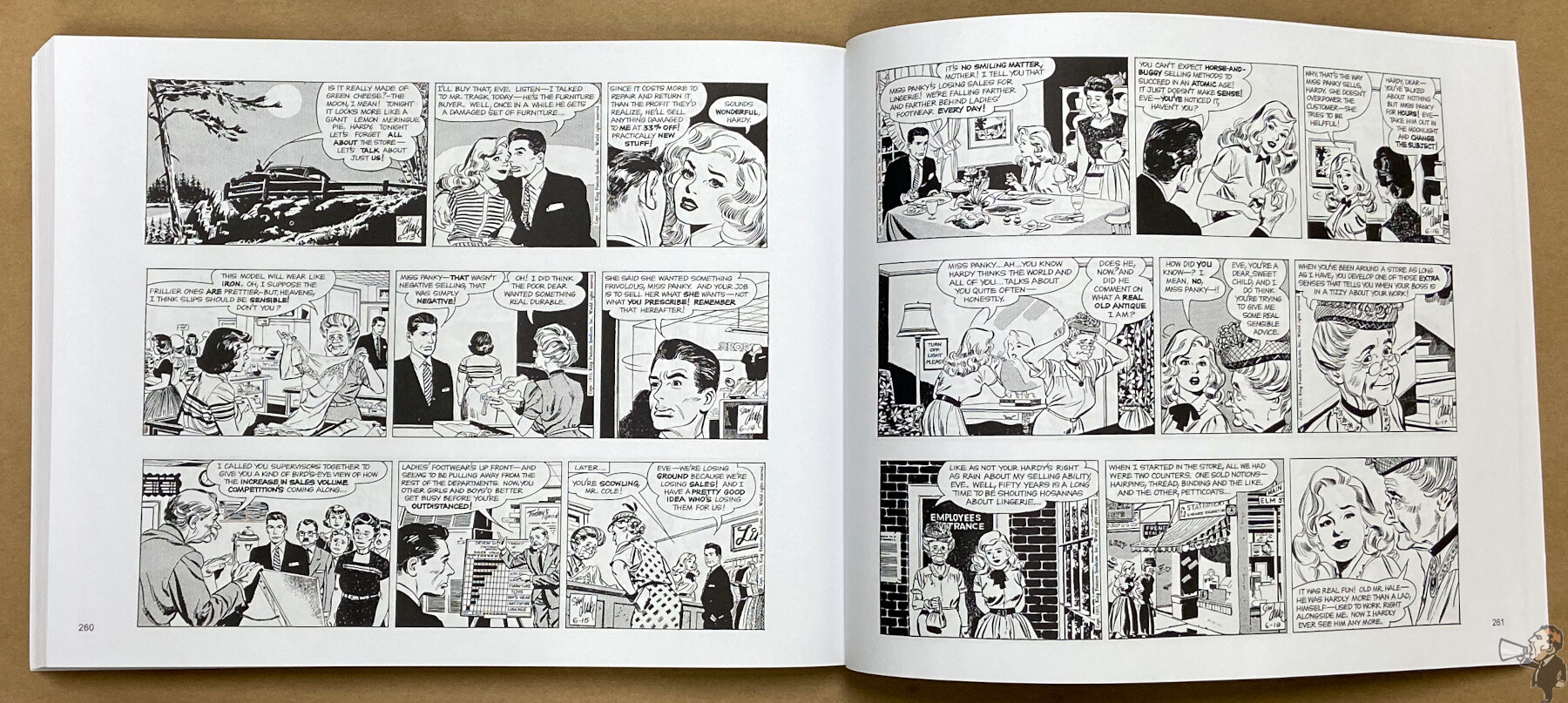 This was a blind buy for me. I had Kelly Green: The Complete Collection illustrated by Stan Drake and loved it. An online retailer was offering Classic Comics Press books for 50% off so I picked up the four volumes of The Heart of Juliet Jones along with a few Mary Perkins On Stage I was missing.
While the publisher's blurb mentions the series covering all 30 plus years, it appears they stopped with volume four. I'm guessing a 1950s romance comic is a hard sell in the 21st century. Sadly, that's only for those that haven't read Drake's Juliet Jones.
That title comes from the colophon and is a bit clunky but delivers all the information possible.
---