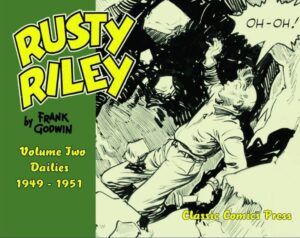 Classic Comics Press is pleased to present the second volume of Frank Godwin's masterful comic strip Rusty Riley. This volume continues where Volume One left off, reprinting dailies of this almost forgotten American comic strip from November 20, 1949, to August 4, 1951, with an introduction by Zoran Djukanovic.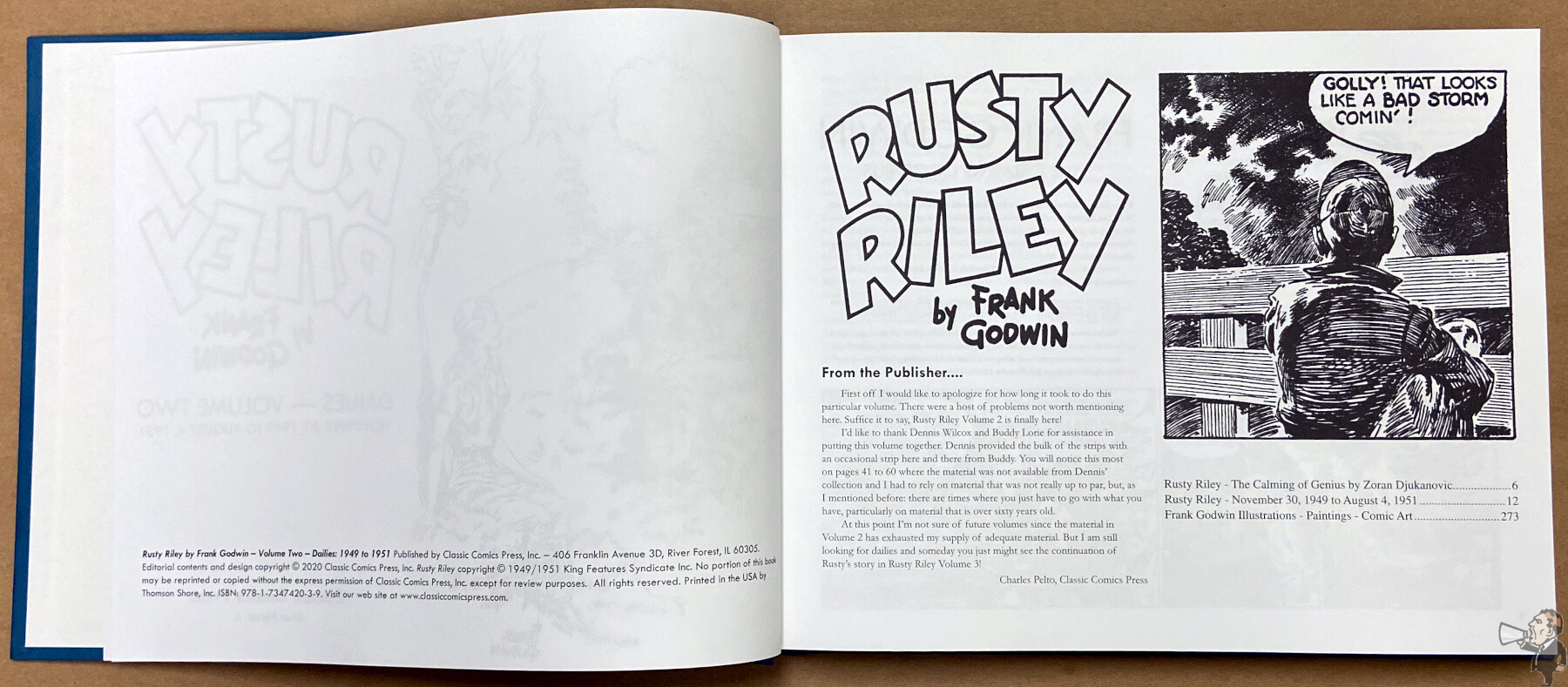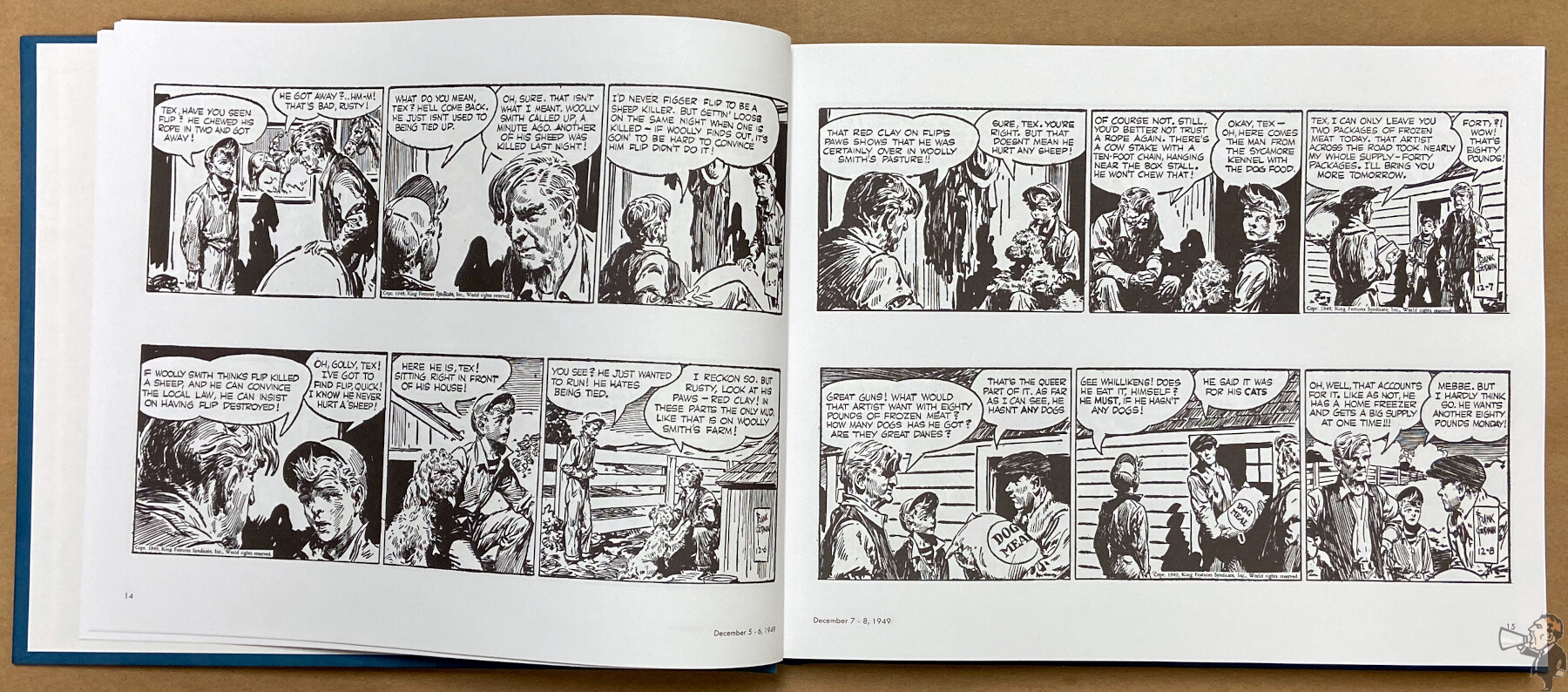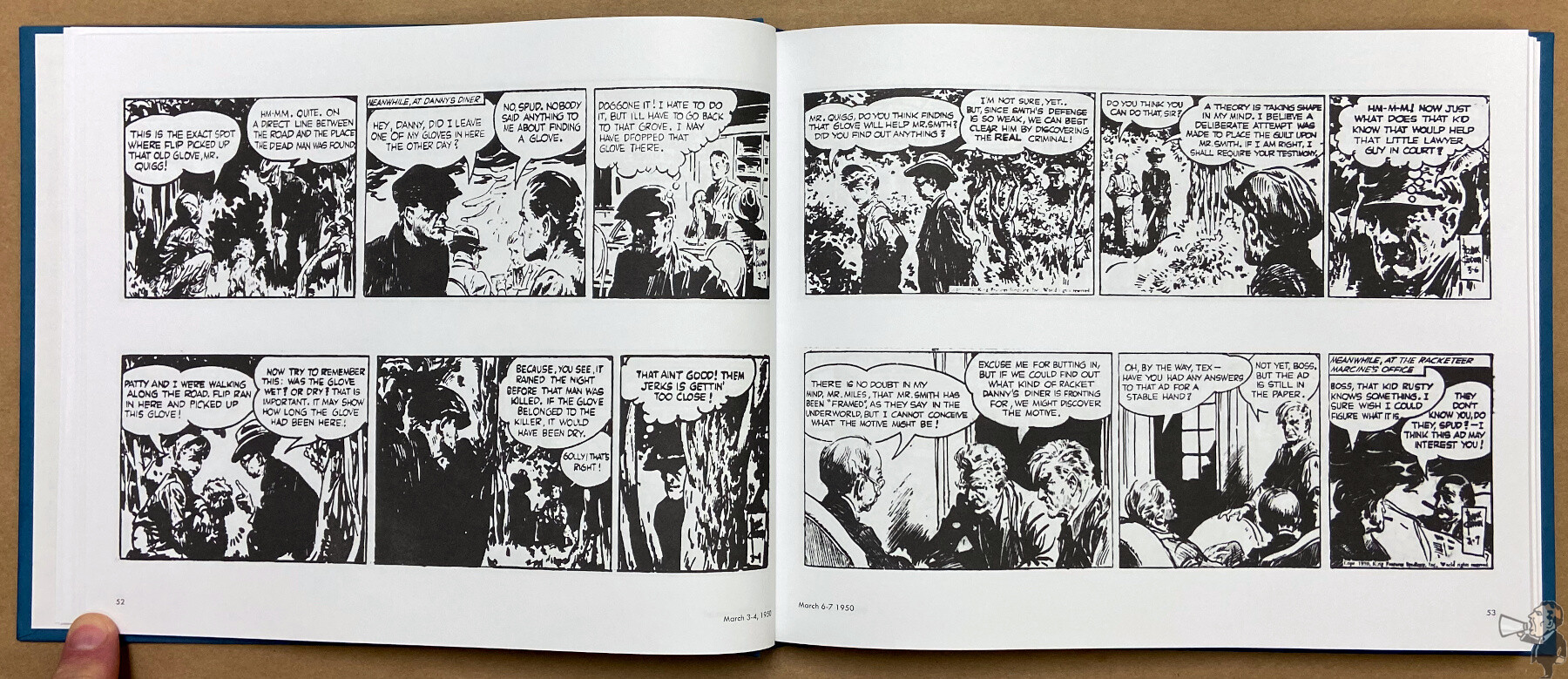 A second and most likely final volume of wonderfully wholesome tales from Frank Godwin. These stories venture further than the first volume, but central to the strip is Rusty's sense of right and wrong and his rigid adherence to it. The writing remains innocent as if coming from Rusty and his naive and innocent perspective. And Godwin's pen and ink work harken the art back to an earlier age, veering greatly from the post-World War II styles emerging.
Two stories stood out to me, for their departure from the first volume as much as stance for honesty and virtue.
Rusty has some trouble with the new neighbour "Woolly" Smith, as something is killing his sheep and he's blaming Rusty's dog Flip. Turns out to be a puma from the local artists' menagerie, and all is forgiven. Woolly is introduced as an angry neighbour unwilling to accept anything but his own ideas. Rusty sticks to his moral code and proves himself through his actions; words don't get anything done in this strip. This leads to the Smiths opening a roadside eatery with everyone's help, but running afoul of the competition up the road. We don't know what's going on at Danny's Diner, but it's nefarious and gives the impression of organized crime. The details of Danny's crimes are left to the imagination as the story stays focused on Rusty and Woolly. Good people help each other out, so all can rise through hard work. After verbal threats and a physical attack, our heroes thwart Danny, but he's made too much noise for his "boss" to ignore so he is killed. Woolly gets charged with the murder as he's the only one in the area. Even though the local sergeant was actively involved in assisting Woolly, the evidence can't be ignored. Again, actions shout over everything else. This goes to trial and a whirlwind of activity saves the day. While getting pretty serious with the storyline, it's kept engaging for all ages with Rusty's approach to the events and Flip's involvement.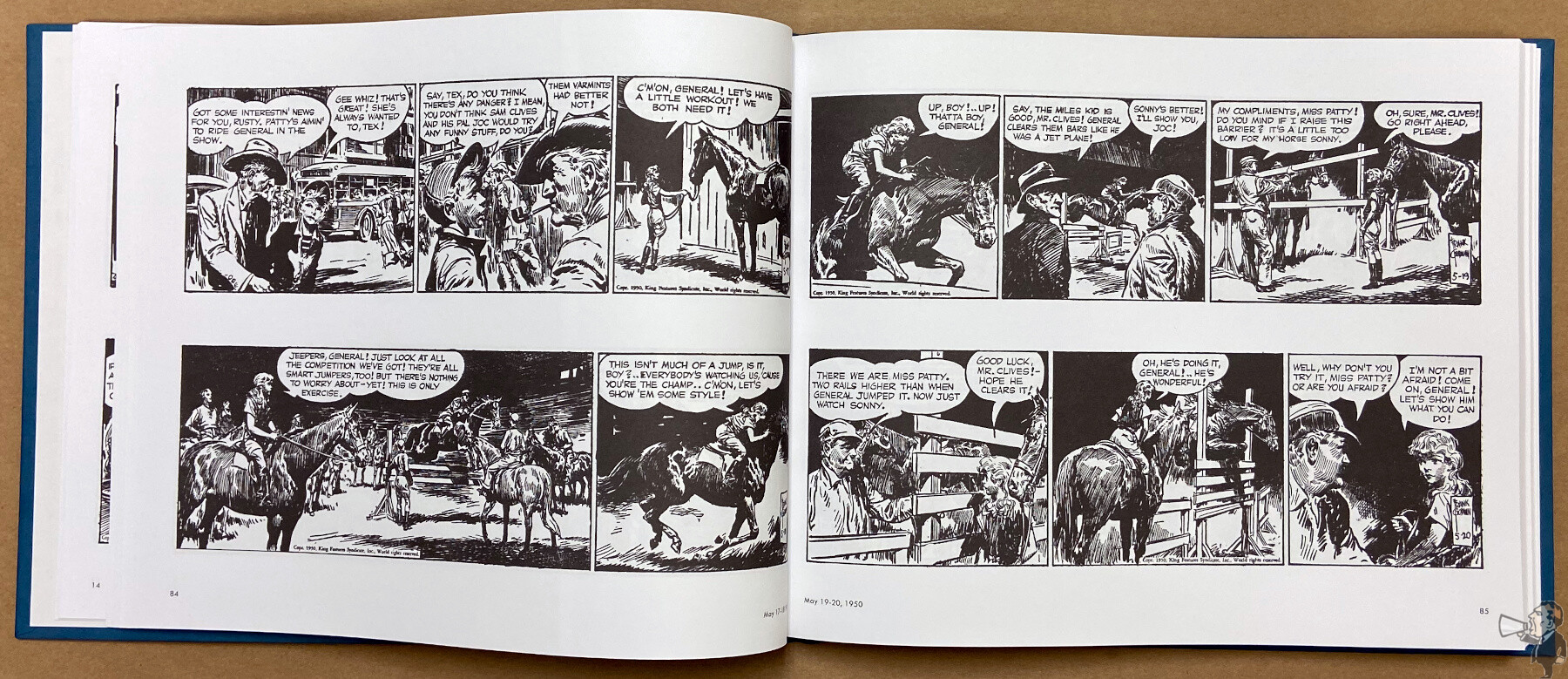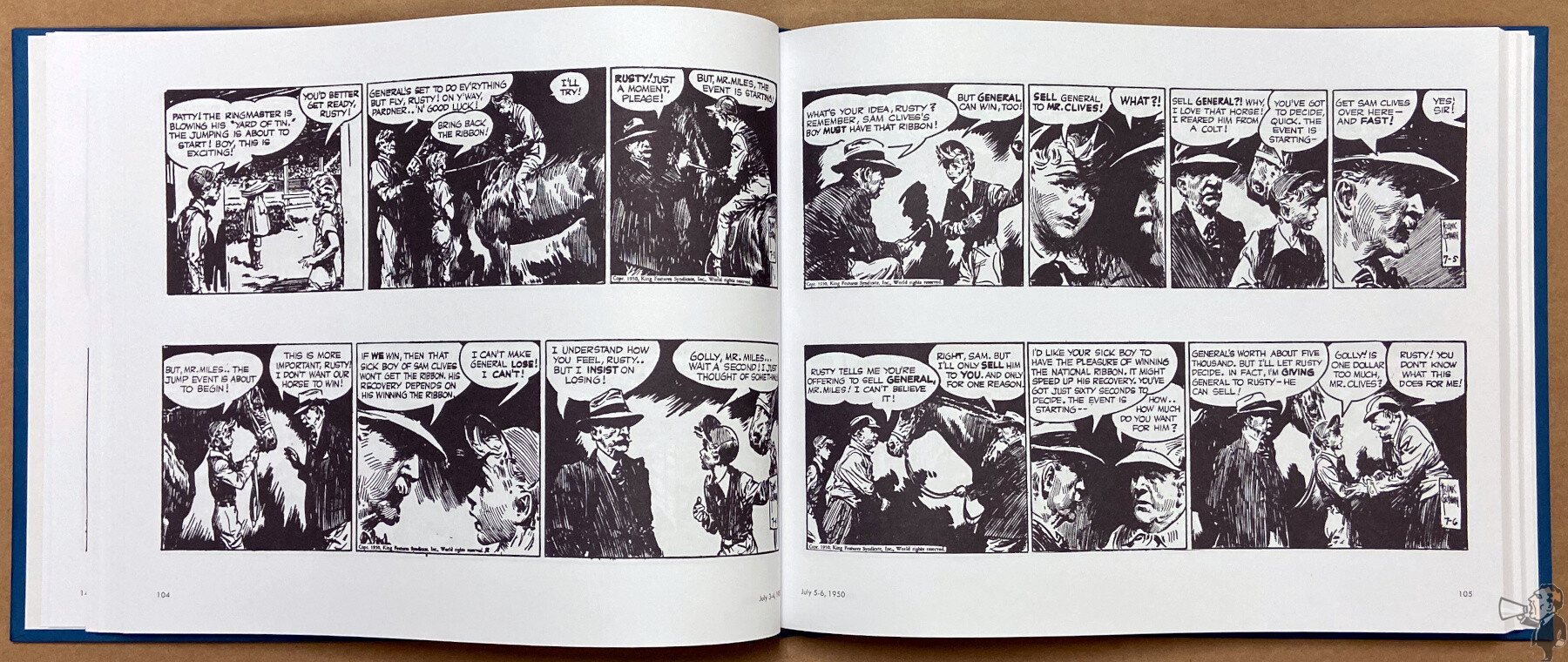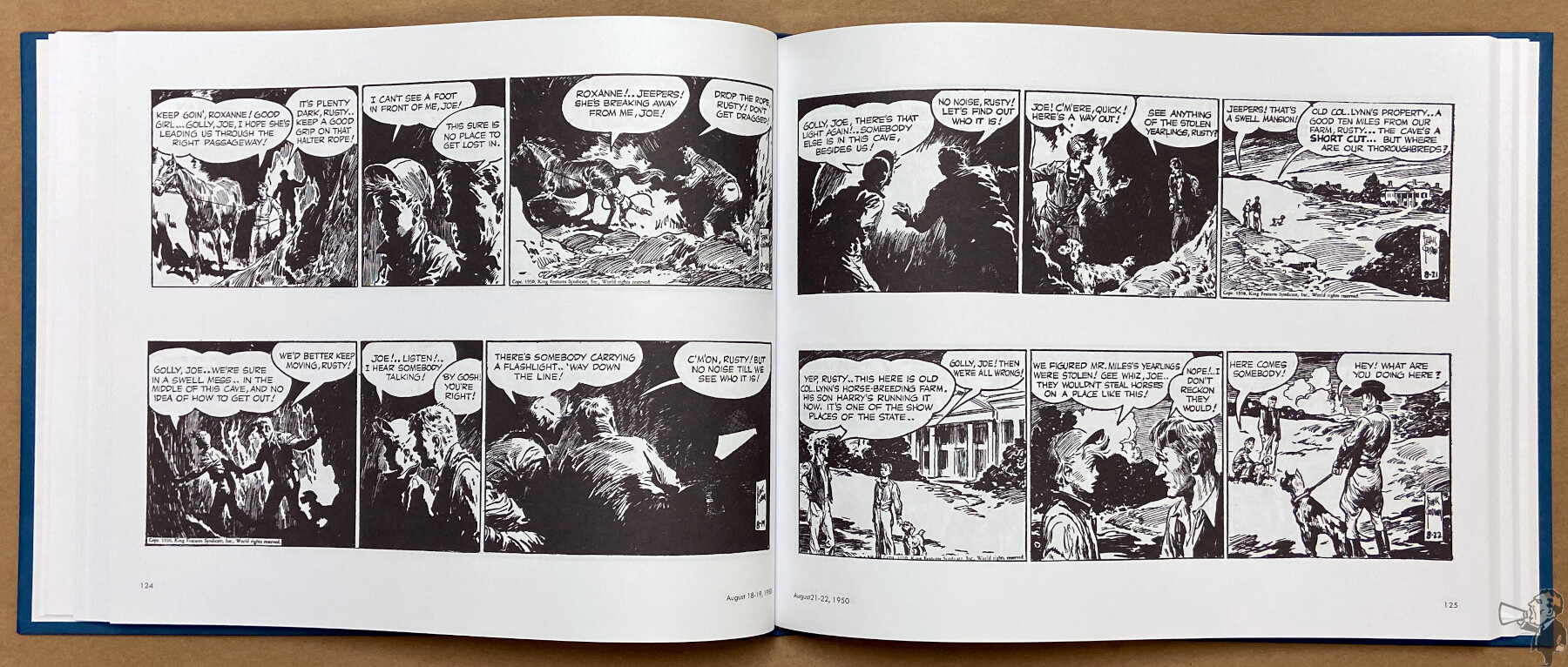 Mr. Miles is asked to run off a trailer camp of roughs from his property. Among them is a gang of children led by Skinny. Rusty has some trouble with him but ends up in court where Skinny is put in his custody to turn him around. This leads to some work at the farm until Mr. Miles runs him off for overworking a horse and Rusty goes with him. Several times in this volume Mr. Miles is bull-headed and blind to circumstances, stuck in his own ignorance. It's quite a turn from the protective patron of volume one. Rusty puts his word above his well-being, and the two head off with an old nag they bought. On a train, they encounter Mr. Hamlet, an elderly actor also riding the rails. The three with the horse embark on a day-to-day battle for food with what minimal funds they manage through various horse employments. Mr. Hamlet turns out to be an old circus man and pickpocket, but the trust Rusty and Skinny place in him brings about enough change for them to turn their fortunes around. While riding high they encounter Mrs. Jay who wants to buy their horse. Some time is spent and romance blooms as Mr. Hamlet and Mrs. Jay were young lovers together in the circus. Everyone loves a redemption story, and the golden rule shines strongly in this tale. Rusty's no-nonsense approach to life and truth pervades.
Some great language in this volume. Good night gets a lot of use as an expletive, but it's the all-ages presentation and youthful perspective that keep the tone innocent.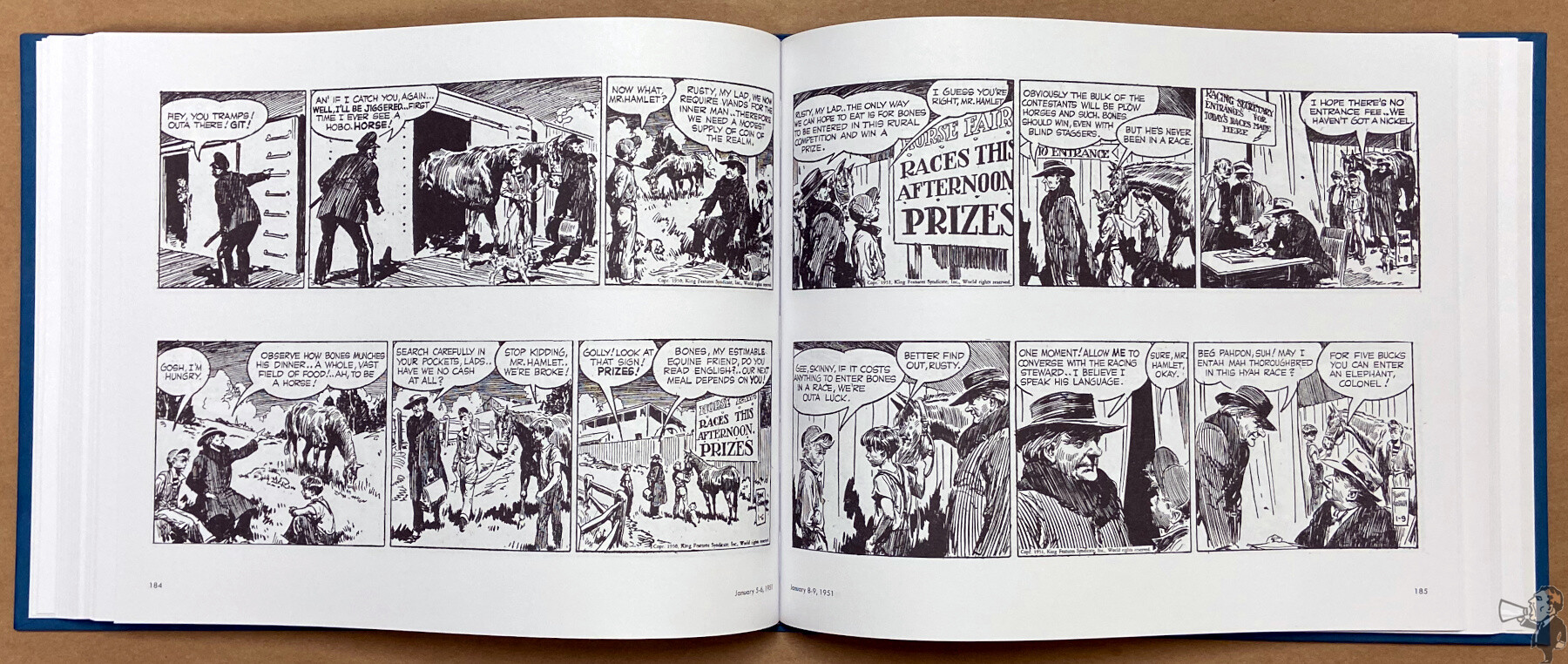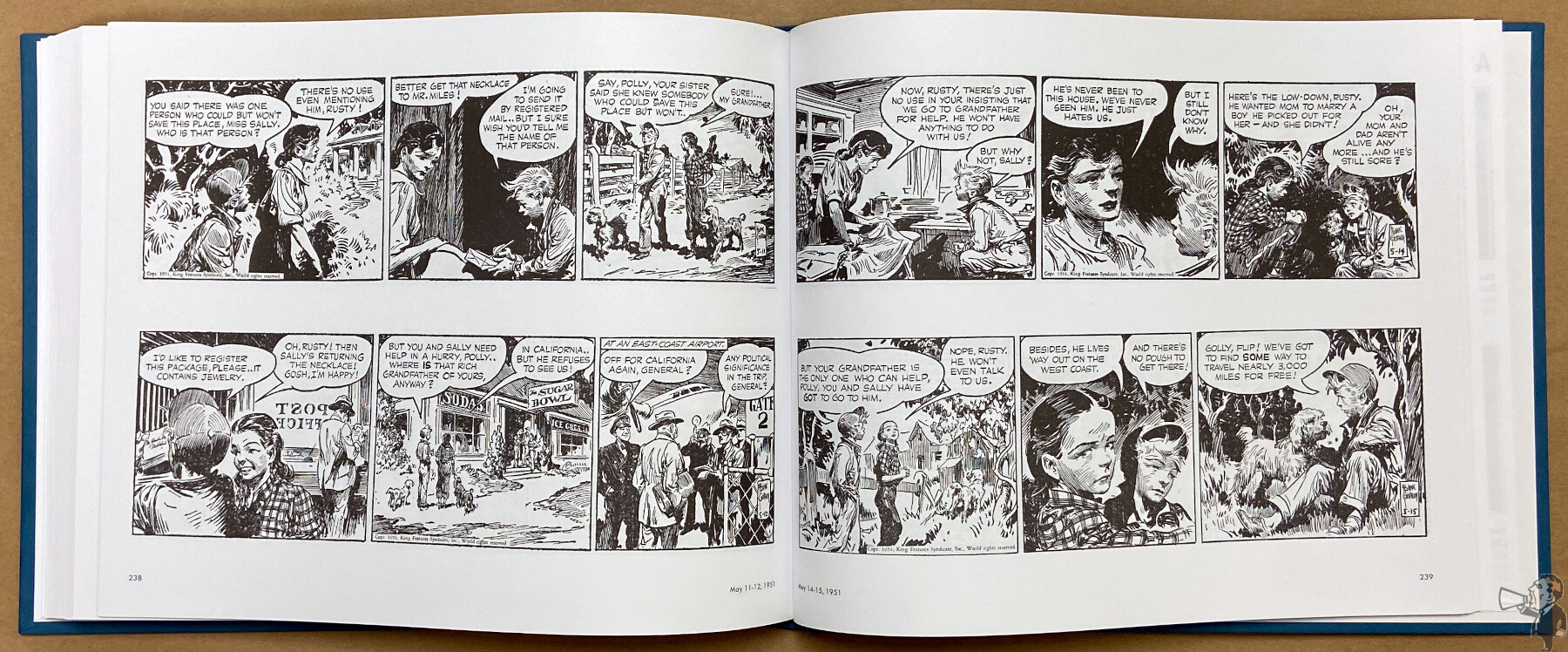 Djukanovic's introduction gives some excellent background on the strip and artistic choices. From it we gleam that Rod Reed wrote the dailies in that fashion of newspaper strips with only the artist getting the marquee.
As Pelto notes on the table of contents, there are about twenty pages where the material is "not really up to par…there are times where you just have to go with what you have". These strips run from page 51 to 64 and are pretty bad, but the text has been redone and it allows the story to be read in its entirety. Outside of these pages, the strips are wonderfully presented. Also, the February 16, 1950 strip is duplicated in the February 17, 1950 spot on the next page so we miss out on that daily.
Classic Comics Press has always stuck to a simple and straightforward design and this volume is no different. Two strips per page, with page numbers on the outside bottoms and strip dates on the inside bottoms, all with a decent border. A sewn binding of a thinner paper in hardcover with dust jacket.
---

Rusty Riley Dailies HC Vol 02 1949-1951
from Things From Another World