Fantagraphics keeps the hits rolling throughout 2011 and The Arctic Marauder is the latest in their Jacques Tardi translations line.  Here's the publisher's blurb: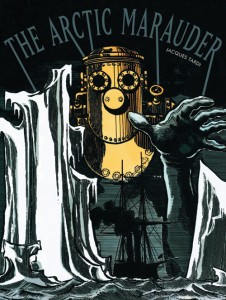 In our ongoing quest to showcase the wide range of Jacques Tardi's bibliography, Fantagraphics reaches all the way back to one of his earliest, and most distinctive graphic novels: A satirical, Jules Verne-esque "retro-sci-fi" yarn executed on scratchboard in a stunningly detailed faux-woodcut style perfectly chosen to render the Edwardian-era mechanical marvels on display. Created in 1972, The Arctic Marauder is a downright prescient example of proto-"steampunk" science fiction — or perhaps more accurately, and to coin a spinoff genre, "icepunk."
I must first admit that I don't click with the writing style, which Fantagraphics describes as "Told with brio in hilarious slabs of vintage purple prose, The Arctic Marauder works both as ripping good adventure story and parody of same". That said the awkwardness seems to adeptly fit a period piece. This was Tardi's first published work and it feels rough in it's slightly zany dialogue, but again that's covered.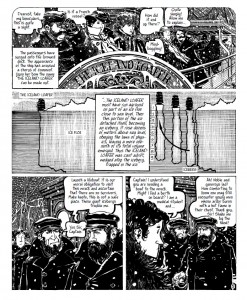 The characters are ridiculous, over the top, caricatures really. Easy to identify with or against. This must have been told originally in serialized chapters, as page numbers are part of the art and the story is broken into seven neat chapters. The story quits suddenly and I really don't know it that's on purpose, because it seems to drop mid sentence.
The art is wonderful. Tardi has this rounded style that is unique and easily identifiable, all at once his signature. The level of detail is astounding, in the background and mechanical details as rendered faux woodcuts. The 9×11.75″ pages present the art in gloriously large detail: be sure to drink in every inch of this black and white work.
No extras included: I would have really appreciated a one page history on the material, especially since Kim Thompson is a co-publisher at Fantagraphics and handled the translation himself. At $17 for a sixty-four page oversized hardcover this is a great value: while the vintage prose was lost on me it stands as a great period work with wonderfully detailed art.
The Arctic Marauder
Fantagraphics, 2011, ISBN 978-1-60699-435-1