Today and tomorrow at the Toronto Reference Library branch is the annual Toronto Comics Arts Festival, or TCAF.  It's been running for several years but this was my first time attending the show.  It's a small press independent kind of show and I'm really a mainstream kind of comic reader, but there were enough points of interest to draw me there.
The big item for me was to see Charles Vess, who has just released a new illustrated book with Neil Gaiman called Instructions.  I'm a fan of his comic work and brought along a few Marvel graphic novels and Drawing Down The Moon, his latest art book from Dark Horse.  He was very gracious and funny, signing my items and including a small drawing in the art book.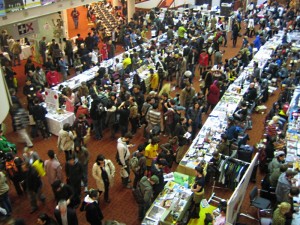 The other draw was Michael Cho; I'm a die hard fan of his old school Marvel style and try and get at least one piece of art from him every show.  At TCAF Cho and his colleagues in Transmission X had their own section and were out in full force: in the context of Toronto art they appear to lead the pack, with most members having independent and mainstream art credits.  I picked up three pieces from Cho: watch eBabble Art next week for scans.  For now I can say I'm over the moon with my items!
While perusing I spotted Karl Kerschl's limited hardcover The Abominable Charles Christopher: 144 pages collecting the first story art of the Eisner nominated web comic.  Very slick package and well designed.  I chatted with Karl about it: he designed and managed the production himself, working with a Montreal printer.  He was sketching copies this weekend and doing a great job.  It's limited to 1500 copies so get it while you can.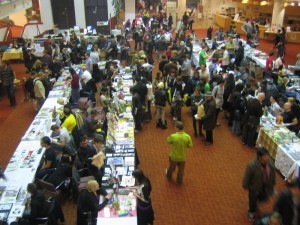 Another great treat was the Fantagraphics booth, who never set up at the mainstream Toronto shows.  They publish such a varied and wonderful breadth of books but I'm always hesitant to purchase them sight unseen: I spent a good long time flipping through every book, getting to know new content and many future purchases.
Overall the show was excellent: well organized and smoothly run, or a complete 180 from this year's Toronto Wizard World.  TCAF opened at 9:00 AM and the bulk of vendors, artists and such were set up and ready for business.  I always try to get there first thing to get a good feel for where everything is.  This also allowed me to spend time chatting with Charles Vess and be the first at Michael Cho's table.  As you can see in the photos above the aisles were well spaced and the venue worked wonderfully for everyone involved.  Even so it was a large and excited crowd.
A large number of panels were running all weekend but I was only interested in attending one: a look at the career of Charles Vess.  It's great to get an insight into a creator's process and career.  If only he'd do another Warrior's Three story; alas he's not too happy with Marvel and their royalty handling so it's probably not going to happen.
I tried in vain to catch Paul Pope and get [intlink id="1245″ type="post"]Heavy Liquid[/intlink] and Batman Year 100 signed but it didn't happen.  Looks like you can never get everything done in one day at a comic show.
Toronto Comics Arts Festival is a wonderful, energetic and free show: well worth attending.