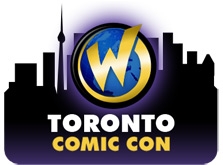 I attended the full first day of Wizard World, roaming the floor from 4:00 – 9:00 PM.  The exhibit hall was significantly smaller than last year and it seemed a better fit, less cavernous.
During my initial pre-show walk around I discovered an alarming dearth of retailers: at best it was five comic resellers set up.  Really only Wes Hagan had items of interest to me: he had purchased a large magazine collection that had a lot of varied material, covering every comics related magazine from the 70s and 80s.  Part of that was also rare Windsor-Smith catalogs, Star Reach issues and other fine gems.  It looks like quite a few regular convention retailers declined because of last year's abysmal sales and the cost of this year's retailer space; it's a chicken and egg scenario that needs to be addressed.
Artist alley was my point of focus for the show.  This year Wizard again failed to have any A list comic creators in attendance; no doubt having the event the same weekend as C2E2 didn't help at all.  The big names were Phil Jimenez, Yanick Paquette, Mark Texeira, Mitch Breitweiser and Jesus Merino: these are solid creators putting out excellent work but the show needs someone a little more high profile like Carlos Pacheco who was initially scheduled but later canceled.  Francis Manapul is a great Toronto creator and appears at every show, as does Dale Keown and Leonard Kirk.  Mike Grell, Michael Golden and Greg Horn were there as well but they haven't had regular comic work out in years.
Wizard provided a big stack of 11×17 prints for their featured artists and they were given away if you waited in line to get them signed: this is an excellent practice and one I'd love to see happen at other Toronto shows.
Unfortunately the foreign guests were all late on Friday:  they trickled in between 4:00 and 6:00 PM, much like last year.  The only line was for Phil Jimenez: he had a steady group of fans waiting for autographs and sketches.  Greg Horn is a great salesman and always does a bustling business of prints at his booth.  Leonard Kirk had a gigantic stack of artwork for sale at ridiculously low prices; lots of great bargains in there.
I was able to get sketches from Mitch Breitweiser and Jesus Merino, along with a page from Leonard Kirk and a cover from Carlos Pacheco and Jesus Merino.  As well I had books signed by Golden and Paquette.  I heard from a few artists that they were approached to do Wizard World shows in the U.S. but they would need to do this Toronto show first.  Spotted Gareb Shamus walking the floor but didn't get a chance to give him all my convention ideas…
Friday was a slow day for Wizard World and in truth they could cut the show down to two days.  I stopped in Saturday morning to get some books signed by Merino and Golden and the show floor was very busy, crowds everywhere.  I hear Sunday was slow so two days looks like all they need.  Wizard World Toronto 2011 was a significant improvement over last year but they need to get at least one big name to appear and get the crowds in, plus lower table pricing to attract retailers and have the guests appear on time.  Baby steps were made but we could use a leap next time around.
Originally published under my Bound Together column at Comic Book Daily.