I was in Toronto over the weekend and had a chance to try Smoke's Poutinerie.  They only service poutine, that glorious French Canadian mix of fries, cheese curds and gravy.  Good things kept being said about the place so I knew a trip was in order.  There's not much to the place: seating, simple decor and the counter.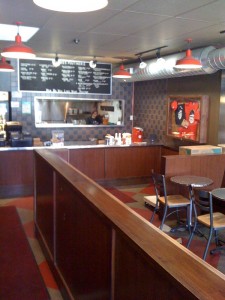 They feature a variety of toppings and gravies to go over your fries and cheese curds.  I decided to try the double pork: pulled pork, bacon and green peppercorn gravy.  It's a simple operation you can watch: fresh from the fryer french fries are mixed with salt, then loaded in a cardboard serving box.  Cheese curds are added, along with gravy and whatever else you requested.  The hot toppings seem to be made ahead and kept warm in a steam table.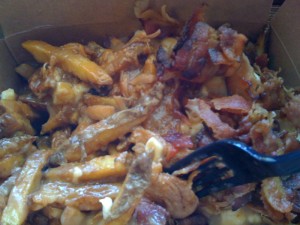 Since I didn't know when I'd be back I went for the large.  It was a serious helping.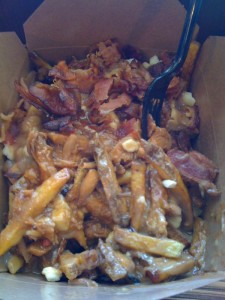 The meat toppings separated my order in half: here I've already stirred the pulled pork half up and started eating before realizing I should snap a picture.  The pulled pork was in a sweet barbeque sauce which for me didn't work with the rest of the items.  The bacon was perfect: a little chewy.  The curds didn't make an impact but the green peppercorn gravy was astounding and a must.