McDonald's Canada introduced Poutine this week; at least in Ontario. I was there at lunch and had the opportunity to give it a try. Oddly it's not "McPoutine" or anything catchy like that; slightly disappointing.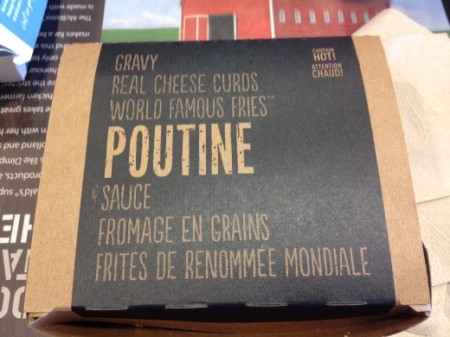 Poutine is $3.99 or $1.50 to substitute in a combo for medium fries. It comes packaged in a brown paper box, reminiscent of poutine joints I've frequented in Toronto. I watched the staff made it as there was a poutine rack that had cheese curds in one bin and gravy in a pump beside it. They added the fries, used a scoop for the curds and then pumped on the gravy.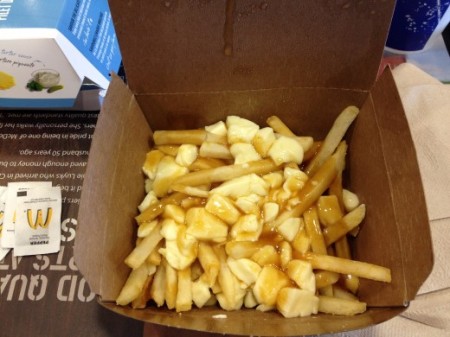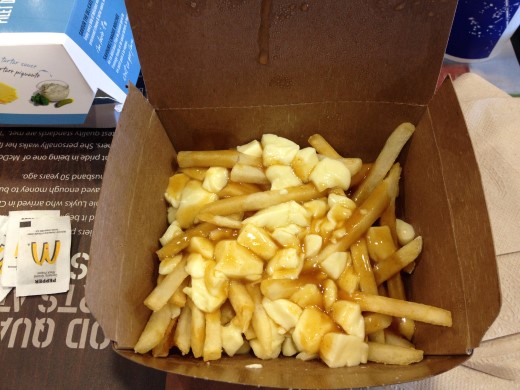 Opening it up reveals a medium order of fries with a goodly amount of cheese curds and then gravy applied. It was mostly a positive experience: the cheese curds had a decent cheese flavour and some bounce. The standard McDonald's fries held up nicely and didn't get soggy or bogged down. Disappointing was the gravy: it was a hot brown liquid but not really gravy, as it had no flavour. Gravy is the only flavour element in this three ingredient dish: the fries don't have much and cheese curds have texture but no real flavour. They need a strong beef or umami presence in the gravy to make this stand out, otherwise no one will be "lovin' it".