While perusing TCAF last weekend I spotted this gorgeous faux suede hardcover: The Abominable Charles Christopher Book One by Karl Kerschl.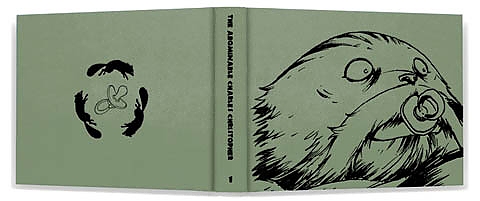 I knew the bare minimum: this is a weekly webcomic that just received its second Eisner nomination.  What caught my eye was the overall quality of the book: thick stock, that amazing cover, excellent printing.  I chatted with Karl and he sought out the printer, laid the entire thing out himself and worked closely to make sure it turned out as he wanted it.  Well done.
The story fits the book's introduction nicely.  These were meant as weekly webcomics so most pages are taken as a complete item; normally a quick joke or funny moment in the style of a newspaper strip.  As well we have several running stories about the lead character and a retired circus bear.  These are serious and pursue a darker storyline that keenly keeps the reader hanging.  If you're looking for a single narrative you'll be disappointed: approach this as a comic strip collection and enjoy each page.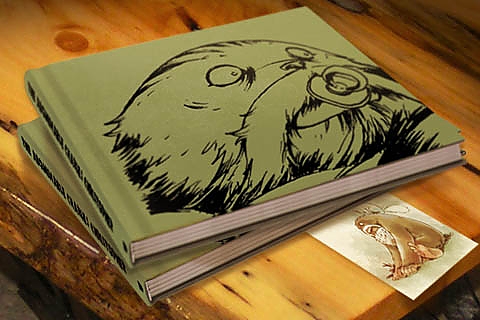 The artwork is well done: it's back, white and green. The single colour gives the strip a signature style and works well. I'm not an animal story kind of guy but Kerschl pulls it off.
For extras there's a quadruple gatefold at the back that includes every character and is very nice; unfortunately, you have to be very careful closing it back into the book or the pages will get caught and bend.
The best way to get a copy is to order from the link above; I put out the extra cash for a sketched copy since I was at the show and enjoy original art.  Either way, it's a solid read in a great package.