At our house I try and make everything myself, and that includes luncheon meat.  I prefer to roast large pieces of beef and pork with a heavily applied dry rub.  Cooking at 300F in the oven or the barbeque, even better the Big Green Egg, and you can expect about 20% weight loss after cooking.  So a five pound roast at $2 per pound becomes four pounds of sliced meat at $2.50 per pound; a whole lot better than the deli counter.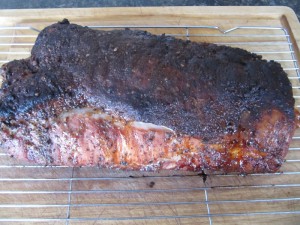 Above is a pork loin with a dry rub of equal parts brown sugar, black pepper, kosher salt and paprika.  I left the fat cap on to keep the meat moist while roasting but remove it afterwards, along with any excess fat.  I enjoy fat but cold on thinly sliced pieces of roast fat needs to be trimmed off.
You want to heavily apply a spice rub: when sliced thin this flavour is on the outer edge so that little bit needs to pack a punch.
This works great for roast beef using eye of round or sirloin tip.  For roast pork loin is the best cut: uniform in size and easy to trim.  Of course with some prep time you can make pastrami, corned beef, ham and many other charcuterie roasts.
I do have a small meat slicer but a large carving knife and a steady hand will get the job done.  When you get to the end of the roast the slicer won't work so I lay the piece of meat on my cutting board and carve off thin slices on the bias; don't want to waste anything.