I like sandwiches. No, that's not strong enough: I love sandwiches. Take ingredients you thoroughly enjoy and put them in a portable, edible container. We had what could be considered a "perfect storm" of elements in the refrigerator last week for me to create what is now my official sandwich of 2012.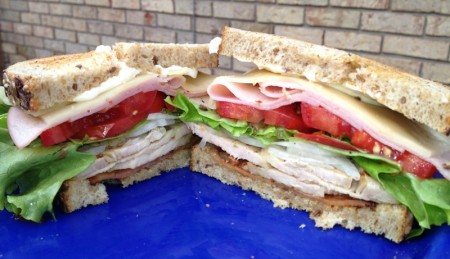 Behold and bask in its wonderment. Let me break down the ingredients for you.
Turkey
Ham
Bacon
Lettuce
Tomato
Onion
Jarlsberg cheese
Mayonnaise
Butter
Multigrain Rye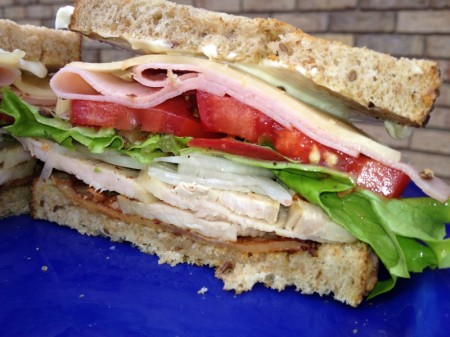 Yes, yes, it's not a "let's pack it for lunch everyday" kind of affair but recognize that this becomes far more than the sum of its parts. Here's some background on the preparation. I fried a few slices of bacon first, then emptied the fat out of the pan. We had a turkey breast in the fridge from a recent barbeque so that was carved in house and placed into the frying pan to warm up; the heat was off but the pan was warm enough to get things going. Next two slices of black forest ham were added to the pan. I didn't want the meat heated and given the opportunity to dry out: this was just a way to take it from cold to mildly warm. While the bread was toasting I sliced up the onion and tomato, then assembled.
You can craft this any way and it will be tasty but I tried to keep things in order. Once slice of bread was buttered and the bacon applied, then the turkey. Veggies added and then ham and cheese, finally mayonnaise on the other slice of bread. I was trying to keep the sandwich from sogging out too much so the delicate ingredients ended up in the middle.
Improvements? Pickled onions instead of fresh perhaps, and fresh from the field heirloom tomatoes would go a long way. I don't think it would work with anything but carving your own turkey from the breast. House made ham and [intlink id="10″ type="post"]bacon[/intlink] would notch it up, that's for sure. Can't see it working with a soft bread or bun: it needs the firmness of toasted rye. A nice garlic aioli would add some tang.
I've had three of these so far and just typing this up makes me want to abandon everything and make another.