We recently went to Baltimore and Washington and had the chance to visit a few local eateries.  After watching some Food TV I knew Chaps Pit Beef in Baltimore was going to be a stop for us.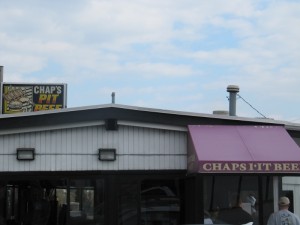 It's a small hole in the wall with a cement floor and various tables.  Nothing exciting but we were there to eat.  There was a lineup to the door the entire time, a mix of regulars and tourists.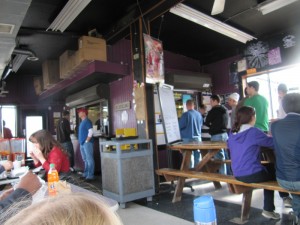 Pit beef was a new term for me but it's straightforward: large joints of beef are cooked over a charcoal grill and is thinly sliced for sandwiches.  When placing your order they ask how you want the beef cooked: it's medium rare on the roast but they slice it and pile it on the grill to get to your desired doneness.  It's served on a kaiser bun and you put the condiments on yourself: onions, pickles, horseradish, mustard, mayonnaise, hot sauce, barbeque sauce and ketchup was offered.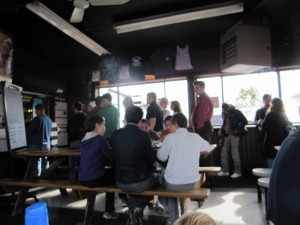 We ordered pit beef sandwiches medium and a large fries and gravy.  The beef was good: I believe it was bottom round and was sliced very thin and had a nice texture.  The slight smoky perfume of the charcoal was present.  Unfortunately it really lacked flavour: the cut isn't particularly beefy and it didn't seem like the meat was seasoned at all.  The fries were fresh-cut and were very tasty; the gravy was from a can or mix but it was good and really added to the fries.  All in all a good lunch spot.