Blast from the past: originally published June 17th 2003.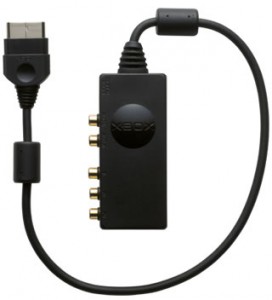 I've finally started playing some games on my X-Box. A guy at work was selling his X-Box with two controllers and some games for a song, so I couldn't pass up the deal. Got it home and read the manual. Grabbed an HDTV adapter the next day and set it to take advantage of the various resolutions available, plus hooked an optical cable for Dolby Digital sound. My X-Box was ready for whatever I threw at it, which was nothing for about two months.
I'm a die hard PC gamer, and while I own a Genesis, Playstation, Dreamcast, Playstation 2 and now X-Box, I don't consider myself a console gamer. I wanted an X-Box for two reasons: high definition picture and Dolby digital surround.
There are quite a few HDTV adapters for the X-Box from third parties, but I went with the Microsoft branded High Definition AV Pack. It features three RCA component connections, two RCA audio and one optical digital audio (remember when these were called TOS link) connection. Included is a six foot component cable, the HDTV adapter and a two page instruction leaflet. Hook it up and start using, to boil it down. Listed as $19.99 U.S., but $39.99 Canadian: can you say hosed? It worked as advertised, giving me 1080i with NFL Fever 2003. The back of every X-Box game states what features it supports, which I greatly appreciate. In reality, why shouldn't every game has surround sound and at least a progressive video output? If you're gaming in the living room, take advantage of the big screen and surround sound. For those without component connections, the Microsoft Advanced AV Pack features a s-video connection and optical digital audio.
If you have a large screen television and a surround sound system, run, don't walk to get yourself a High Definition AV Pack.