I recently had the opportunity to try out a sample of Green Lantern movie toys from Mattel, the Colossal Cannon and an action figure.  My children John and Chloe were anxious to assist.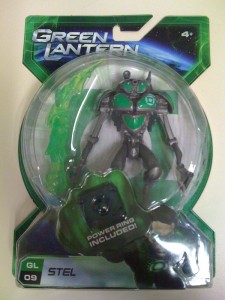 The box arrived and I removed the two items.  The action figure was Stel, a robot type figure from the movie that I don't remember seeing in the comic.  Unfortunately he proved unpopular and has languished unloved.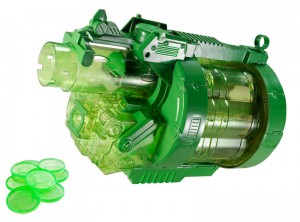 The big hit was the Colossal Cannon, and for all the reasons kids love to play with toy guns.  You insert your hand into the unit and take hold of the handle/trigger.  When you pull the trigger a bevy of activity occurs: a light flashes on the front, the cylindrical body rotates, space zapping sounds play and it fires a disc about twenty feet.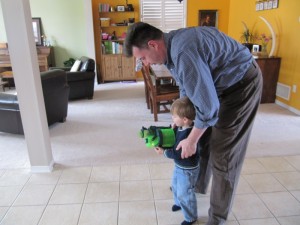 The unit is made from light plastic so John and Chloe were able to heft it without issue.  The shooting discs were a big hit but I can definitely see them being lost within a short time: when they were taking turns I made them locate their discs before getting another chance to play with it.  Because of that I really appreciate the flashing lights, spinning body and shooting sounds: lots of exciting play without the discs.  All in all a resounding success with everyone.
I wrote this review while participating in a blog tour by Dad Central Consulting on behalf of Mattel and received Green Lantern toys to facilitate my review and a promotional item to thank me for taking the time to participate.