Was shopping a sale earlier this year and picked up a bunch of Marvel Premiere hardcovers including Black Widow: Web Of Intrigue.  Here's the publisher's blurb: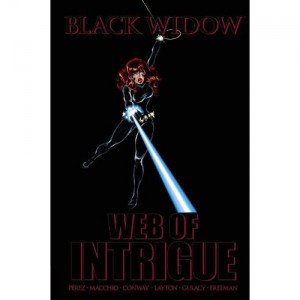 It's been a long lively life for Natasha Romanova – in the Avengers, the Champions, S.H.I.E.L.D. and elsewhere – but could it end with her surrounded by international assassins? Old enemies and new are using her instructor, her mentor and her ex-husband against her – or so it seems – but who and what can be trusted in a spy's landscape of lies? Guest-starring Nick Fury, Jimmy Woo and other espionage experts! Collecting MARVEL FANFARE (1983) #10-13; BIZARRE ADVENTURES #25 and BLACK WIDOW: THE COLDEST WAR GN.
This one is filled with highs and lows: three very different works collected in one hardcover. I'll take a look at each one.
The Marvel Fanfare story from Ralph Macchio and George Perez is, as they say, a blast from the past. The Black Widow is roped into going to the U.S.S.R. to try to rescue her mentor and chauffeur. Along the way Nick Fury assists her, although he suffers from a terrible speak impediment or something as you try to understand what he's saying. She faces seven assassins, SHIELD meddling and an unknown criminal mastermind but in the end triumphs.
Natasha has the biggest hair I've ever seen as you can see on the cover above. Look below to see her bombshell Playboy image, completely different from any interpretation we've ever seen of the character.
In fact the art by Perez doesn't resemble his style at all: it's odd because the covers of the four issues are definitely in his style so we can only guess Brett Breeding's inks influenced the interiors heavily. In the end it's a good action romp.
The second story is from Ralph Macchio again, this time with Paul Gulacy handling the black and white art. The story is an old school espionage tale with some slightly convoluted plotlines but a satisfying finish. The Black Widow is sent in to break up an armament ring and gets used by SHIELD to see who's on the wrong side. It's classic Gulacy artwork and with him doing pencils and inks doubly satisfying: those trademark faces and eyes! He's drawn one character as Michael Cain and another as Humphrey Bogart but as readers we don't find out why.
The third tale is from a Marvel graphic novel and it's awful. The art is brutally bad and for some reason six inkers were used but even that army couldn't save it.
I'm not sure anyone was clamoring for this collection. It's a fun ride down memory lane but nothing really memorable. All the collected issues can be had for a few dollars and the Gulacy work is much nicer at its original magazine size, albeit on newsprint. I can't even recommend it to Perez fans since his pencils are obscured.
Black Widow: Web Of Intrigue
Marvel, 2010, ISBN 978-0-7851-4475-5
Originally published at Comic Book Daily under my Bound Together column.