After thoroughly enjoying Conan Volume 7 I scanned my local comic book shop and found Conan Volume 6: The Hand Of Nergal softcover.  Here's the publisher's blurb: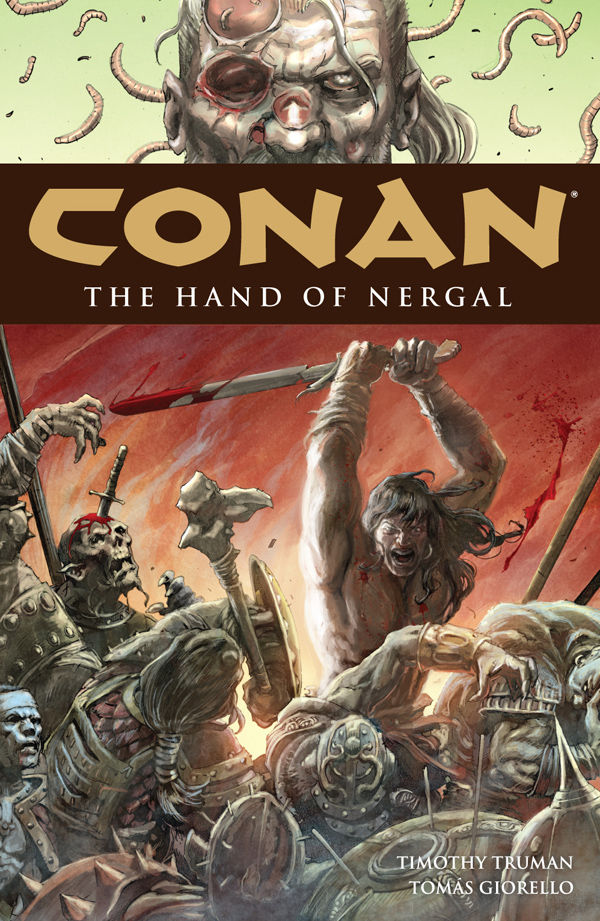 A mysterious curse lingers, following Conan as he attempts to return to his homeland, and a great darkness looms ahead in the doomed city of Yaralet. This latest collection in Dark Horse's smart, innovative Conan series finds the cunning Cimmerian chased by both unfinished business from his past and a strange novice magician who seeks to deliver a dire warning to the wandering barbarian. A great evil moves ever closer while unfathomable terrors awaken and come into view. Conan is, of course, eager to meet both head on!
First, let me say these Conan volumes stand on their own and don't require any previous readings of the series: they're self-contained enough to enjoy just one but you get a deeper understanding of the character through his many adventures.
The story is a great magic action tale. Conan is on his way home to Cimmeria but needs some supplies and money so he enlists in a local army. They're waiting to escort the King's betrothed back to the city but end up getting attacked by an undead army. It seems the young new King made the mistake of listening to his magic adviser and got himself mixed up in bringing a dark god into our world. A young girl with the gift of seeing the future follows Conan from his last town to warn him and gets mixed up into the whole affair. Conan slaughters everybody and saves the day.
Tim Truman in his very long and detailed afterward gives us the genesis of the story and how it came into this form. He seems to be a great admirer of Robert E. Howard and does a good job bringing Conan's exploits to life. Characters are fleshed out enough to stand their place in the story: the magician is sufficiently evil, the new King just naive enough to be believable, the girl innocent and trusting. Everyone has a role to play and Truman weaves it together.
Tomas Giorello handles the art chores: he has an early Mike Mignola style with a P. Craig Russell vibe to it. At times the artwork looks a bit grainy and washed out: not sure if that's a production issue or something Jose Villarrubia the colorist was doing. The first half of the book looks clean and bright in contrast. In the end, it doesn't take anything away from the book.
At $17.99 for 152 pages of 7×10″ story, it's a fair value: a good action magic book enhanced by Truman's afterword and the crisp artwork of Giorello.
Conan Volume 6: The Hand Of Nergal
Dark Horse, 2008, ISBN 978-1-59582-178-2
Originally published at Comic Book Daily under my Bound Together column.