Setting up a PC for a friend and they needed some sort of backup.  My first thought is always Windows Home Server but this was a single PC and the extra cost couldn't be justified.  I turned again to Macrium Reflect Free Edition: the user had an older 200 GB Maxtor external USB hard drive that would hold the backup files.  To be fair I first tried Paragon Backup & Recovery 10 Free Edition and ToDo Backup but neither one did exactly what I wanted: a backup that could be scheduled daily and could be recovered from a bootable media for free.  My previous experience with Reflect paid off as I configured the automatic backup and used my [intlink id="1122″ type="post"]ForFiles configuration[/intlink] to limit the number of backups.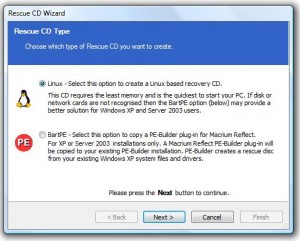 The free edition allows the use of the integrated Linux boot CD: the premium paid version lets you use a BartPE disc with your own drivers for RAID or storage adapters.  Great tutorial available from Macrium.  This was a one hard drive system so the free version was fine.  I created a full backup and the restore disc, then pulled the working hard drive and replaced it with a new unpartitioned drive that was the same size.  It booted nicely, asked for the backup location, asked where to restore and started to restore.  A nice little feature is that the CD is ejected when the restore process starts so the system doesn't boot back into this environment and makes the user aware to remove it.  The restore got so far and then failed with an error insufficient space.  I then partitioned the drive and tried again but with the same error.  Formatted and tried again: same thing.
A backup program that won't let me restore is not very useful.  I removed the hard drive and replaced it with another and started the restore process again.  This time everything worked well.  I then removed the partition and tried again: success.  For some reason my first replacement hard drive wasn't liked by Reflect; no real explanation here.
Macrium Reflect Free Edition is a solid backup job as long as you can live with its limitations: no incremental or differential backups, no custom drivers for restoring, no automatic deletion or management of backup files.  So far these limitations haven't hindered my two installations.