On my recent vacation at night my daughter would watch her favourite Disney movies on my Acer Timeline 1410 11.6″ laptop.  Everything worked well and the picture was great but the sound, even at full volume in Windows 7 Professional x64 was kind of weak.
Some poking around and web searches led me to Windows 7 Speaker Enhancements, specifically Loudness Equalization.  Enabling this boosted the volume, without distortion, to what I perceived as at least 50%.  Now the movies could be heard easily and without issue.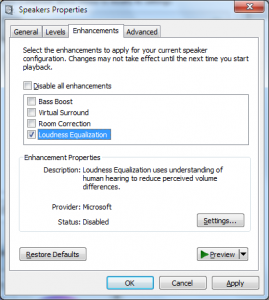 To get to this feature go to Control Panel, Sound, Playback tab, click Speakers, Properties, Enhancements tab.