Windows 7 is amazing but clicking the Downloads folder and then waiting and waiting while the green progress bar slowly progresses drives me crazy.  Luckily there is an easy fix to speed it up.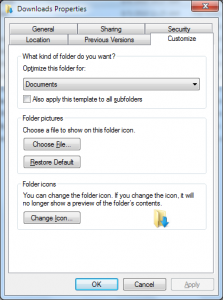 Locate your Downloads folder: it's at c:usersyour-user-nameDownloads.  Right click on it and select Properties, then click the Customize tab.  Under "Optimize this folder for:" drop down the menu and select "Documents".  Click OK and you're done.  Accessing the Downloads folder is now speedy and without delay.
If you'd like to move your Downloads folder click on the Location tab and indicate where you want it, like a network share or a large secondary drive you keep around so your SSD doesn't fill up.