In 1989 Marvel decided to give some Joe Simon and Jack Kirby work the deluxe treatment in the form of hardcover reprints. The Fighting American, Captain America and Boys Ranch were reprinted as hardcover volumes outside of the Marvel Masterworks program that was in full swing. At the time Masterworks were focusing on silver age Marvel works so these 1940s and 1950s works didn't fit.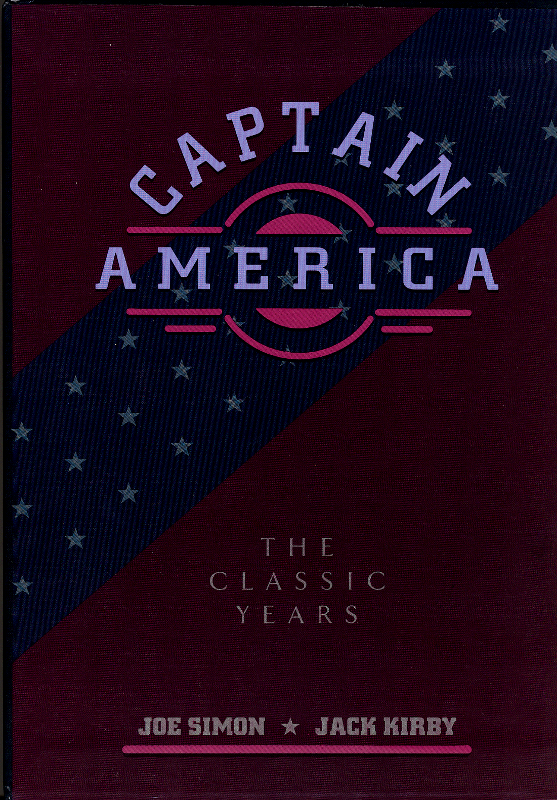 Captain America The Classic Years was published in 1990: two 7.25″ x 10.25″ hardcover volumes in a slipcase.  Each volume reprinted the main story from five issues of Captain America Comics.  The content came from a variety of sources and was restored and recoloured whenever necessary: the overall package is well done.  The colours are vibrant, lines are clean and pages really pop.  Occasionally we see thick or blurred text but that's coming from scans of the original issues and is carrying the fault over to the new volumes.  Only the main stories are reprinted: backups and such would have to wait until Marvel introduced their Golden Age Masterworks of Captain America in 2005.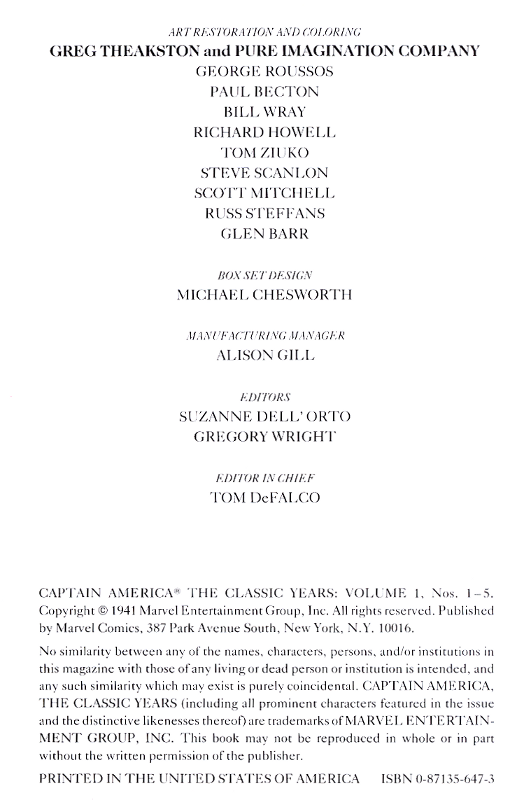 Full credit is given for the restorers, some in bold even, which is great to see in any reprint. Details would be nicer but that doesn't happen often. Oddly Marvel gives the copyright date of 1941 but no indication of publication year for these volumes; luckily they can be tracked down easily with the internet today.
Two factors make this a collectible edition. First and foremost this is Marvel's first slipcover book and their first golden age reprint in hardcover format. This package screams deluxe all the way. Secondly, the first printing was recalled because of something drawn on the yellow printer separation for page 184 of volume one.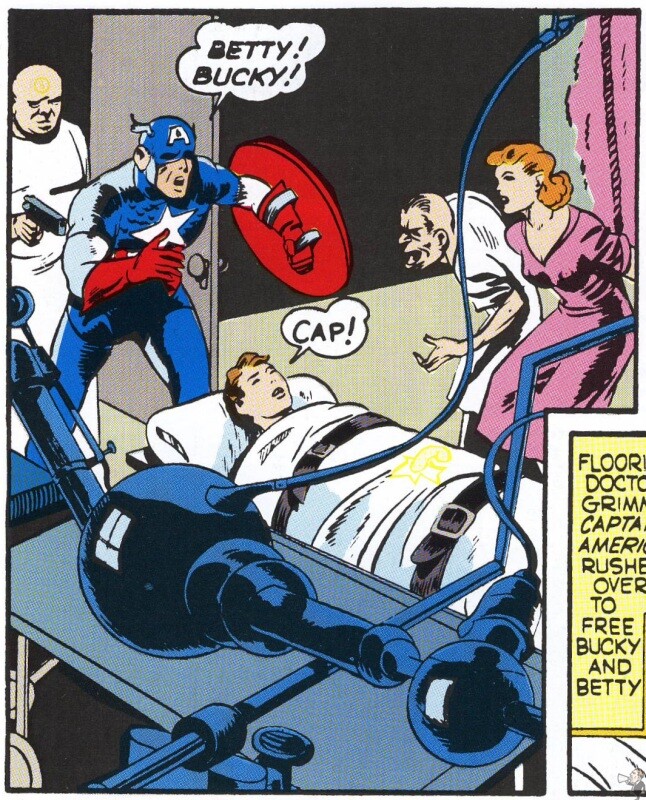 If you look carefully on the villain's forehead in the top left there is an 8 ball and more clearly is a penis drawn on Bucky.  I've heard this was a prank by a printer or one of the art restorers: either way Marvel recalled the collection and reprinted it with this panel corrected.  Unfortunately, I haven't been able to find out what the print run of either was; all the ones I've seen have been the first "penis" printing.  ISBN numbers appear to be the same for both printings.
If you're looking to purchase Captain America The Classic Years it goes for a song; unfortunately, those that know of the printing error edition are currently asking $150-200 while generally, you can pick it up for $60-80. I purchased mine on eBay in 2005 for $53.77 Canadian.
Captain America The Classic Years
Marvel, 1990, ISBN 0-87135-649-X
Originally published at Comic Book Daily under my Bound Together column.