Dell had a fourty-eight hour deal on a TomTom XXL 540 M GPS with case for $150 CDN so I jumped all over it.  Five inch screen, spoken street names, advanced lane guidance, U.S. Canada and Mexico maps plus lifetime map updates.  Everything I was looking for in a GPS for the car.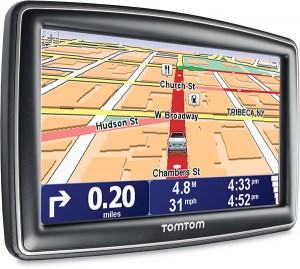 I unpacked it and turned it on: very straightforward questions about date, time, home location, voice to use.  Nice and easy: screen was large and easy to read and navigate.  On my previous TomTom One 3.5″ GPS my house wasn't shown so I wanted to get this XXL 540M hooked up and using my free lifetime maps.
A check in the box doesn't show a CD: no problem, programs are updated all the time.  Reading the user guide gives no information on connecting the GPS to a PC or updating it.  A card in the bottom of the box told me to go to www.tomtom.com/card which listed my promotion, free lifetime maps, and in small print at the bottom let me know if I don't have TomTom Home installed download here.  I was sent to a download page that listed all models except XXL but I downloaded and installed anyway.  Perusing the device once connected to my PC showed an autorun that launches and installs the Home software, but few of us let any autorun programs run and a mention of this in the documentation would go a long way.
Installation was straightforward and I connected my device, clicked use my activation code and entered my number: I received "an error has occurred, please try again".  Tried three more times but the same thing.  Went back and ran all updates on my device; this was pretty painless and completed quickly.  Back to entering activation code which now worked.  Off to map updates and began the installation of a 1.6 GB map update; yikes!  Again it completed without issue.
I unhooked my XXL 540 M from the PC and turned it on to receive the following error: Problem with map.  You cannot use this map on this device: USA_Canada_and_Mexico_P-165.  An OK button pressed brought me to a map selection which only listed one; selecting it brought me back to the previous error.  Device dead on loop.  Hooking the device back to my PC and checking for updates shows nothing.
Searching the TomTom support site I couldn't find anything remotely related to my issue.  A web search didn't give much either.  I decided to call tech support.
The menu is very specific directing you based on your product but the XXL wasn't an option.  I ended up randomly choosing a different product and proceeded to wait on hold for twenty-two minutes.  The rep was able to determine the map size of the download was correct but the map on the device was too large.  As well he let me know my device falls under the "One" category and I could follow those prompts when calling in; more inside non documented information.  I deleted the map on the device and copied the download over again, which takes about two hours.  Turning the XXL back on showed the same map error.
Called tech support but gave up after twenty minutes on hold.  I removed the map from my PC and the GPS and ran the update to download the map again and install it.  Same error.  At this point I'm cursing TomTom and their incredible lack of online support.
Called tech support at 7:00 AM EDT when they opened the next day and only waited eighteen minutes.  This time the rep determined I had the current version of TomTom Home installed on my PC and the current application on the XXL 540 M itself.  Next he told me the map I downloaded the day before was corrupt and needed to be downloaded and installed again by removing it from my PC and the GPS.  In my mind this kind of information should be in big letters on their main support page with instructions to fix it.
Several hours later I had a fully functioning TomTom XXL 540 M GPS.  It only took approximately twelve hours of downloading, installation and calls to tech support.