I've upgraded my main PC and wanted a good inexpensive socket 1156 motherboard for overclocking an Intel i5-75o processor.  Every possible site and magazine pointed to one motherboard: the Gigabyte GA-P55M-UD2.  It really is a great motherboard with everything most users could want: easy overclocking, micro ATX form factor, seven SATA 3.0 headers, lots of USB ports, well laid out, two PCI-E x16 slots, two PCI slots, four RAM slots, 7.1 audio, gigabit Ethernet, even floppy and PATA headers.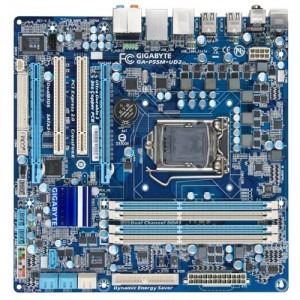 I set up my new system in an Antec P182 case, Corsair TX850W power supply, two 2 GB Corsair XMS3 1600 DDR3, Intel i5-750, two WD Raptor 74 GB SATA hard drives in RAID 0 and a [intlink id="1147″ type="post"]Corsair H50 Hydro Series[/intlink] CPU cooler.  The case, power supply and hard drives were recovered items from previous PC builds; have to save somewhere.  The build came together without issue and I soon had Windows 7 Professional x64 installed.
I started my overclocking with the included Gigabyte utility EasyTune6 by going to 3.0 GHz.  It was very user friendly and I watched the CPU temperature carefully but everything seemed to be working well.  I loaded up Prime95 and it started but then my PC shut down and there was a burning smell that meant something had just fried.  With the H50 my CPU didn't get above 40 degrees Celsius so it wasn't that.  I snooped around but couldn't find the issue.  Restarted the PC and everything was running fine.
I left the PC at 3.0 GHz for a while but moved it up to 3.2 GHz and no issues, temperature staying at 45C.  Tried 3.8 GHz and no issue until Prime95 when the PC shut down and the distinct burning smell had returned.  Gigabytes monitoring indicated CPU and system temperature didn't hit 50C.  This time the PC wouldn't boot at all so I got in there with a flashlight but couldn't see anything.  Removing the motherboard and careful examining showed three VRM (voltage regulation module) or mosfets had burn marks.  I hadn't raised any voltage out of Gigabytes safe or green area but clearly they got too hot and burned out.
A good look at the motherboard and you'll see something I hadn't noticed until then and actually hadn't seen on any modern motherboard: no heat sinks on the VRMs.  Hunting down online and magazine reviews all showed this motherboard was tested with air cooling.  The Antec P182 has a 140mm fan above the CPU but that wasn't enough cooling, plus the rear 120mm fan was now attached to the H50 radiator and was drawing air in.
Luckily for me my vendor allowed a repair return and I was able to get a Gigabyte GA-P55A-UD3P motherboard instead that features the same easy overclocking with decent heat sinks on the VRMs.  If you're planning to water cool your CPU on a GA-P55M-UD2 after market heat sinks and active cooling are your best bet.