I was browsing a forum and noticed a mention of an icon site I had never heard of: Icon Finder.  I was looking to add nice RSS and Twitter icons since even though eBabble offers these feeds there are few takers.  The site is amazing and offers a ridiculously large selection.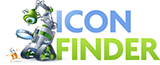 I was looking for free icons that had the same look: once I found the RSS icon I liked I checked it's icon set out and located the matching Twitter icon.  These are for non commercial use under Creative Commons which fits my needs.Wonderful: check them out on the sidebar.
Anyone running a web site can benefit from Icon Finder.