That's one mouthful of a title.  The Life And Times Of Martha Washington In The Twenty-First Century is a deluxe 8×12″ oversized hardcover from Dark Horse that collects every Martha Washington story published.  This single hardcover contains 600 pages and weighs 9 pounds.  I already had all the material from it's publishing in pamphlet form but couldn't resist this one.  Here's the publisher's blurb: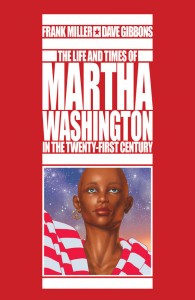 A masterpiece nearly twenty years in the making, this archival, oversized, and slipcased hardcover volume contains the complete life story of Martha Washington, the twenty-first century freedom fighter created by comic-book megastars Frank Miller (Sin City, 300) and Dave Gibbons (Watchmen).
Our story begins in the squalid corridors of a maximum-security housing project, where a young girl will rise from the war-torn streets of Chicago to battle injustice in a world insane with corruption. She will be called a hero, a traitor, and nearly everything in between, but all along the way, her courage, her integrity, and her unwavering commitment to that most valuable of rights — liberty — will inspire a movement that will never surrender.
Collecting meticulously remastered versions of every Martha Washington story, and features a comprehensive behind-the-scenes section, a new introduction by Frank Miller and extensive commentary by Dave Gibbons.
Dark Horse has consistently impressed me with their hardcover collections of Dark Horse material and this volume is right up there with Hellboy Archives and Sin City Archives.  Unfortunately I'm less than thrilled with their reprint Archives line from other publishers such as Nexus Archives but that's another story.  This is a beautiful book: excellent paper quality and printing, well manufactured and worth the admission price.
You're getting up sized printing of every Martha Washington story including those from Dark Horse Presents, all recoloured.  Before each work there's an introduction by Dave Gibbons with his recollections, plus Frank Miller intros in a few places.  The book is loaded with extras: original pages, sketches, character designs, plus more.  You really get a complete picture of the character.  It's obvious Gibbons was intricately involved in the packaging and presentation; Miller not so much.
Gibbons discusses his move from traditional to computerized colouring in his introductions and you can really see the transition.  The oversized artwork unfortunately also shows some rushed art in places but it doesn't take anything away: the beauty of a complete collection like this is to experience decades of work in one volume.  That's my other gripe: this book is so heavy it's hard to read.  It would have worked much better as two or even three volumes in a slipcase.
The Life And Times Of Martha Washington In The Twenty-First Century holds up as much today as it did when each chapter was published: it's a great look at a possible future.  It's not a cheap book by any means but there is so much there; highly recommended.