Hulk, formerly incredible, has gone through his share of changes, restarts and the like.  Now in a new series with a green and a red hulk stomping around I spotted this hardcover and wanted it desperately for two reasons: Art Adams and Frank Cho.  Hulk Volume 2: Red & Green is available as a premiere hardcover and trade paperback.  Here's the publisher's blurb: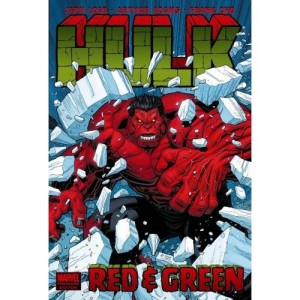 When Bruce Banner sets out to find the Red Hulk he doesn't expect his search will lead him to Sin City, Nevada. And imagine his surprise when he arrives to discover the unbridled carnage a pack of Wendigos can unleash! Las Vegas buffets will never be the same! Plus: no matter what size, shape, color or sex, Hulks don't take kindly to being on the wrong side of a beating. Armed with an arsenal of advanced S.H.I.E.L.D. weaponry and itching for payback, She-Hulk's Lady Liberators have one goal: Subdue the Red Hulk, and make him pay in the process. All this plus a special KING-SIZE spectacular with MORE smashing, bashing, trashing, and clashing than should be allowed by law! Collecting HULK #7-9 and KING-SIZE HULK #1.
Each issue of Hulk 7-9 was divided into two stories by Jeff Loeb: one following the green Hulk Bruce Banner drawn by Art Adams and one following the mysterious red Hulk drawn by Frank Cho. For this hardcover the two stories are grouped together for ease of reading.
Stunning is the only way to describe the art provided by Adams and Cho. Neither artist is doing any regular work these days so it's a real treat to see this. The story isn't giving a lot other than some big fight scenes that the artists illustrate beautifully. Adams provides a lot of lush characters and backgrounds while Cho does a roster of female Marvel characters as only he can do.
I really don't know why there's an eight page story from King Size Hulk included about the Abomination. It's written by Loeb and drawn by Herb Trimpe who did the Incredible Hulk twenty years ago. The art is rough to be kind; I couldn't get through it.
Some nice extras are included: variant covers, Adams pencils and roughs. Nothing to win over a hesitant buyer but nice eye candy.